Graduation Ceremony - June 10th, 2023
Artists study several years for a seal, which is an indicator of a high level of competence. On attaining a seal, we celebrate the occasion. Left to right, our graduates were: Junko Adachi, represented by her daughter, Teruko Davis, Ka Man (Jackie) Tam, Norma Coe and Georgina Simington.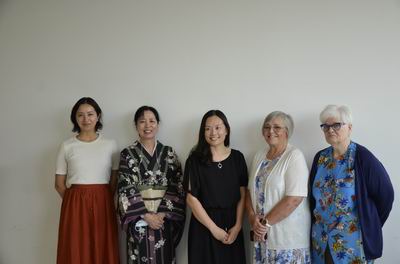 The graduates came with paintings like this stylish and mystical interpretation of nature by Ka Man (Jackie) Tam.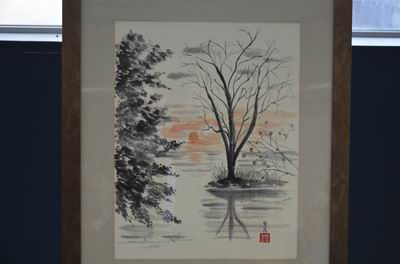 Georgina Simington is attracted to flowers and created a finely detailed work that was painted on silk. The energy of plant life is expressed in this lifelike painting.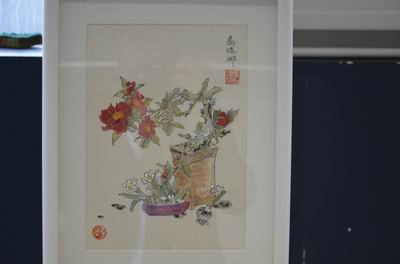 This small man in Norma Coe's painting reflects a key difference between oriental and western art: people are usually dominated by nature in oriental works. Nature not man is the dominant force.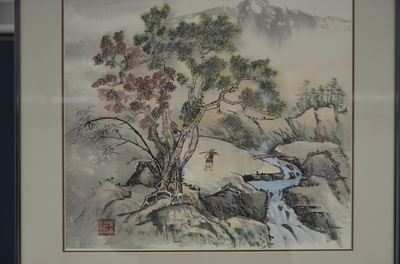 Birds fascinate Teruko Davis and this striking bird before the entrance to a shrine is an interesting blend of the natural and spiritual world.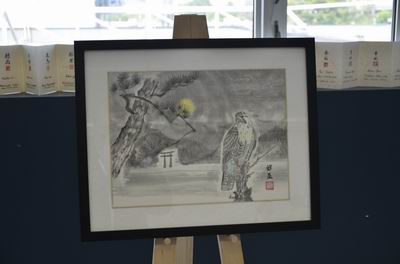 The sakura or cherry blossom creates a dynamic and colourful contrast with the man-made world in the background of this painting by Junko Adachi. The sakura often represents the fragility of life while another tree in the painting, the pine, stands for longevity.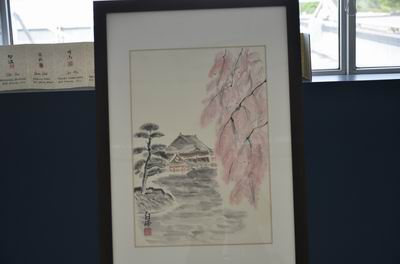 Additional paintings by the artists included an entertaining mouse and another vivid floral work from Georgina Simington.
Diana Bullock is a long-time sumi-e artist and instructor who provided her perspective on developing as an artist. Join and volunteer for arts groups like the Sumi-e Artists of Canada. Banish fear. Inspire yourself by looking around you. Play: see in your art something new that you may have dismissed as an error. Practice is how you improve.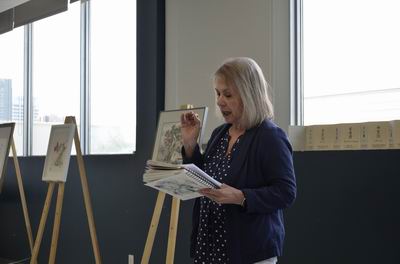 Carrying a notebook and noting what you see, as shown in these pages from Diana Bullock's notebook, is a simple and practical way of developing as an artist.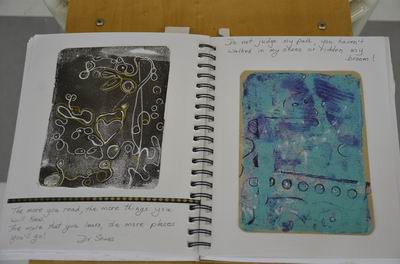 Visitors to the graduation ceremony like to take photos. Someone's art is a new idea to someone else.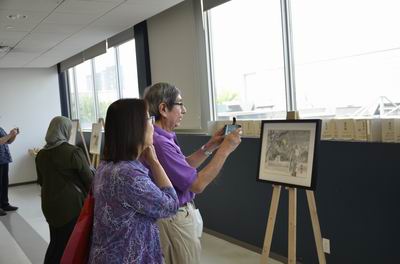 The graduation ceremony is also a social event as artists like to talk about art.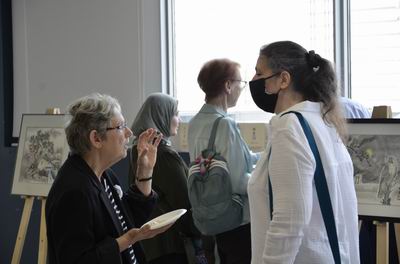 Some treats were present courtesy of Linda Nakatsu. Thank you.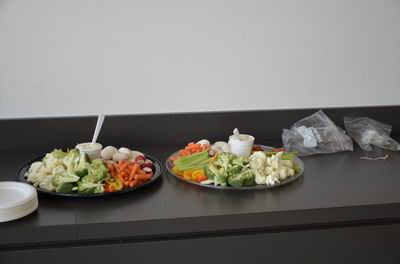 Artists added their seals to the list of Sumi-e Artists of Canada members with the help of instructor Hiroshi Yamamoto.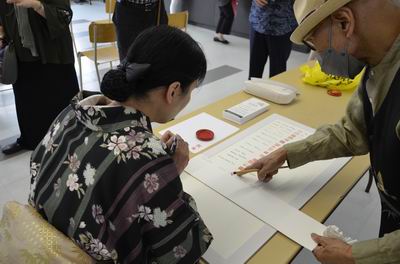 Adding an impression of a seal attracted visitors, perhaps remembering the day when they added an impression of their own seal.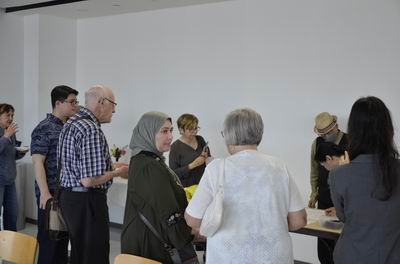 Hiroshi Yamamoto, instructor of sumi-e painting at the Japanese Canadian Culture Centre, displayed a book of past students seals.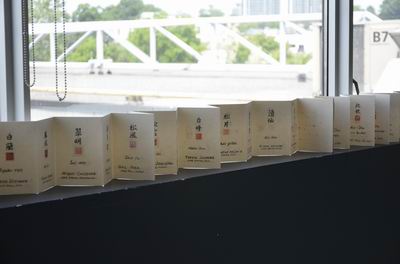 The graduates seals were added with their names and a translation of the characters on the seal. In the Chinese tradition, the characters are an artist's name. In the Japanese tradition, the characters are a saying that the instructor selects for a graduating student.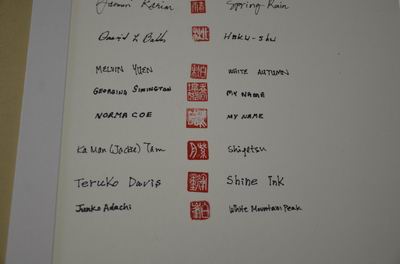 We hope to see the graduates in our workshops and their paintings in our shows as they continue their development like all artists.