Sunflowers with Roslyn Levin - April 9th, 2022
Where do you begin when painting sunflowers asked instructor Roslyn Levin.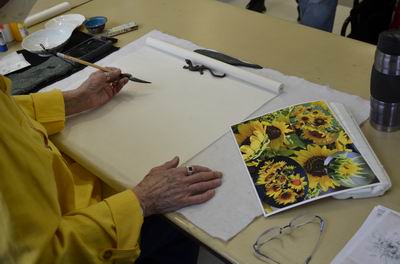 An excellent way to begin before you paint is to create an outline of what you want to paint. An outline is a way of simplifying a sunflower to the parts that an artist should focus on. Roslyn Levin showed her outline which has a sunflower with an inner circle, an outer circle and petals around that outer circle.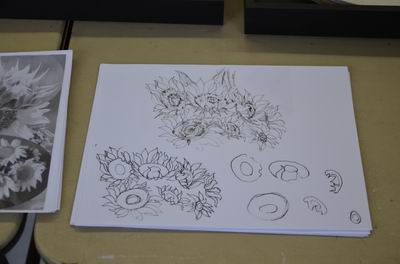 Start with the petals using a light grey tone. The petals are flexible and varied.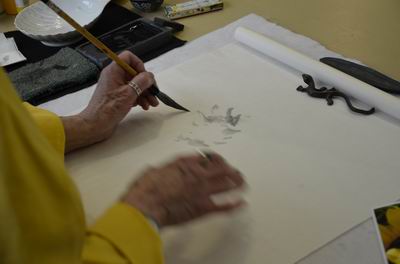 Roslyn Levin then returned to the petals with a darker ink on the tip of her brush to add more definition to the shape of the petals.
The outer and inner circle of the sunflower were added as Roslyn Levin worked from the outside petals to the inner circle where sunflower seeds are found.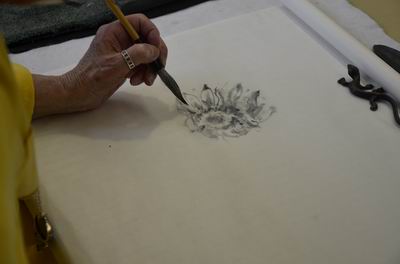 The first sunflower emerged in the painting.
Sunflowers have leaves.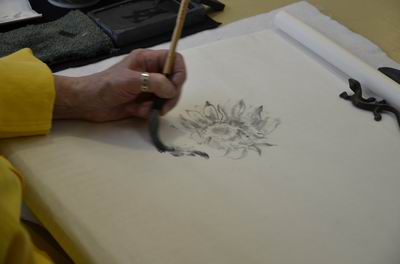 The sunflower leaves have a point and a serrated edge.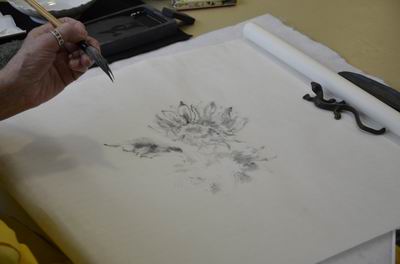 The second sunflower was painted in a similar manner to the first though at a different angle. When you paint several sunflowers the angle of each sunflower should be different as it is in a bunch of sunflowers.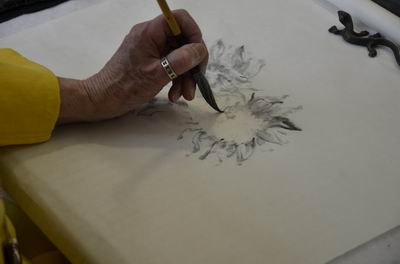 Roslyn Levin used a brush with several points. Several points can be useful for creating the precision of the outer and inner circles while at the same time adding some random touches to avoid making the circles too regular.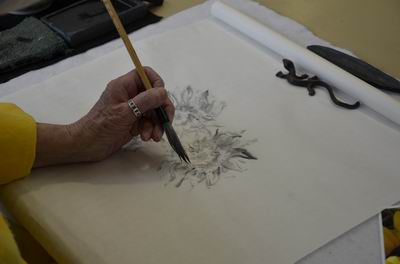 A third sunflower faced another direction.
Roslyn Levin began with the petals.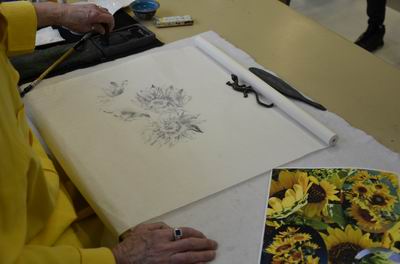 Darker ink was used for the darker base of the sunflower.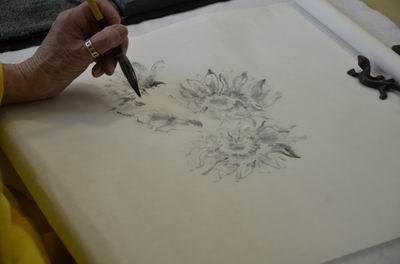 The sunflowers were complete in a presentation with tones of grey.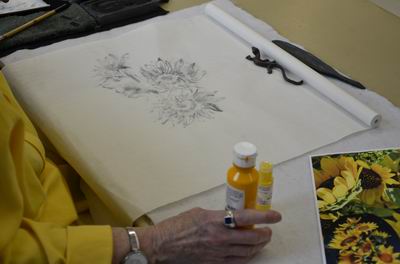 Roslyn Levin however added yellow paint to demonstrate how a little colour can enhance a sumi-e ink painting.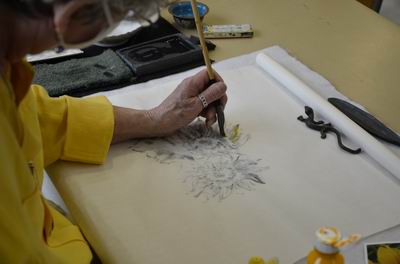 Work your way around the petals.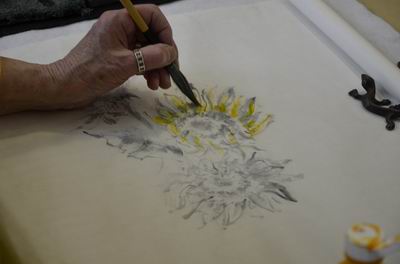 Periodically check your progress. You want the presentation of the sunflower to remain. The yellow brightens what is there; but should not overpower the underlying art.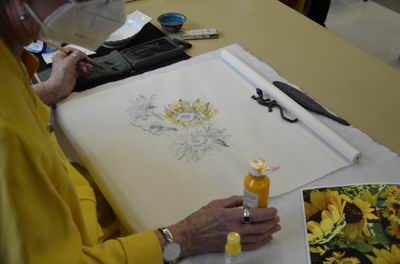 The other sunflowers followed.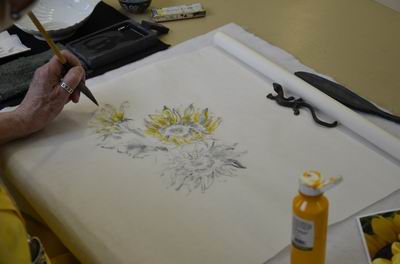 In her final pass on the painting, Roslyn Levin highlighted the dark center of the sunflower.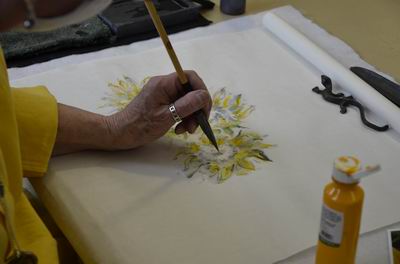 The base of the petals was also highlighted as this is the outer edge of the outer circle.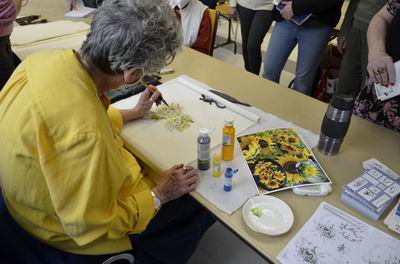 A small amount of green ink was used for the leaf. Black ink highlighted the inner circle.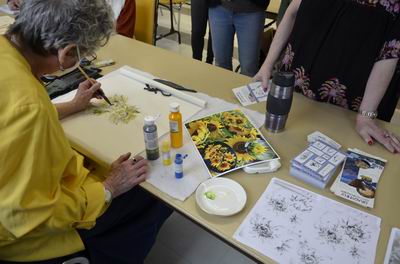 Roslyn Levin brought photocopies to help the artists as they started painting their own sunflowers.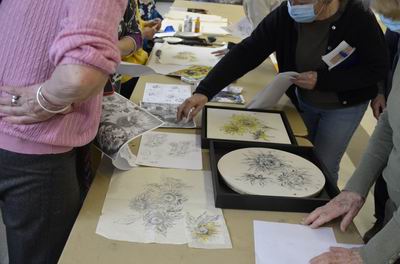 The artists had absorbed Roslyn Levin's lesson and soon were creating their own vibrant sunflowers.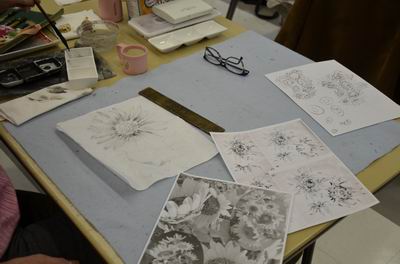 Roslyn Levin came around to help.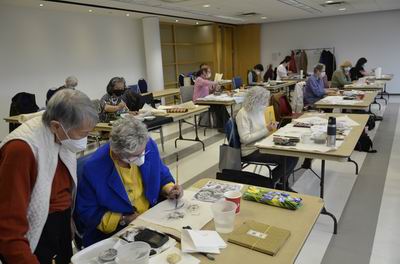 Pointers are always appreciated.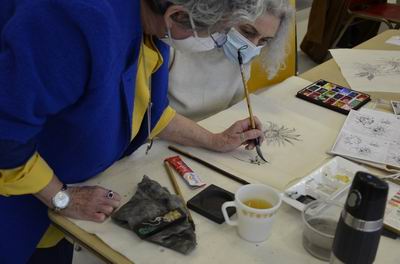 You can learn more about Roslyn Levin in the links section.