Rooster and Chicks with Phillip Xu - March 12th, 2022
Phillip Xu compared painting to cooking. Each chef has his way of making a meal which differs from others. Paintings of the same subject also vary depending on the artist's point of view. Phillip Xu's workshop on the rooster and chicks would be his view on how to paint these birds.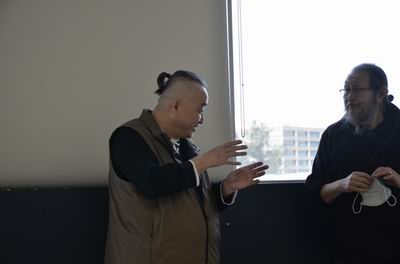 Start with the head of the rooster. The eyes and beak determine the proportion of the body to follow. Phillip Xu left white space to indicate the reflection in the eye.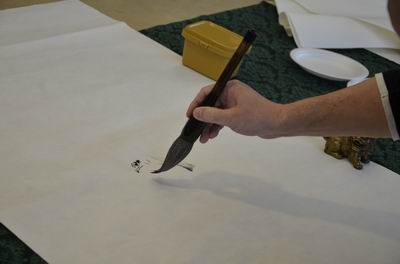 The body was created with a large brush in quick strokes. The tail was done in one brush stroke.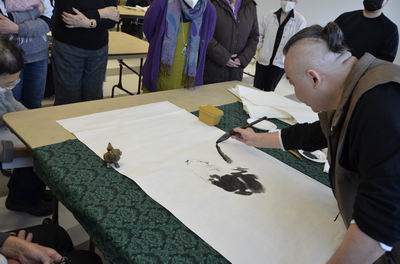 Phillip Xu placed the rooster on a rock. The rough rock was outlined in light grey ink.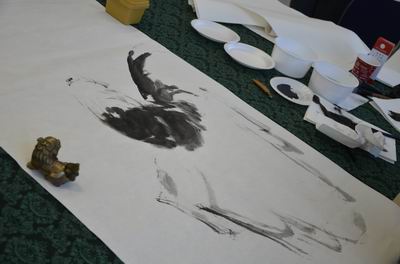 Darker ink highlighted some rocky parts.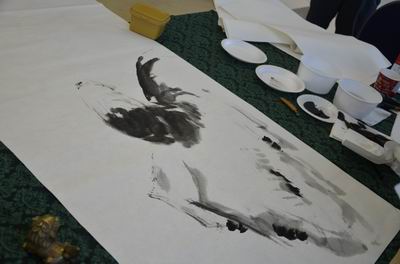 The comb of the rooster is in orange and can be added with a medium-size brush.
Then with grey ink, Phillip Xu outlined the neck of the rooster.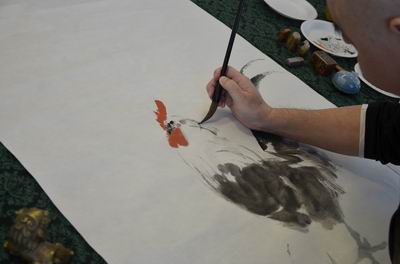 A large brush with dark ink created the prominent breast of the rooster.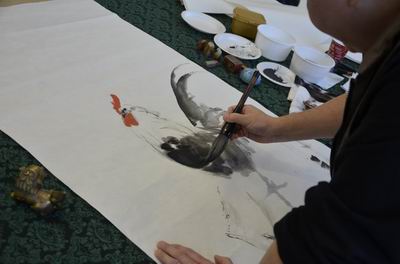 The leg is large with a rough claw. Add black marks to emphasize the rough leg and claw.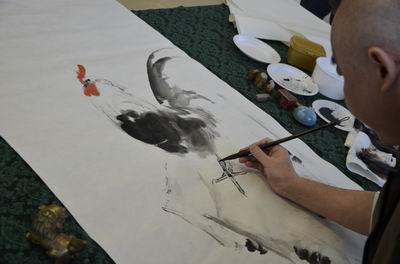 Branches for a plum tree were painted by Phillip Xu in quick strokes with a large brush. He noted that a painting should seem to extend beyond the actual paper.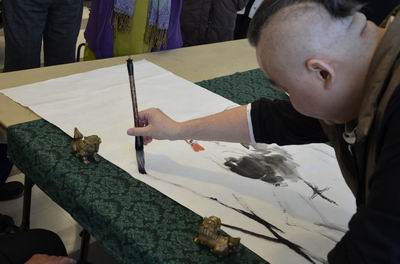 Plum blossoms painted in clusters enhanced this painting.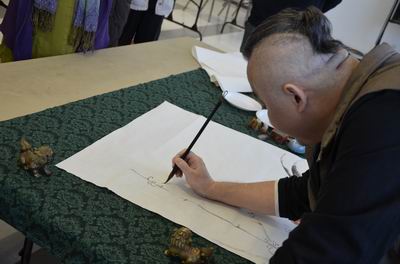 Phillip Xu likes to paint the early plum blossom when it is just beginning to flower.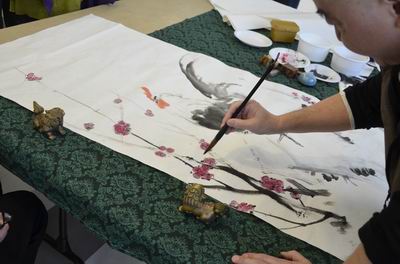 The rock was filled with colour using a large brush.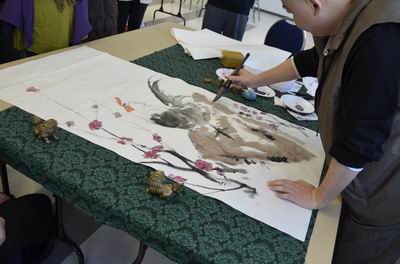 Phillip Xu wrote in his calligraphy that nature survives through difficult times such as pandemics.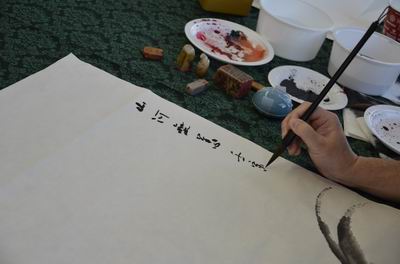 The complete composition was a vivid portrait of nature.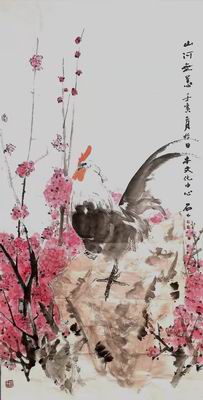 Begin chicks with their head and wings which are just blobs of ink.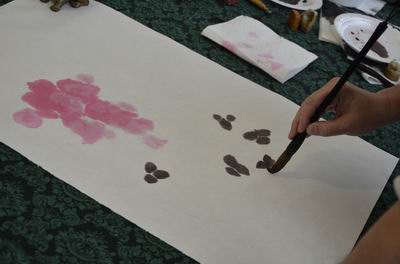 Then fill in their body with a lighter tone of grey.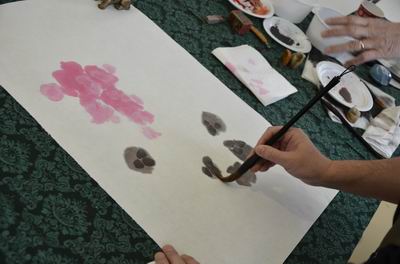 Phillip Xu brought instructions to show artists how to create the chicks with a few brush strokes.
With a fine brush, add the eyes, beak, legs and outline the breast.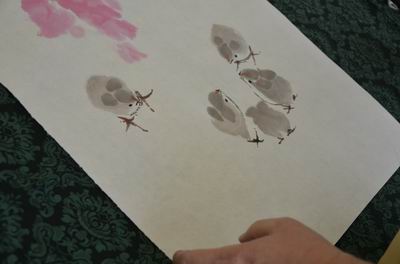 The wisteria above the chicks completes the composition.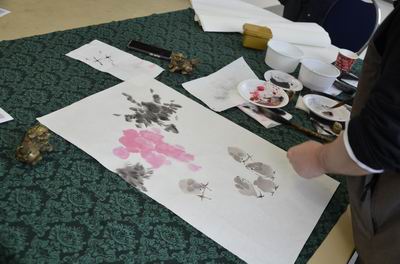 Use darker ink to highlight the flower petals.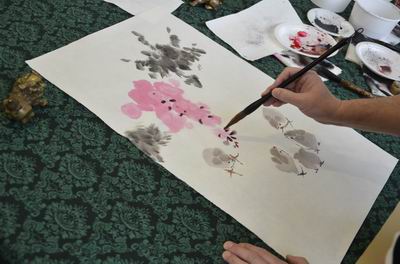 With a fine brush connect the flowers to the vines of the wisteria.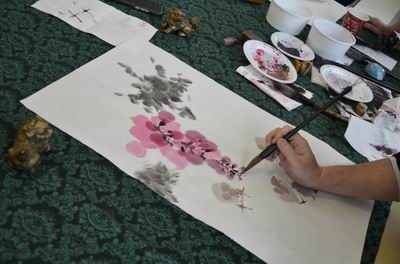 Phillip Xu studied the painting to decide what more to do.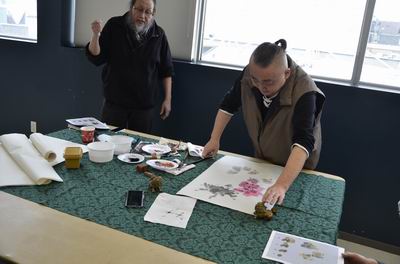 More vines were added in free brush strokes.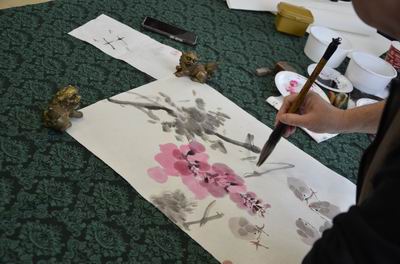 The final work has an interaction between the chicks and the wisteria.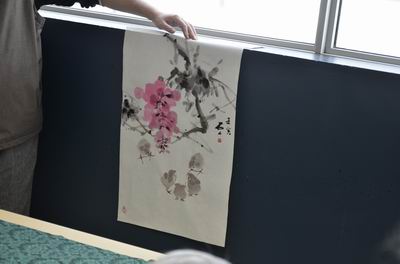 In addition to his painting, you may have seen Phillip Xu's work in films where he is known as an art director.