Sumi-e Artists of Canada 2019 Show - November 9th and 10th, 2019
Art attracts people of all ages and backgrounds. It has a universality of appeal through time.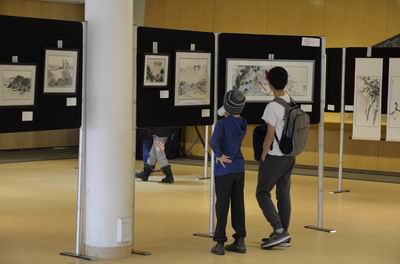 This exhibition had sumi-e paintings that engaged everyone who visited this one of a kind show.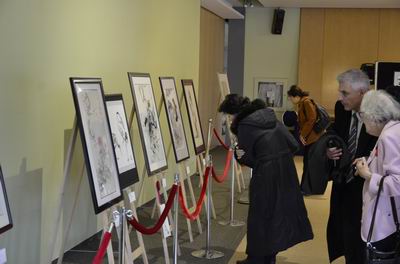 The Ruth Yamada award is given to a painting that displays originality, spontaneity and skill. This year's judge, Roslyn Levin, selected Happy Wisteria by Mimi Yeung. Roslyn Levin had these comments:
Confident, strong brush strokes of branches with boldness of the leaves all loosely painted. The soft greens in the background suggest more without overstating it.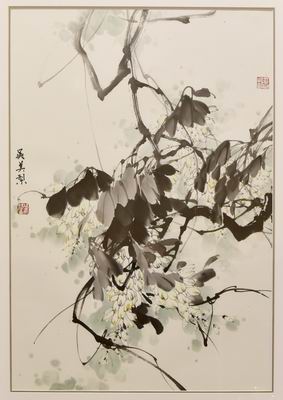 An honourable mention was given to Diana Bullock for Fiorire. These comments were added:
Soft yet bold brush strokes. The stem is strong enough to hold up so many blossoms yet you feel the weight of the new buds pulling it downward.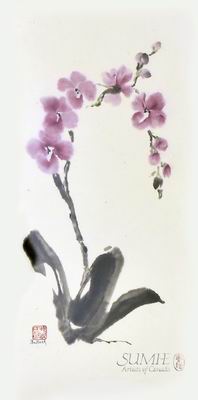 Wonderful Time by Po Man Chan also received an honourable mention with these words:
Simplicity of line and strong brush strokes as well as mastery of space are all that were needed for this piece to speak to the viewer.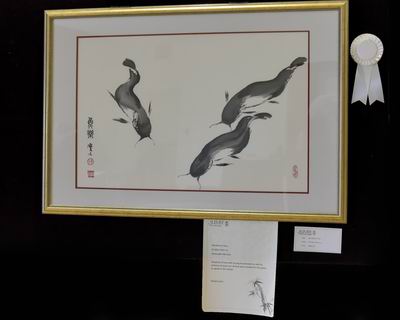 Roslyn Levin selected Wisteria by Monica Chow for another honourable mention. The comments written:
Strong vines and branches dance down the painting contrasting with the softness of the flowers themselves. Nicely composed with a good use of empty space.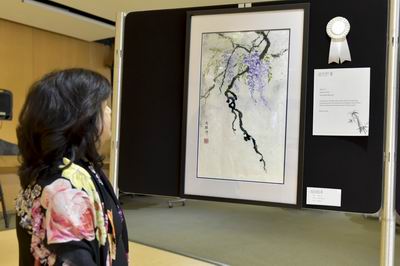 Hiroshi Yamamoto's Peaceful Village was awarded an honourable mention. The comments for this work:
Soft brush strokes form the flow of water, reeds and foliage creating a quiet feeling. The use of triangles in the composition also add to the tranquility.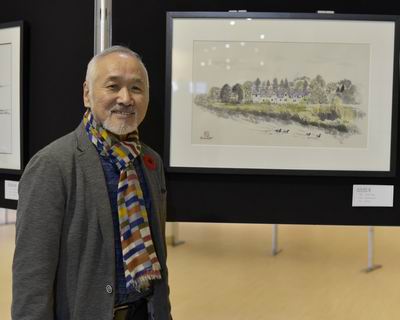 Call of Spring by Baoxing Zhang received an honourable mention. Roslyn Levin wrote:
Confident brush strokes of branches and bird's legs contrast with the delicacy of early spring flowers. And then the startling cry of the bird! Well composed with good use of white space.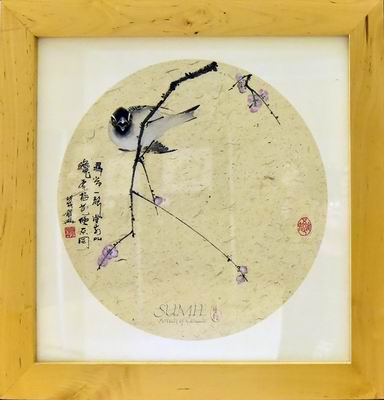 These great paintings resulted in much discussion.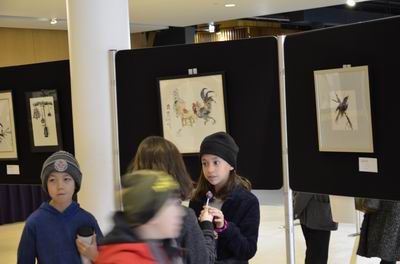 This was one character that caused much discussion.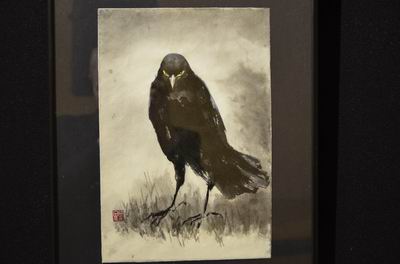 This character also provoked a reaction from many.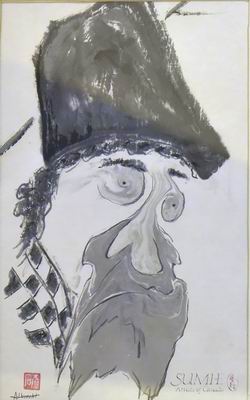 Finding just the right card for someone was a passionate pastime for visitors.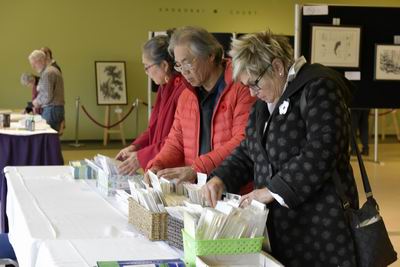 Ikebana by Betty Lou Arai greeted visitors to the art exhibition.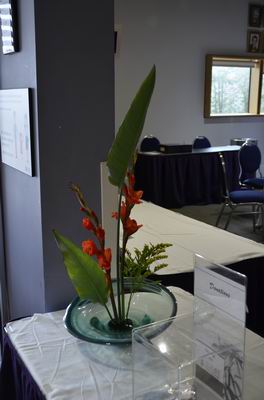 A tea room with lots of sushi, cookies and more awaited visitors on their way to the sumi-e painting exhibition. Thank you Linda Nakatsu and others who helped make this important part of the show happen.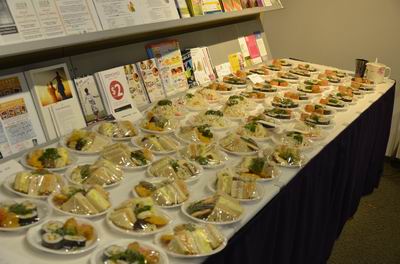 The show had a wide variety of works like this interesting abstraction based on a sculpture.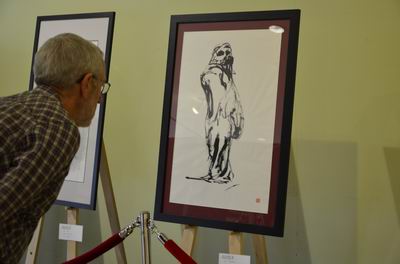 A mother and daughter who were interested in all things Japanese visited this exhibition. They wanted their photo before Mount Fuji.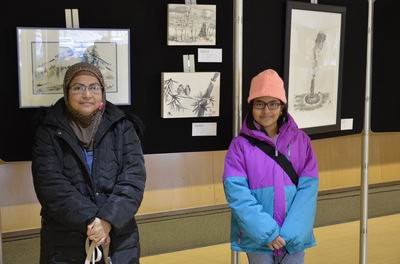 Each painting said something to someone.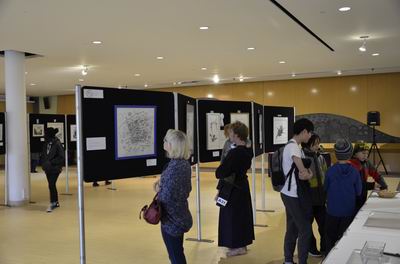 Art lovers of sumi-e painting could also watch artists like Roslyn Levin create works before their eyes.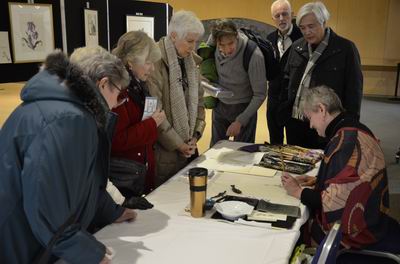 Even at an art exhibition dogs steal the show.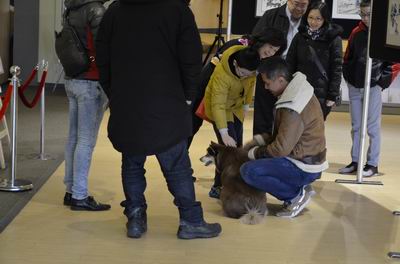 Mimi Yeung was congratulated by many people for her painting Happy Wisteria including from Gary Bist, President of the Sumi-e Artists of Canada.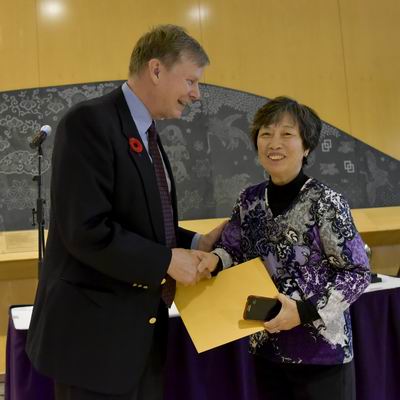 Looking at this art was a contemplative experience for some.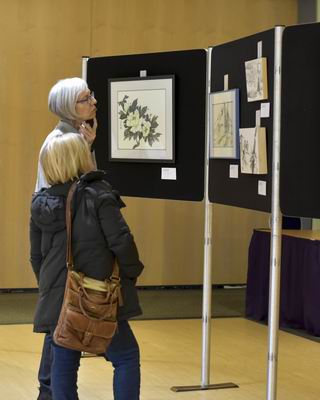 Exactly what does this painting mean?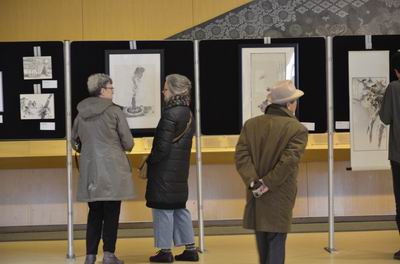 Animals and birds seemed to have a particular attraction.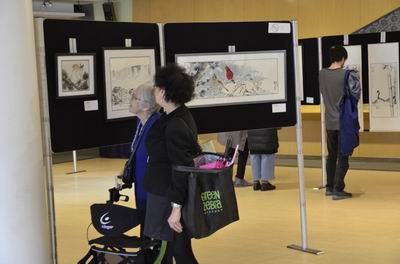 Art is a bridge to a conversation.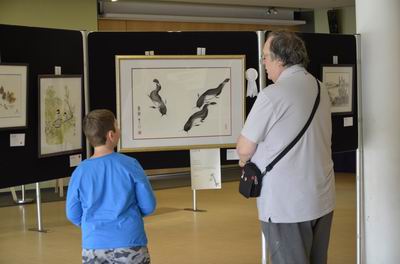 Going to an art exhibition is a family event.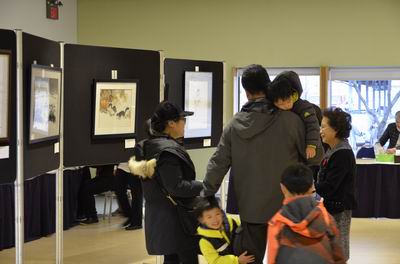 This show, like others, left visitors looking forward to future exhibitions.