Polar Bears with Roslyn Levin - September 7th, 2019
Painting white animals on white snow is a challenge but something you need to know. Roslyn Levin began her workshop on polar bears by suggesting a technique that can help with any sumi-e painting: sketch what you want to paint with a pencil.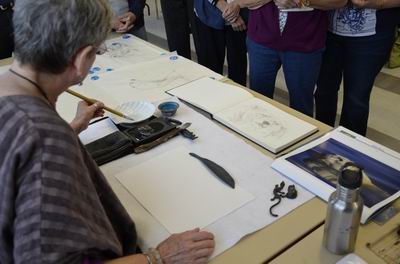 Roslyn Levin then used a brush with light gray ink to outline the parts of the head.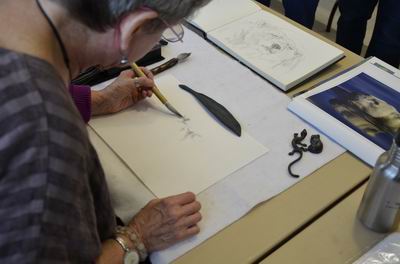 Continuing, Roslyn Levin added more details. The head of the polar bear is broad with ears well back.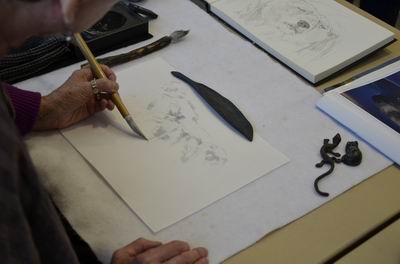 The top of the head should be outlined to define it, especially when the animal is within a winter setting.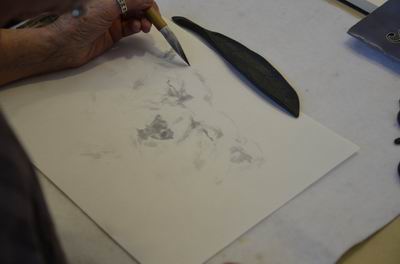 Dark ink highlighted the eyelids and mouth.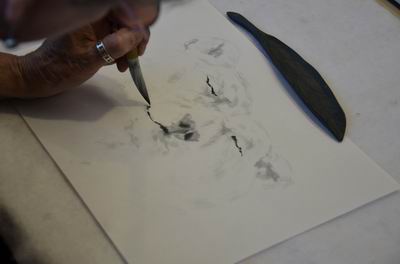 The polar bear head was well-defined at this point. Note how wide the head is.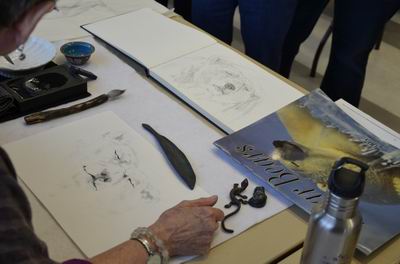 Roslyn Levin reached for more dark ink to make the features stand out.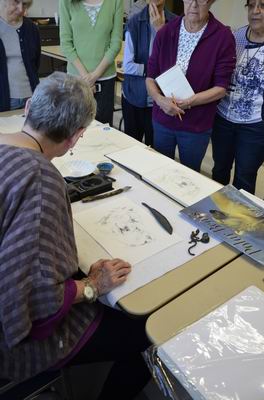 The snout is dark with black ink defining the nostrils.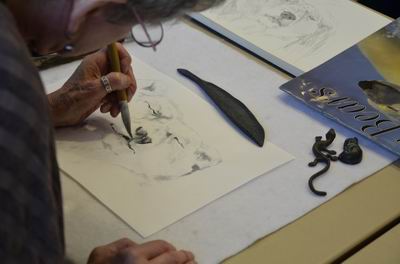 The ears also were darkened. Although the ears are small, they act as an important marking to the polar bear's broad, white head.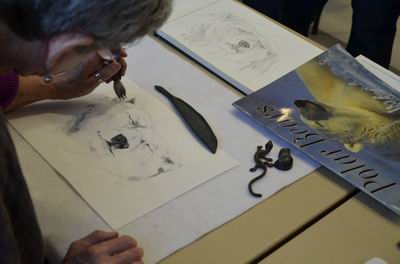 The final painting projected the polar bear's strength.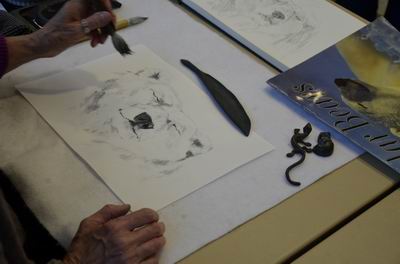 The next polar bear that Roslyn Levin demonstrated included the body. A polar bear is very large.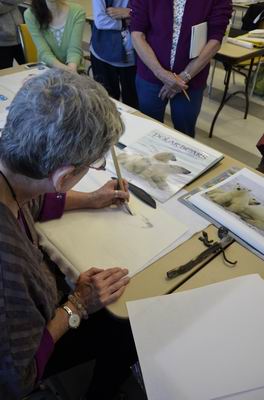 One way to convey the polar bear's size is to include a large paw, which folds at a position similar to a wrist.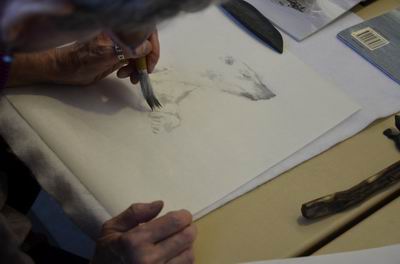 This bear struck a familiar pose like an animal sunning itself.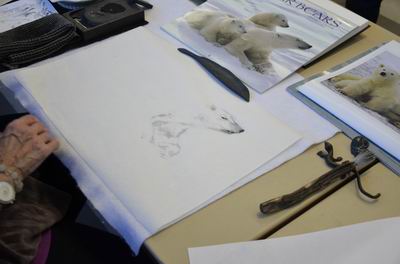 As with the previous painting, Roslyn Levin worked with light gray ink and then added darker ink to features that she wanted to emphasize.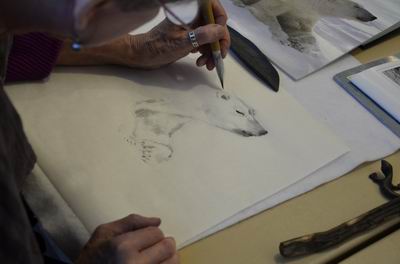 The outline of the body suggests the massive hulk of a polar bear.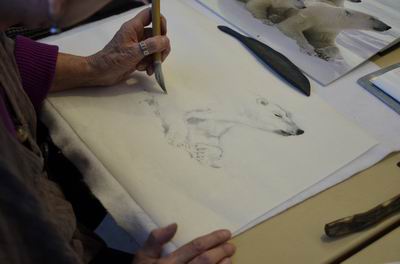 Roslyn Levin used some light blue colour for the snow near the polar bear.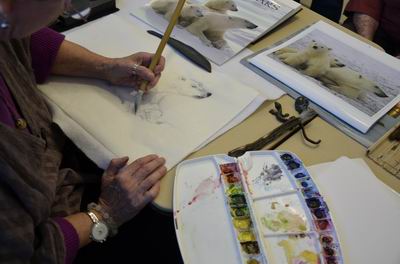 Use white gouache paint to add dots on the gray markings to indicate falling snow.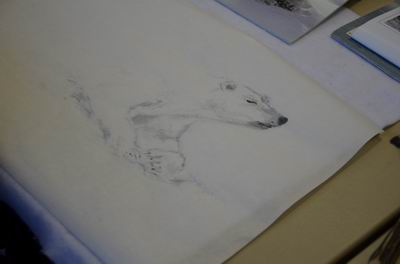 It was time for the artists to try their hand at polar bears. Roslyn Levin provided examples for the artists to use.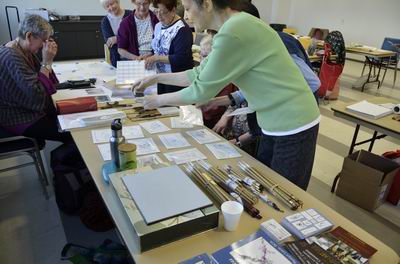 The sketch used in the first painting hinted at how the artists might want to start their own polar bear painting.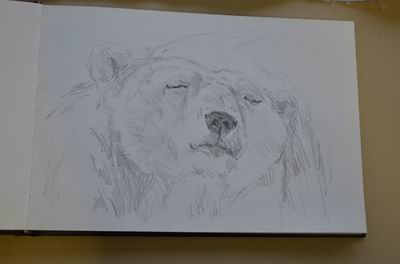 Another painting of a polar bear head demonstrated a different angle.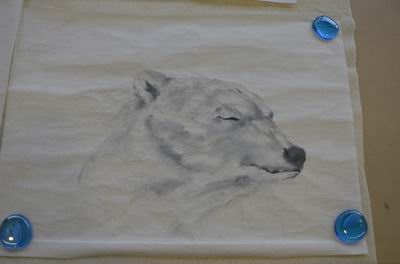 There are many ads, post cards and calendars with polar bears.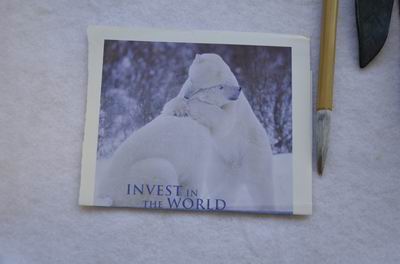 Roslyn Levin brought some of her polar bear cards.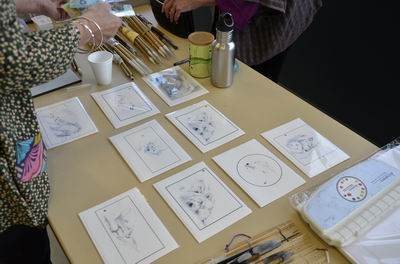 The artists found the polar bear to be an engaging subject.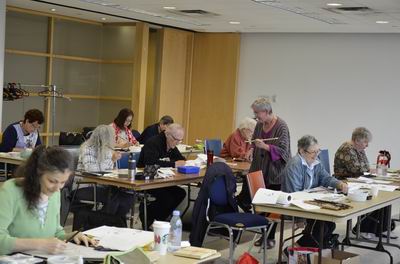 Roslyn Levin provided guidance on the polar bear facial details.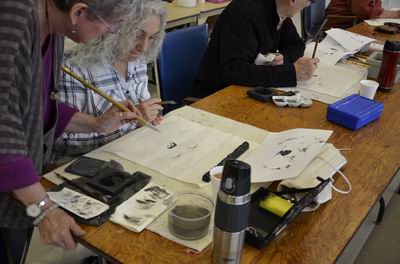 Painting polar bears can be fun.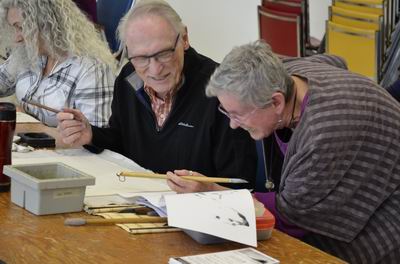 You can learn more about Roslyn Levin in the links section.