Birds, Insects and Cherry Blossoms with Ouyang Y Dong - April 13th, 2019
How do you paint life-like birds? By understanding the structure of the bird Ouyang Y Dong advised.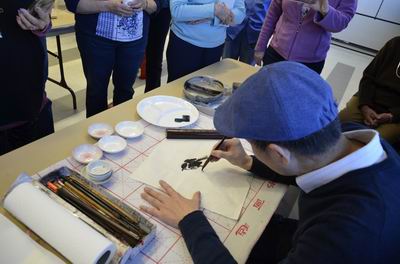 That bird structure can be seen in steps as the head, the body with its two wings and the tail feathers. Afterwards, add the details like the eyes, beak and claws.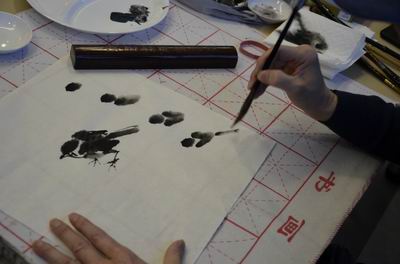 This bird followed the steps demonstrated by Ouyang Y Dong.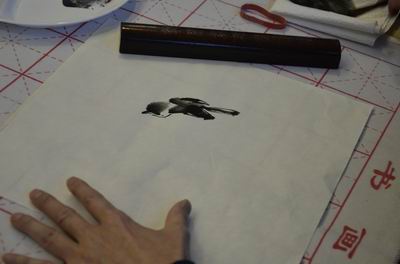 Then he completed the painting by adding the surrounding branches.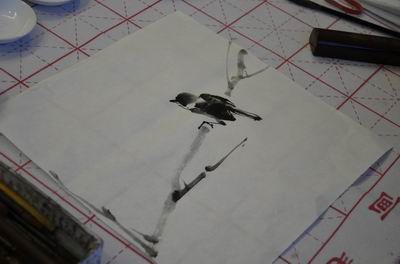 The flying bird begins with the outstretched wings.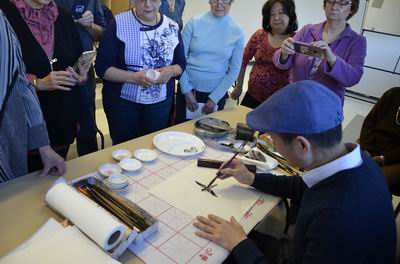 The details like the beak, eye and claws are similar to the perched bird. Ouyang Y Dong added speckled dots that you will find on many birds.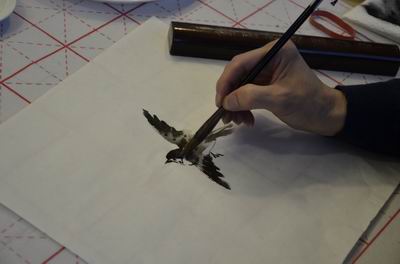 This expressive, colourful bird was started with a mix of colours and black ink.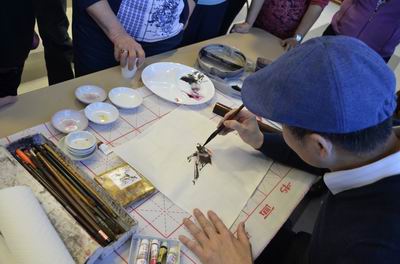 It seemed to cry out from the paper.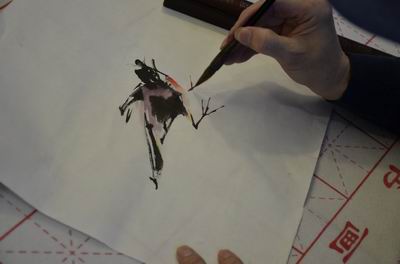 Ouyang Y Dong reminded the artists at the workshop to have the structure of the bird foremost in your mind when painting them.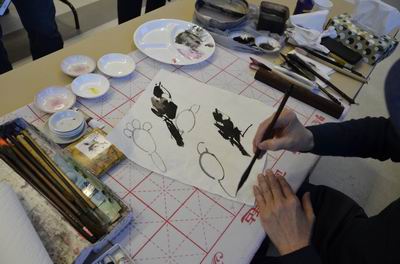 For insects like the butterfly, paint the butterfly wings first in one stroke with a water-filled brush to create a faint, transparent wing. Then add the markings found on the wing.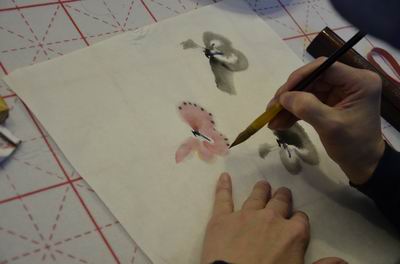 Add the body afterward.
Ouyang Y Dong also demonstrated painting the side view of a butterfly.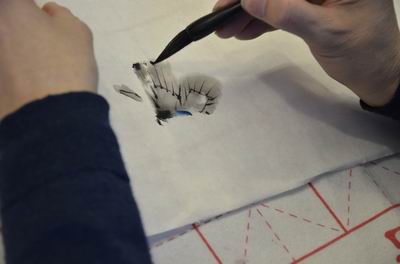 The legs and antennae are added last with a small, fine brush.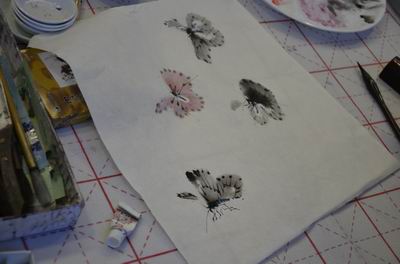 The dragonfly begins with the transparent wings too. Note that there are two pairs of wings.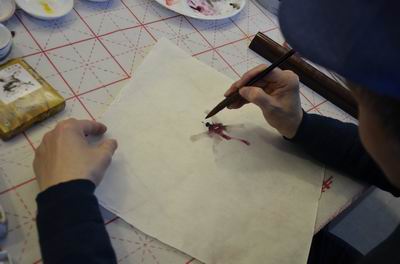 After the body of the dragonfly comes the legs and antennae. Adding blades of grass completes the painting.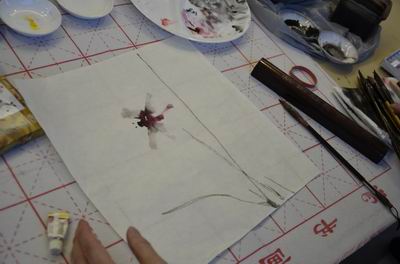 Bees like the dragonfly have two pairs of wings. The body has hair-like dividing lines.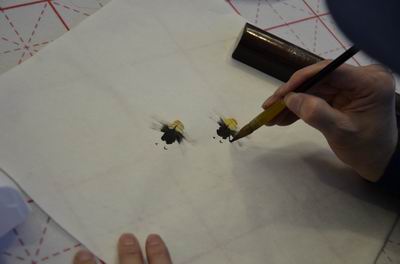 The legs come from the thorax or mid-section.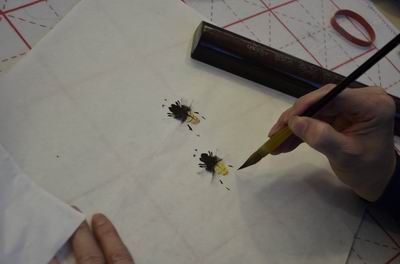 Ouyang Y Dong added blades of grass to complete the environment of the bees.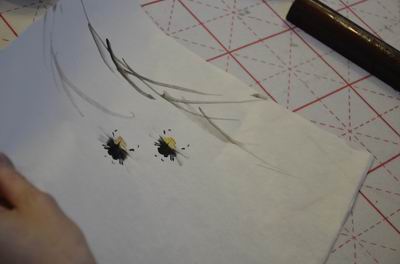 Then it was our turn to try painting birds and insects.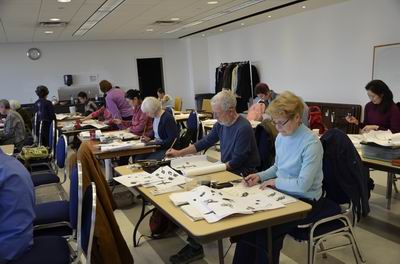 Birds are a subject we all want to paint.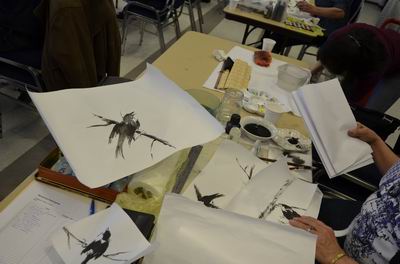 Ouyang Y Dong helped artists with their details.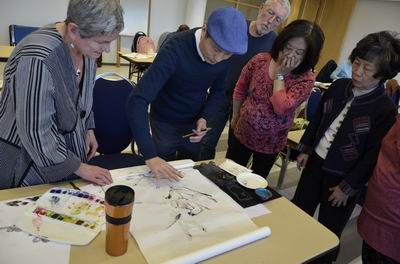 The cherry blossom painted by Ouyang Y Dong was started with a large brush held upright. The upright position creates a strong branch that contrasts with the cherry blossoms that adorn it.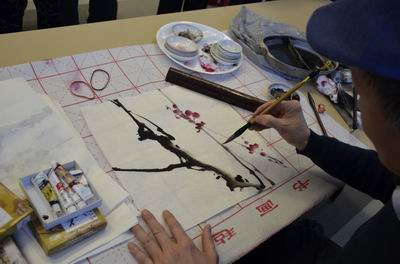 The blossoms should be added in clusters to create a natural look.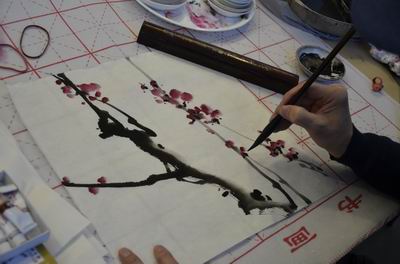 Then details like the stamens in the blossom are added.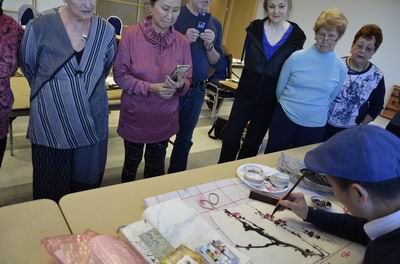 As with the birds and insects, Ouyang y Dong created these details with small, precise brush strokes.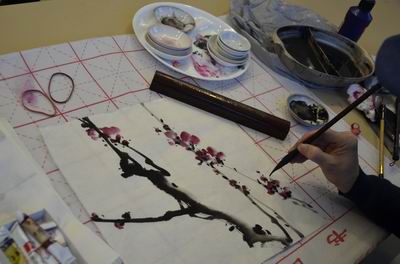 You can learn more about Ouyang Y Dong in the links section.