Striking Visuals with with Susanne Clark - March 9th, 2019
Have you ever had an image you would like to add to a painting? This dragonfly, for example, is an addition that works with the abstract around it.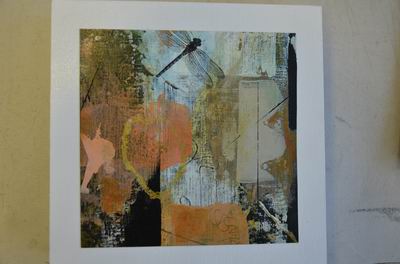 This Buddha seems a part of the painting. Perhaps the other images are a part of his imagination. Susanne Clark's workshop showed artists how to include images in their work.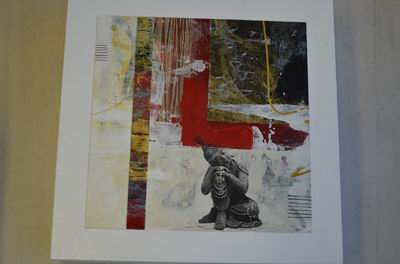 Begin with an acrylic gloss medium that you can get at most art stores and add it to the place you want your image.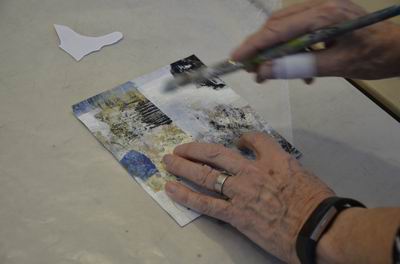 Then put your image face down on the wet medium.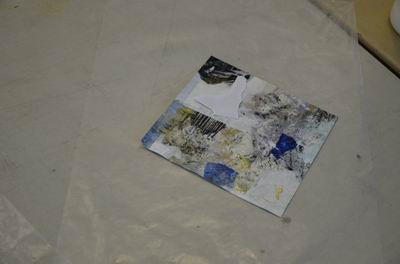 Smooth your image on the painting and use pressure to begin the transfer of the image to the painting.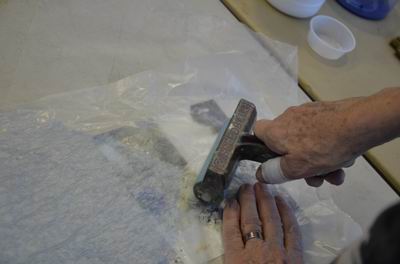 Then let your image dry.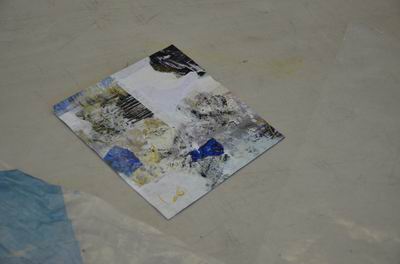 Once dry, use your fingers and water to rub away the paper that contained the image.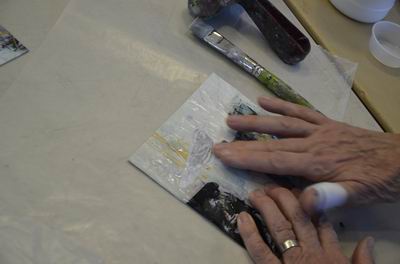 The paper that contained the image rubs off and the image on the painting reveals itself.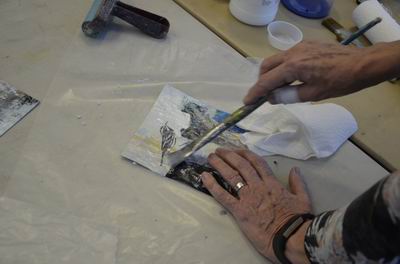 Next it was our turn to try with Susanne Clark's help.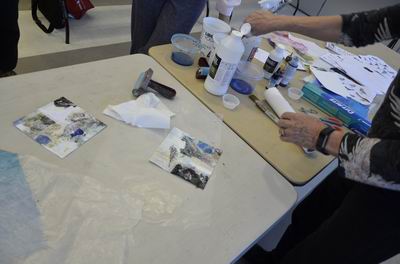 Susanne Clark had created some images for us to use. These images were on computer paper. Though you can use your own printer to print images, Susanne Clark suggested that taking the images to a local print house can give you a better image to work with.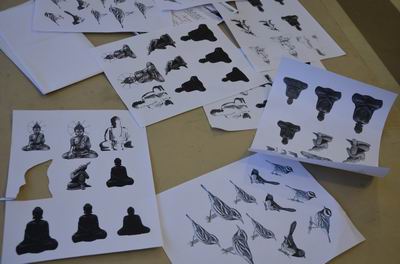 Buddha remains a popular image subject.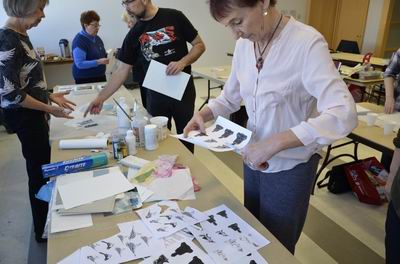 Birds are also popular.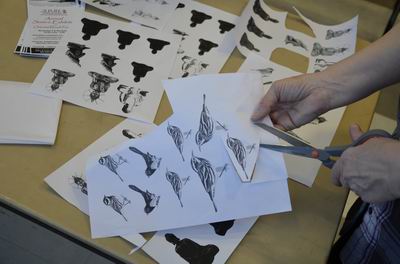 Susanne Clark uses eclectic sources for her images. For example, a map.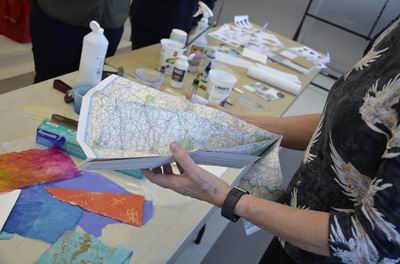 Newsprint is another option.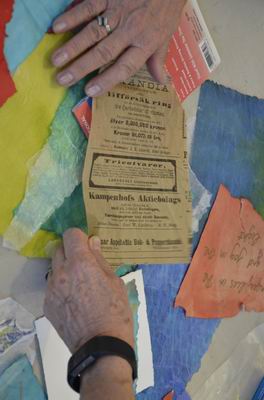 Artists tried their hand at transferring an image to a painting.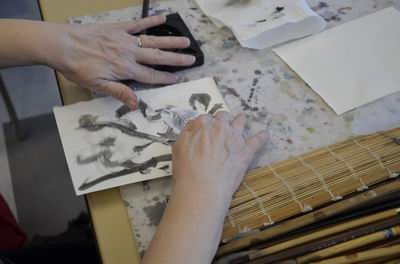 Use a hair dryer as a shortcut to drying the image.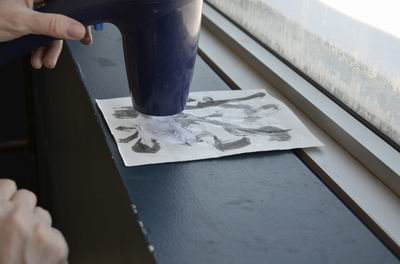 This image from an artist transferred well. Note that it is not important that every detail be transferred to your painting. A faded or incomplete image can add to the artistic effect.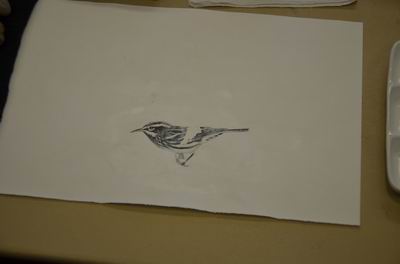 Susanne Clark helped each artist with their image.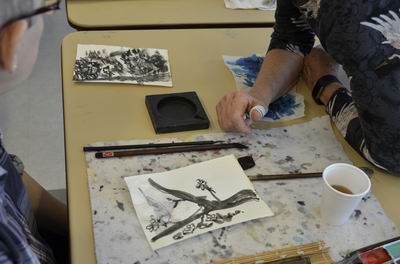 Another idea demonstrated was to use acrylic paint on absorbent paper.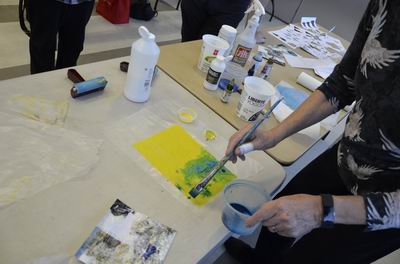 Using a pointer filled with gold paint gives you control of the art you want to see.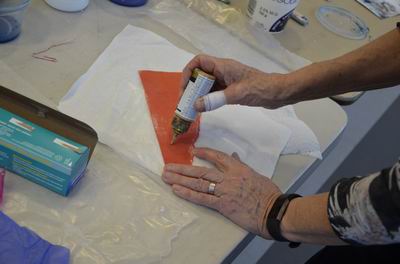 This pattern was the result.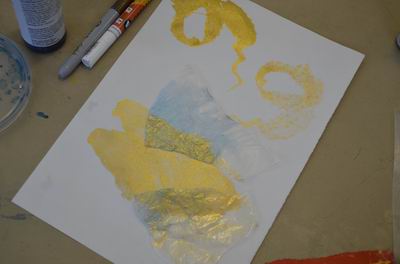 Susanne Clark handed out papers she had created using this technique to the artists.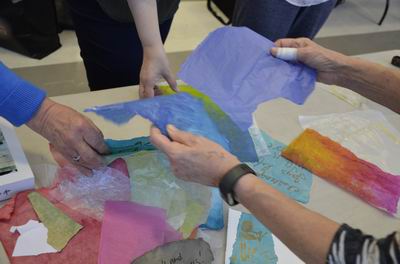 Painting sumi-e over coloured paper created a fascinating dynamic interaction.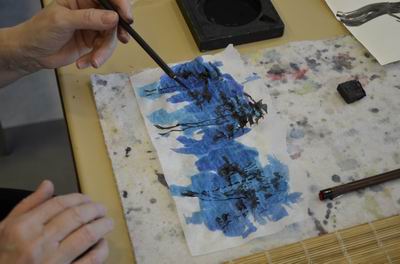 Buddha on this coloured paper blended old and new artistic styles.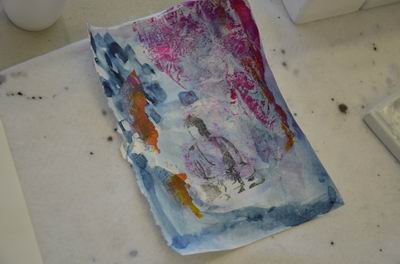 We learned an important technique for creating a vivid painting.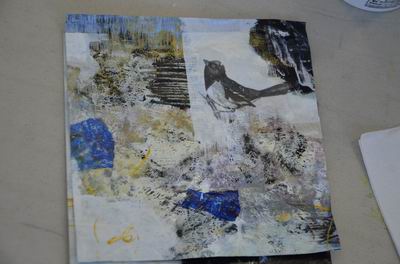 You can learn more about Susanne Clark in the links section.