Sumi-e Artists of Canada 2018 Show - November 10th and 11th, 2018
Art attracts everyone. Particularly the diverse and engaging oriental art in sumi-e painting exhibitions.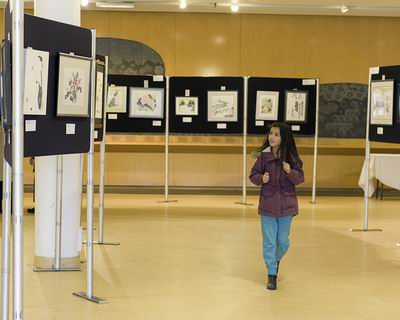 Many families and many ages came to this year's show.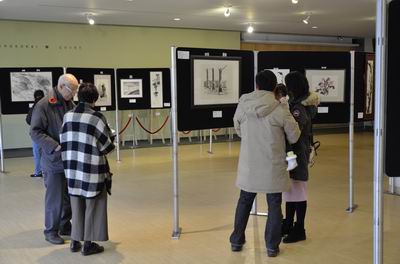 All these people - who return year after year - found themselves just as fascinated this year.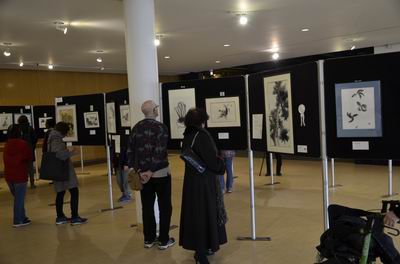 The Ruth Yamada award, named after the Japanese Canadian Cultural Centre's first sumi-e art instructor, was given to Hiroshi Yamamoto for A Snow Field. Judge Kathy Matsushita wrote these comments:
The artist conveys the cold, pristine scene and the openness of the snow field by the clever composition of the elements. The skilled use of sumi-e ink helps in drawing us into the depths of the wide expanse.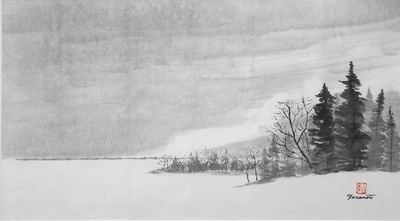 Diana Bullock's Togetherness received an honourable mention with these comments:
Contrasting ink tones immediately draws attention to this piece. The warmth and caring between the two is captured well.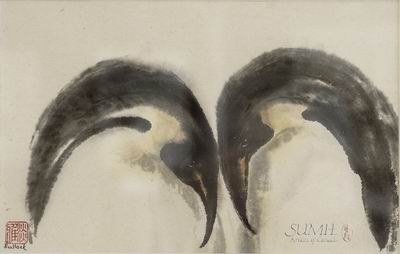 Before Sunrise by Monica Chow was also an honourable mention. These comments were added:
The serenity of this peaceful seaside scene is captured well. Expert use of sumi-e ink.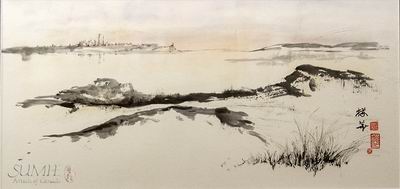 Morven Crother's Fascination, another honourable mention, received these comments from Kathy Matsushita:
The pensive look on the young cat is captured well. She seems to be ready at any second to satisfy her curiosity! Effective use of suminagashi.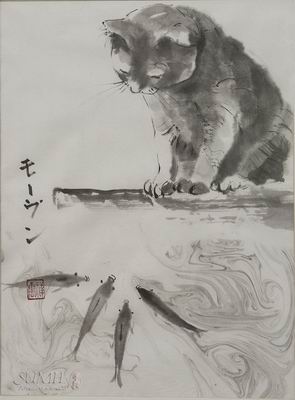 Wild Love by Roslyn Levin was an honourable mention with the following comments:
The soft brush strokes used on the lion and lioness help the viewer to experience the deep feeling between them. Dark accents of the brush bring them to life.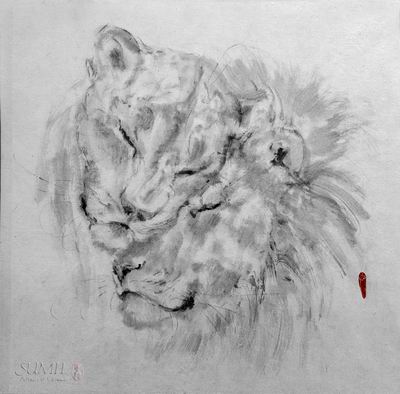 Guarding the Mountain by Mimi Yeung had these comments for her honourable mention:
The powerful strength of the brush strokes expresses the daunting task of the subject. Effective use of sumi-e and colour.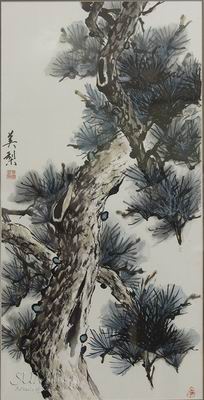 These paintings and others had onlookers finding lots of details to discuss.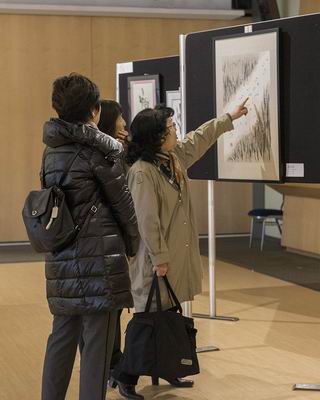 Other reactions were more contemplative.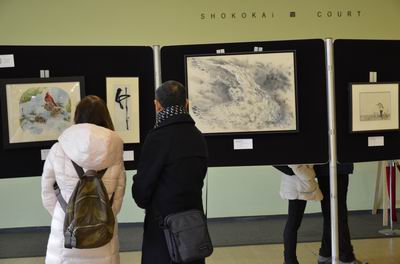 Visitors could watch demonstrators like Roslyn Levin paint a horse.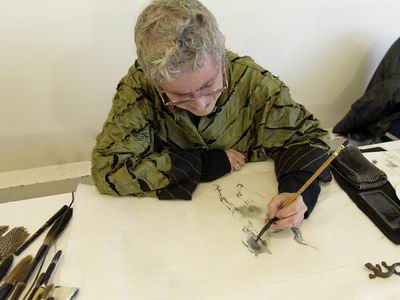 Or look at a horse already on display.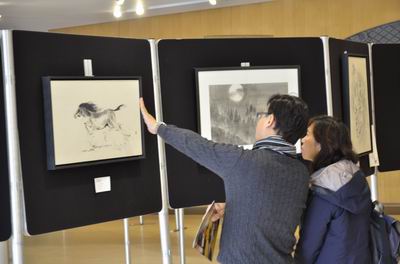 Everyone found something to think about in this large, vibrant show.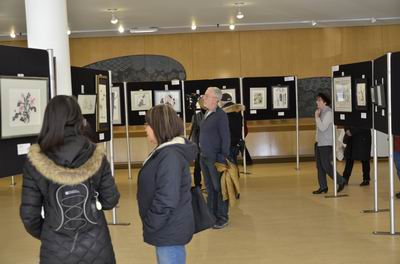 No matter where you looked, someone had something to say or ponder.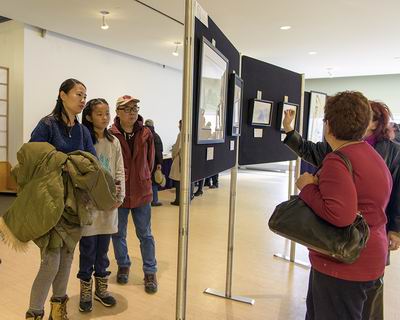 Hiroshi Yamamoto was another demonstrator who interested those intrigued by how sumi-e paintings develop from a blank piece of paper.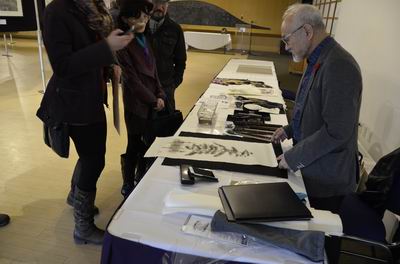 Visitors also got to look at some comical characters like this frog.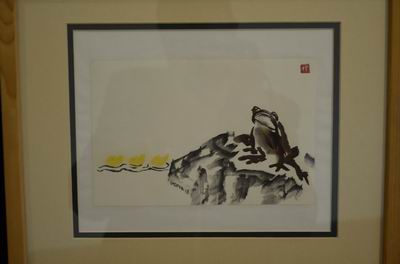 Sushi and green tea awaited in the tea room.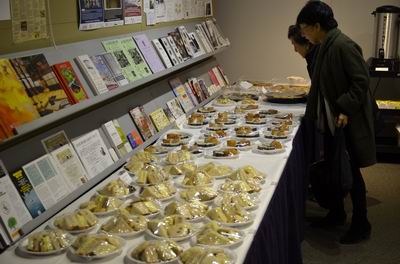 Cards were another attraction.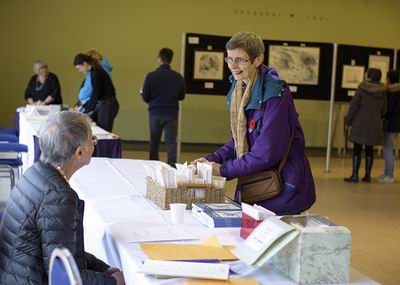 Nancy Jacobi from the Japanese Paper Place had lots of Japanese paper for sale. Japanese paper is the preferred paper for sumi-e painters.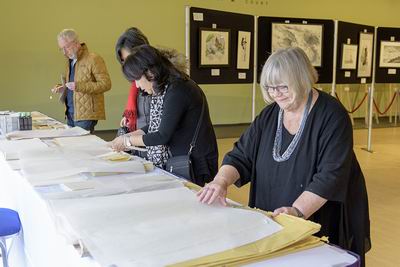 Sometimes you have to look extra hard at some works of art.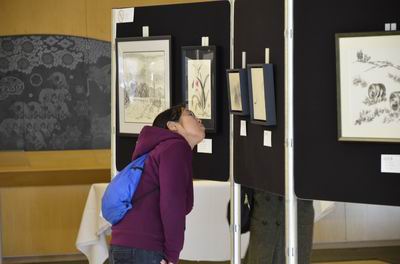 Or maybe talk to your parents.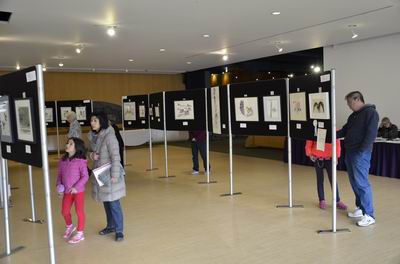 Cats are a perennial favourite.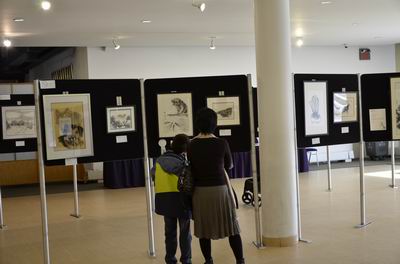 Birds are also favourites.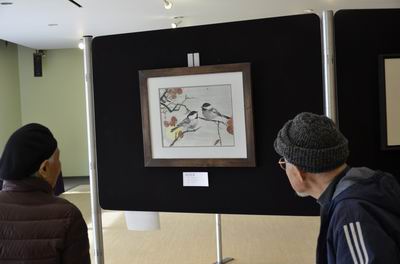 Out of all these visitors no doubt a few will start to become artists themselves.