Orizome with Sigrid Blohm - September 9th, 2017
Orizome is an art that creates patterns on paper using folding, like origami, and ink. Sigrid Blohm led us through an introduction to orizome which began with a look at the paper we use in sumi-e painting and how it affects the images created.
Giving each person a variety of Japanese paper, Sigrid Blohm - who knows the qualities of each paper in depth - had us create some sumi-e paintings on each. Then we discussed our reactions to the different paper types.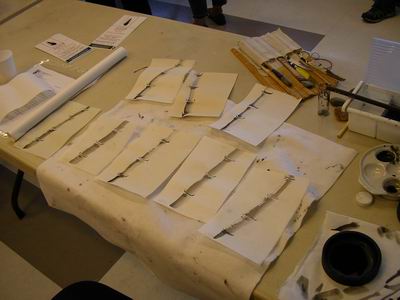 We would use a variety of paper in the next part of the workshop: an introduction to orizome. Getting the effect you want, that is, the pattern you would like to see on some paper, requires practicing how to fold the paper.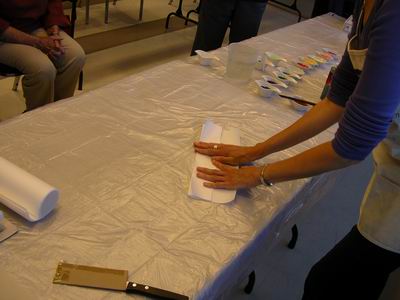 Sigrid Blohm showed us basic folding techniques to begin, which included vertical and horizontal folds followed by creating triangles.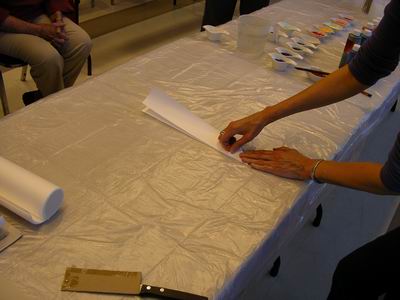 The end of the folding produces a small piece of paper where the edges and corners define your pattern.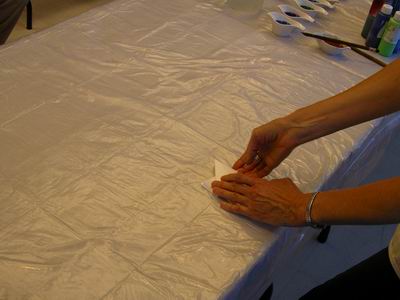 Next comes dipping the corners in the colours that you would like to use.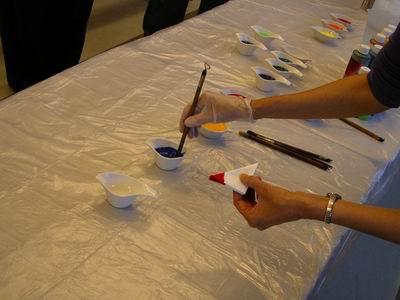 A brush can be used for the edges. When using the brushes, assign one brush to one colour of ink.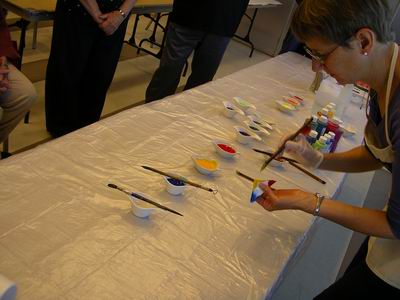 Unfolding the paper reveals your pattern.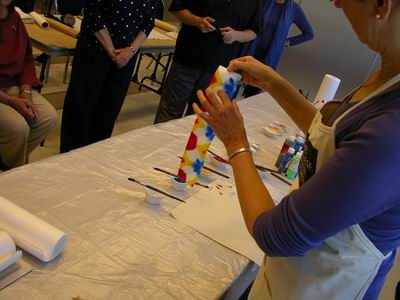 For demonstration purposes, Sigrid Blohm unfolded her paper right after adding the ink. You might want to wait a little longer since the paper can tear when too wet.
The result was a vivid pattern produced in a few minutes though Sigrid Blohm is quite experienced in orizome. For us, it took some practice.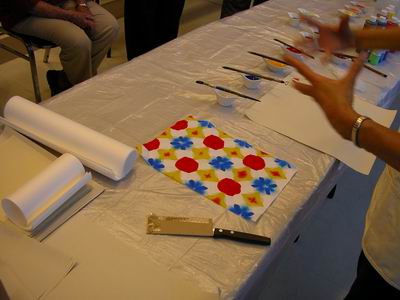 Several more patterns were demonstrated for us. Each new pattern involved more complex folds.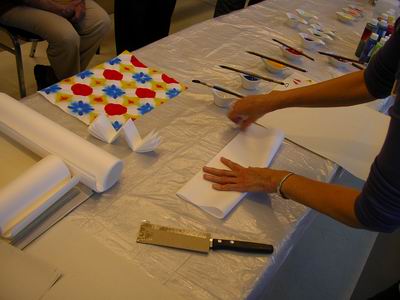 Understanding how to fold the paper is the key to getting the creative patterns you want.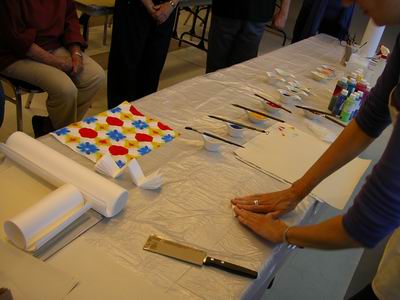 The result is squares, lines, and patterns with dynamic or subdued colouring.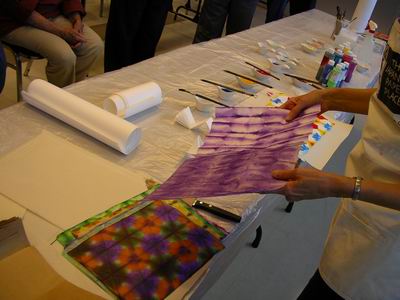 It was our time to try out our new orizome skills. Sigrid Blohm suggested that we use a variety of paper, as the type of paper affects the degree of ink absorbed.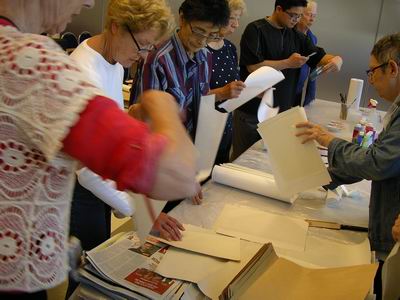 You can use the orizome in a number of ways. One surprising use is in creating bags.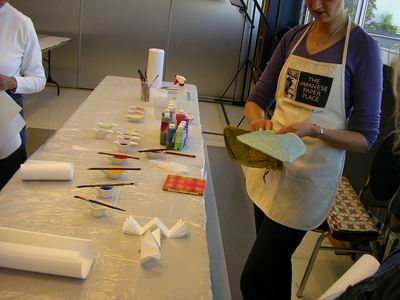 We began experimenting with folding and colouring paper. You may want to wear gloves when working on orizome as your hands can become coated in colours.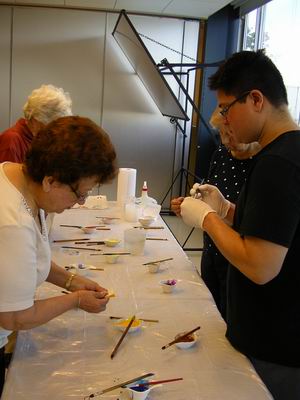 We received more pointers on how to do the complex paper folds.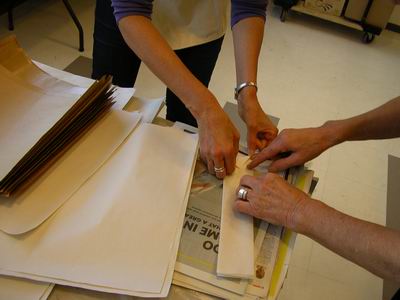 Colouring the edges takes some control. Decide how much colour you want to add.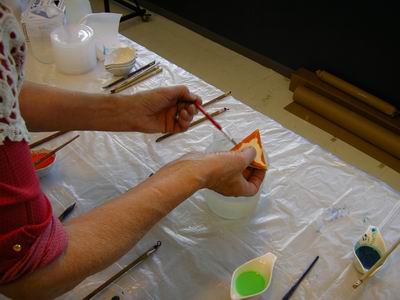 When you dip a corner into some ink, the longer you leave the corner in, the more the ink spreads.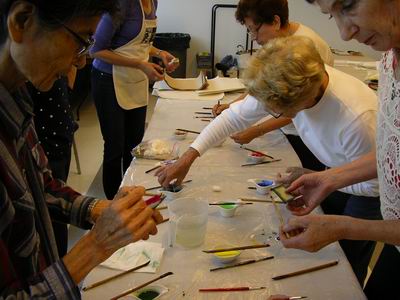 Our initial efforts produced some striking orizome.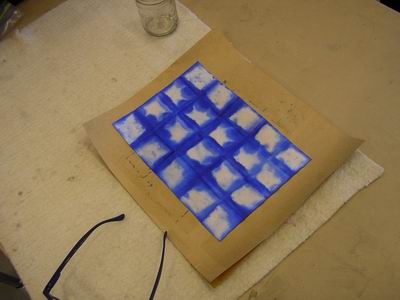 Simple patterns are often the most pleasing to the eye.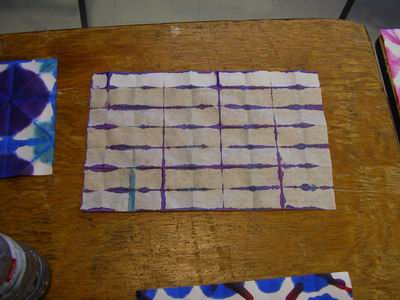 As we progressed, we tried more variety in our patterns.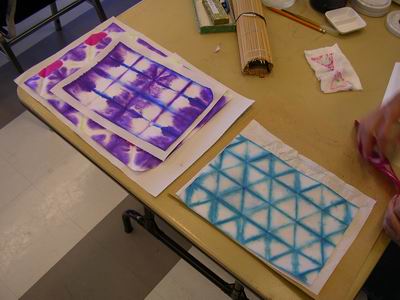 We tried working with a range of colour combinations.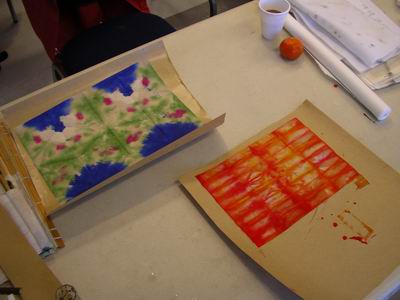 Our origame outing was fun yet each person produced some startling work.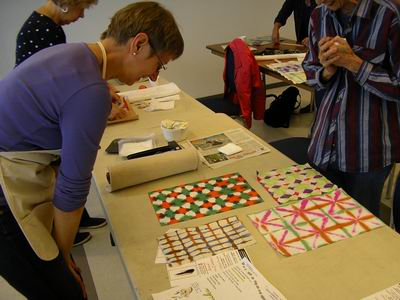 In wrapping up, Sigrid Blohm showed us an elegant design of lines created only with sumi-e ink.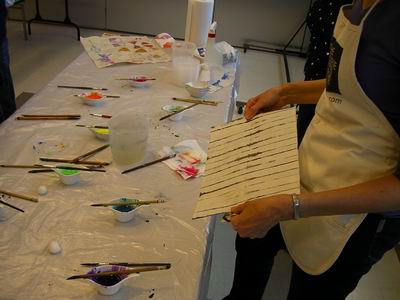 You can learn more about the Sigrid Blohm and the Japanese Paper Place in the links section.