Sumi-e Painting on Folded Screens with Hiroshi Yamamoto - March 11th, 2017
For centuries, sumi-e art was painted on folded screens. This workshop with Hiroshi Yamamoto created the same sumi-e art on a screen but used a folded juice container. We started with a container that became a folded screen, created the art, and then mounted the art on the folded screen.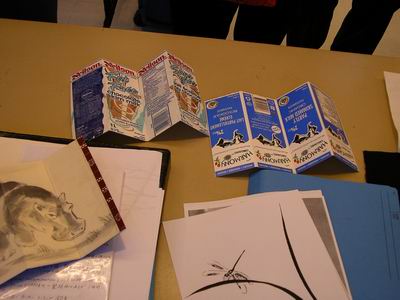 Hiroshi Yamamoto began by creating a landscape painting that could be used on the screen.
A rocky shore with trees formed the front of the landscape.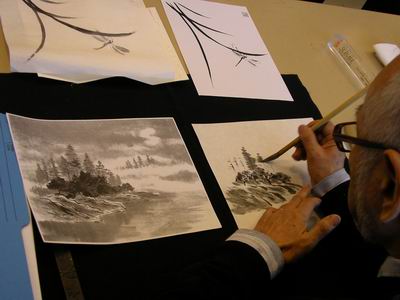 Water that reflected the shore at night was added with the side of the brush.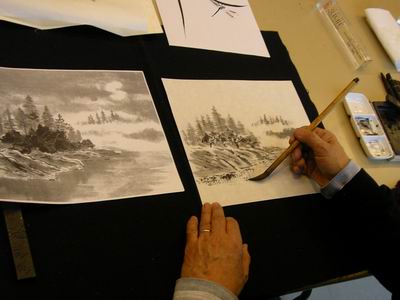 A moon and clouds with reflecting light created an inviting look at nature by night.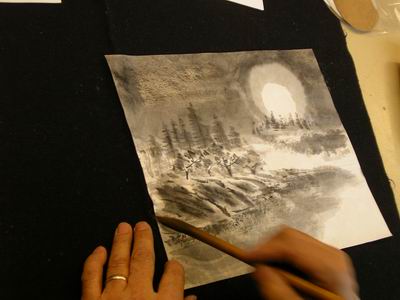 Then it was our turn to paint, however, Hiroshi Yamamoto gave us many examples to help us.
In addition to painting, artists at the workshop sanded some of the juice and milk boxes so that gluing the sumi-e paintings to the screens would be easy.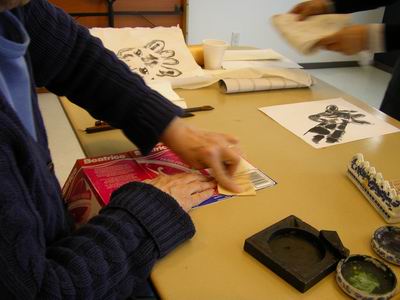 Artists worked on their sumi-e paintings for the screens.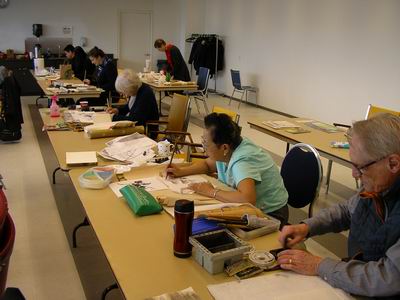 Hiroshi Yamamoto helped us with a few details.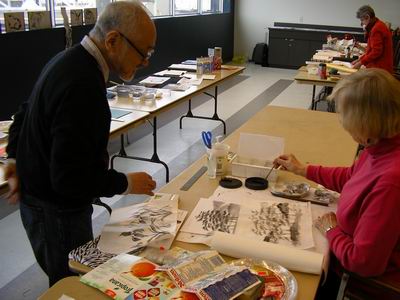 Then Hiroshi Yamamoto taught us how to mount the paintings to the screen. He suggested adding a backing to the painting between the painting and the screen.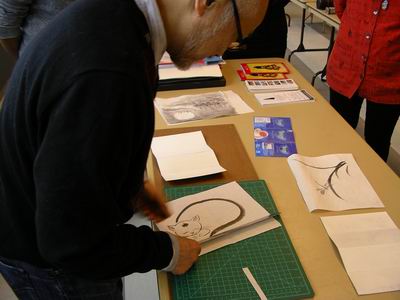 Use a paper size bigger than the screen. Add acid-free glue to the screen.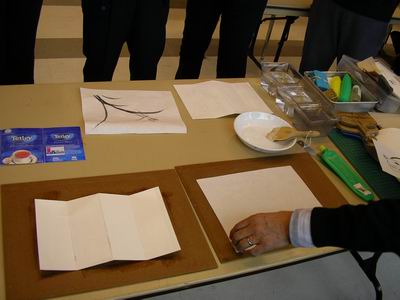 Put the backing paper on the screen.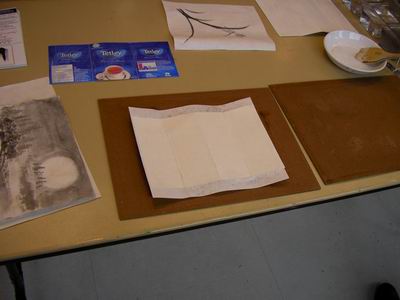 Smooth the paper glued to the screen.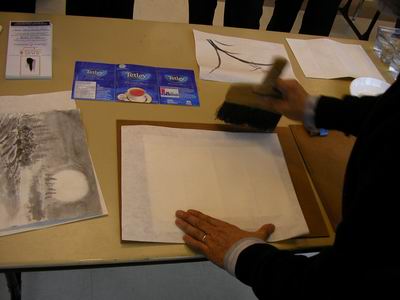 Then glue your sumi-e painting using the same steps.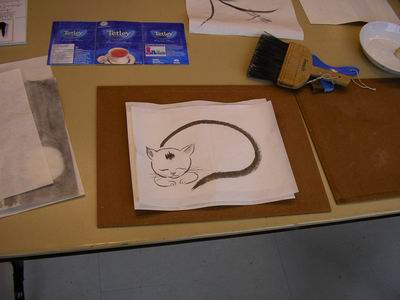 Take scissors and trim excess paper over the screen.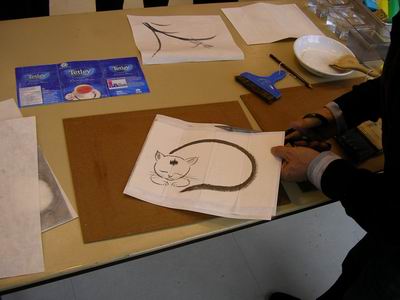 Select some decorator paper to cover the other side of the screen.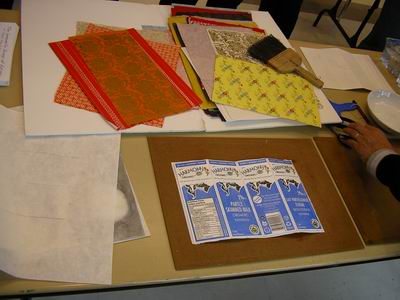 After sanding the waxed container, add glue to this other side.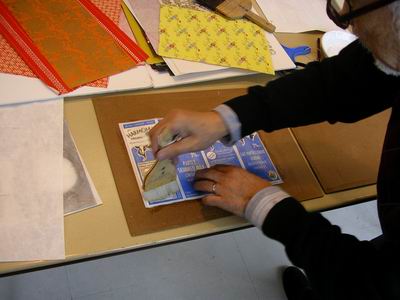 Add your decorator paper to this side.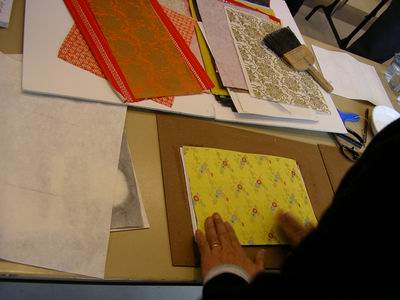 The result is a sumi-e painting on a screen. It makes a perfect gift!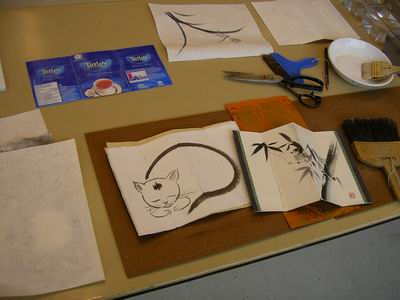 You can also add the decorator paper to the sides of your painting.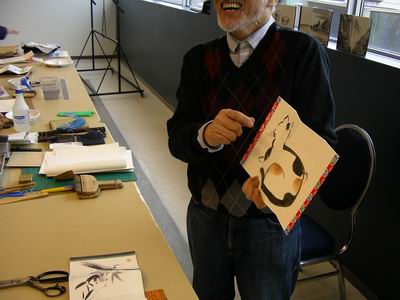 Then it was our turn to mount our paintings to our screens.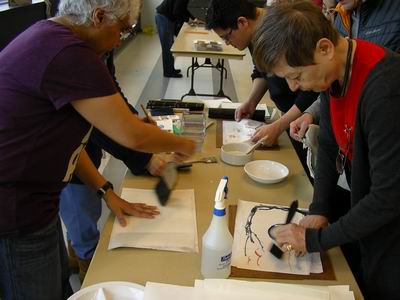 Hiroshi Yamamoto helped us with some details like trimming the extra paper.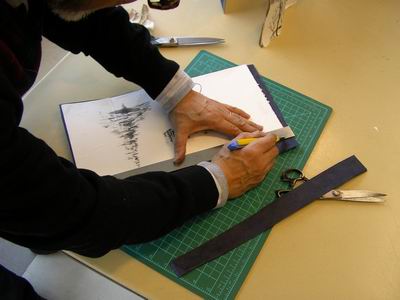 We shared our screens with everyone in the workshop.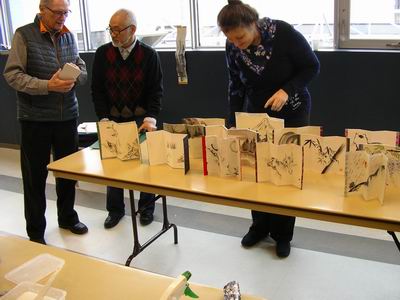 These screens looked like professional art pieces when finished.
From the back view, they also looked attractive.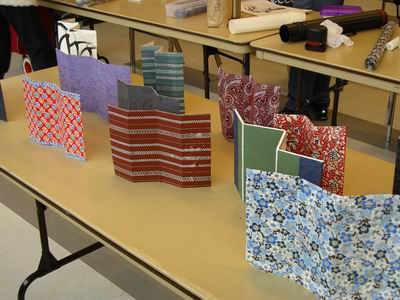 You can learn more about Hiroshi Yamamoto in the links section.