Year of the Rooster with Baoxing Zhang - January 14th, 2017
The rooster is known throughout the world. In China, the rooster is part of the Chinese zodiac, where it has symbolic characteristics like trustworthiness, responsibility, and a sense of keeping time. Learning to paint the rooster has practical benefits since it can be used in many scenes. Baoxing Zhang has painted many roosters, and brought his examples to the workshop.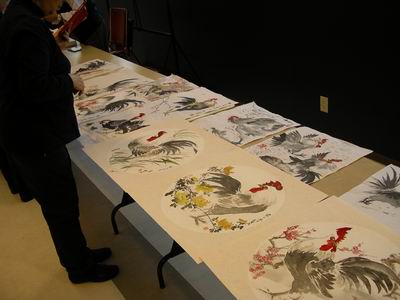 Begin your rooster by outlining the structure in charcoal.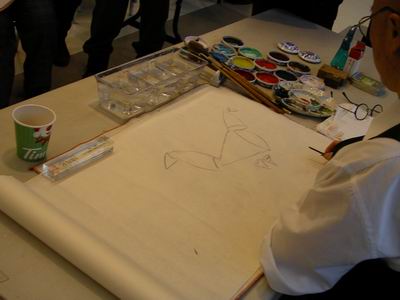 With the outline in your mind, start at the head by painting the beak and the eye with a fine brush. Then use a dragging stroke with a dryer brush to create the feathers for the neck.
For the body, use more ink and a larger brush.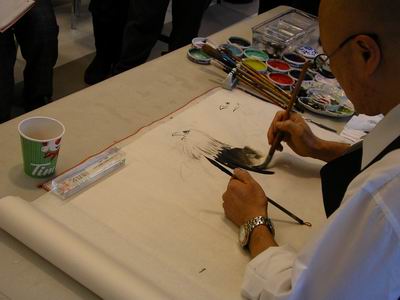 Baoxing Zhang reminded the workshop artists that the body also has colours.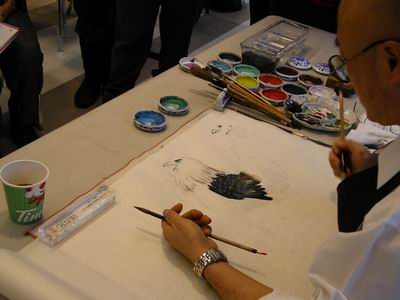 Do you remember how to paint the orchid? Baoxing Zhang suggested that the rooster tail is similar.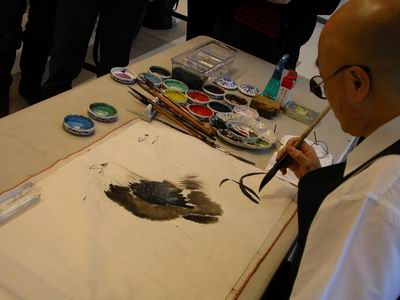 Bold, strong strokes with a large brush creates the tail.
The rooster spends most of its time on the ground and has big legs and claws.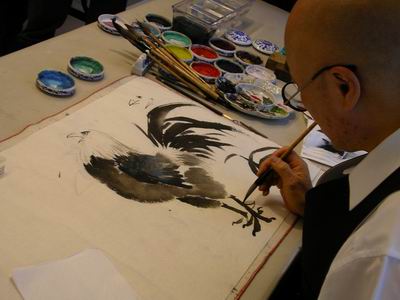 With a large brush and a single waving stroke, Baoxing Zhang created the crest.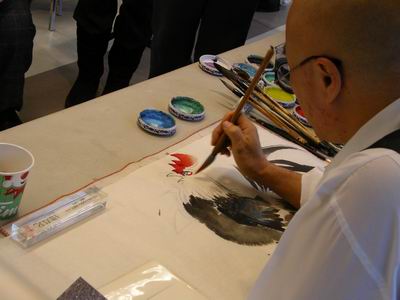 Adding yellow to the beak completed this life-like rooster!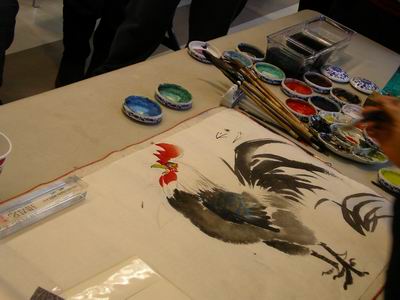 It was our turn to paint a rooster but we had many roosters to study.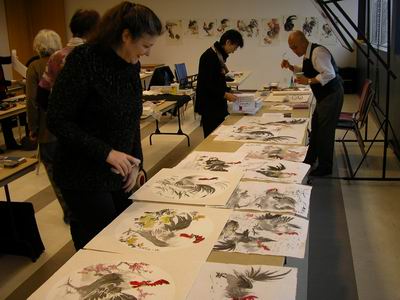 The class discovered that painting the rooster requires concentration and is a challenge.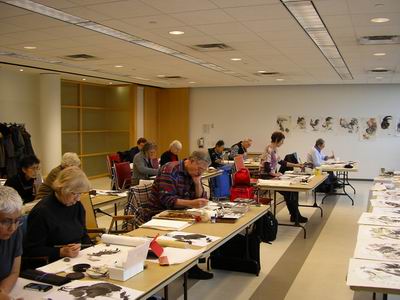 Baoxing Zhang returned to illustrate some details that artists should know.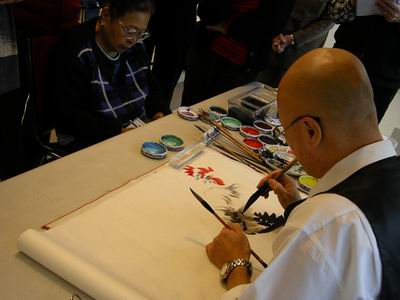 The head, the body, the tail and the legs are parts that you must focus on to create a vivid rooster.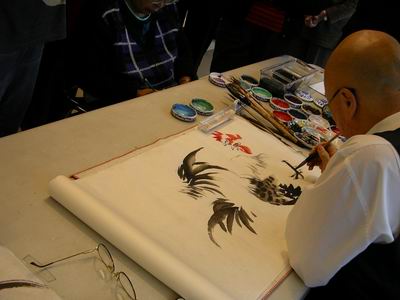 The hen is similar to the rooster. It is often searching on the ground for seeds. Baoxing Zhang started with a sketch of the hen in charcoal and then added the beak and eyes.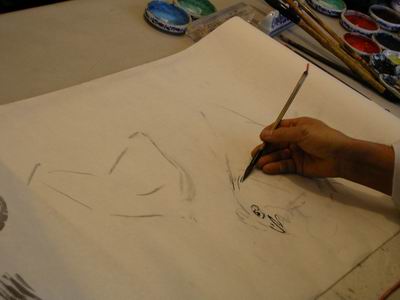 The brush strokes for the feathers are similar to the rooster. However, the hen does not have a big tail.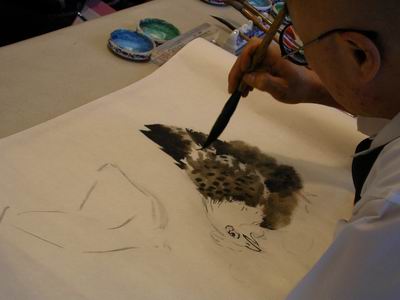 The crest is smaller than the rooster's crest.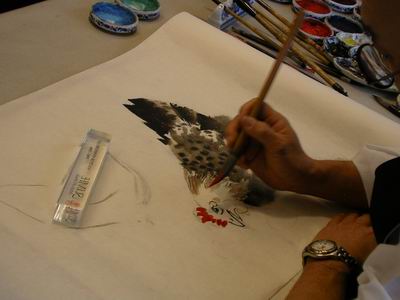 Baoxing Zhang used yellow ink for the beak and also behind the eye.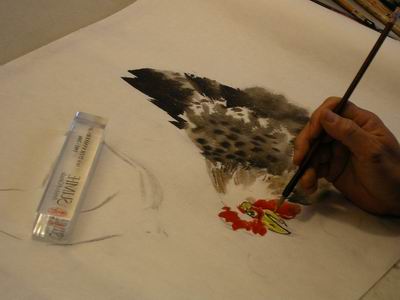 Chicks add to the composition.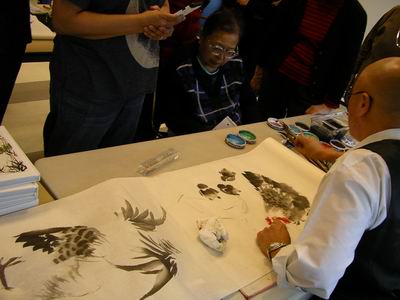 You paint the chicks with a large brush filled with ink and water. However, be careful that the head, body and wings do not run into each other. There needs to be space between the parts.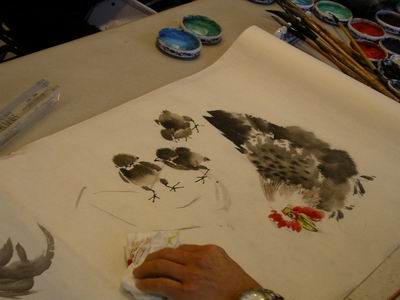 Adding the beaks, eyes and legs brings the little chicks to life.
Baoxing Zhang added some seeds to the painting.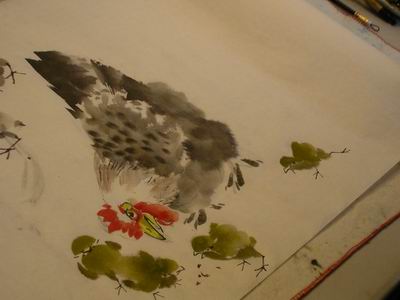 You can create some interesting effects with these chicks. Here two chicks fight over a worm.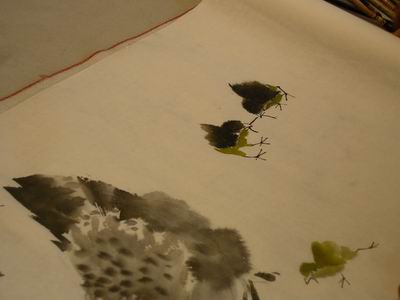 We tried painting some hens and chicks with some help from Baoxing Zhang.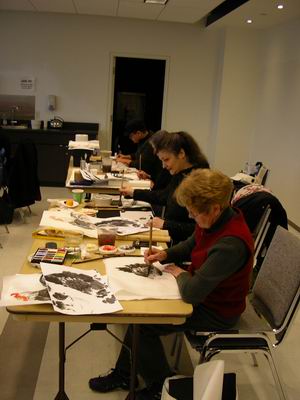 We gathered for a group photo.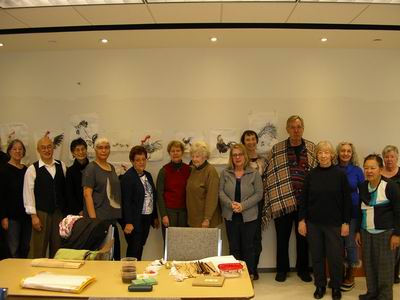 Baoxing Zhang finished by looking at some of our own roosters on the wall.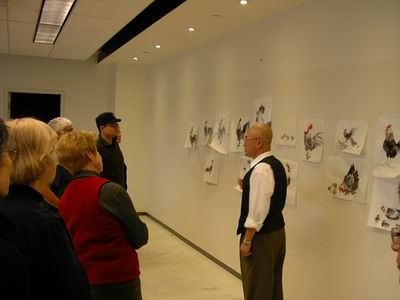 You can learn more about Baoxing Zhang in the links section. Baoxing Zhang has also published many books on oriental painting. See the books section.