Sumi-e Artists of Canada 2016 Show - November 12th and 13th, 2016
Art shows fascinate all of us. There's an irresistible urge to see something in a unique painting. This year's sumi-e art exhibition had that fascination.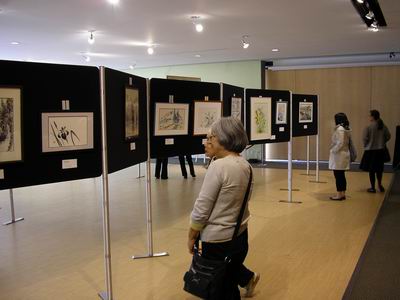 With many paintings from well-known sumi-e style painters, there was a lot to discuss.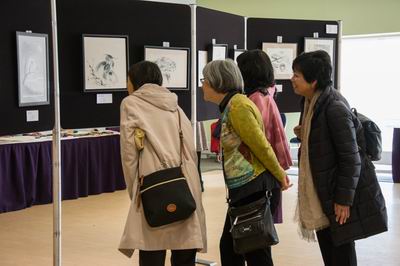 Even children found this annual sumi-e painting exhibition an entertaining experience.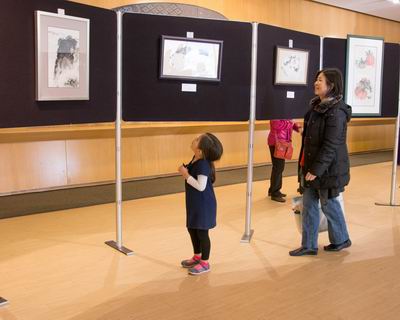 A class from the Toronto Japanese Language school visited the exhibition. The result was a number of questions and a desire to keep up their own painting in the sumi-e style, which is offered at their school.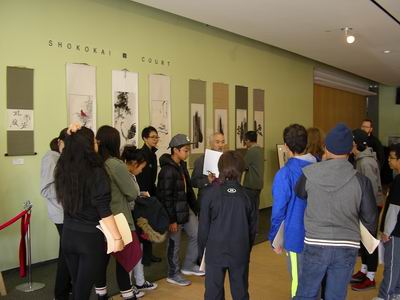 A judge offers his comments on the show each year. Baoxing Zhang was our judge this year. His own painting of a rooster greeted those who entered the exhibition.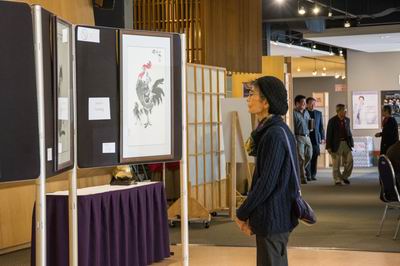 A Spirit that Dwells in Trees by Hiroshi Yamamoto received the Ruth Yamada award. Ruth Yamada was the first sumi-e instructor at the Japanese Canadian Cultural Centre. Baoxing Zhang had these comments.
The power of the ink is shown completely in these simple strokes. Well distributed ink tones comes from the confident mastering of the brush. A few light touches of tree branches expresses the title of the painting. Well done, Hiroshi.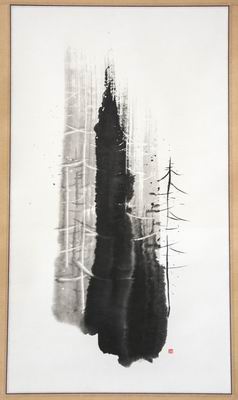 Hiroshi Yamamoto (on the right) received the Ruth Yamada award for excellence. It is given for a work that demonstrates originality, spontaneity and technical skill in a sumi-e painting. The award was presented by Gary Bist, President of the Sumi-e Artists of Canada.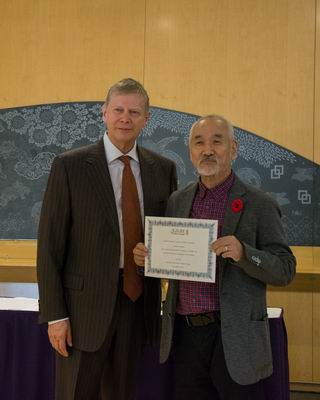 Laura Beaton's painting, Shangri-La, received an honourable mention with these comments.
The strong contrast between mountain and clouds makes this painting very attractive. The artist tried different techniques to express different textures of the objects. The art has no boundary.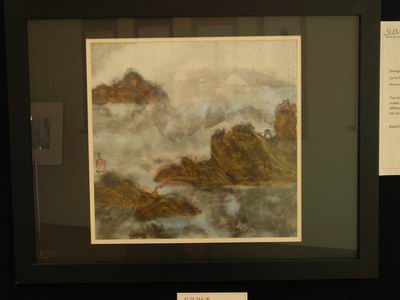 Bringing Home the Christmas Tree by Gary Bist also received an honourable mention. Baoxing Zhang wrote these comments.
Gray, dark, and white created created a strong winter sense and Christmas atmosphere. Strong contrast between the forest and snow, strongly inked people carrying a Christmas tree in the snow, free touch of the branches, those elements make this sumi-e painting very attractive. Well done!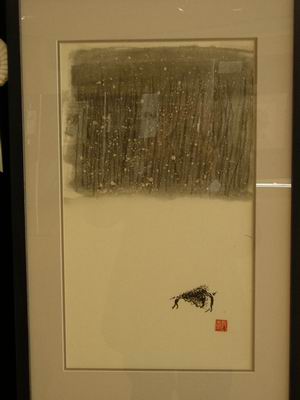 Another honourary mention went to Roslyn Levin for Too Much Catnip. The comments for her painting.
The simplicity and precise catch of the object, the fluidity and freedom of the lines and dots, created a very impressive piece of work. Well done, Roslyn!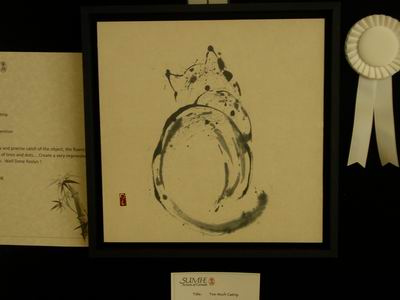 An honourable mention went to Moira Mudie for Catch the Sun. Boaxing Zhang wrote this commentary.
Beautiful flowers dancing in the sun! The painting brings a warm happiness at a glance. Rich tones of colour and ink, precise strokes, demonstrate the mastership of the artist in this form of art.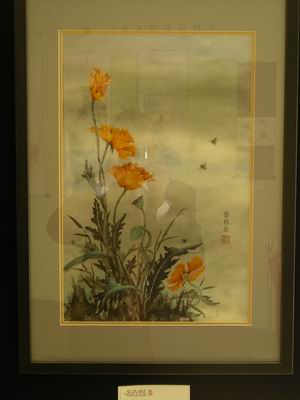 Cat #6 by Jeffrey Snape received an honourary mention from Baoxing Zhang. These comments were added.
I like the unique arrangement of calligraphy and painting. As well, the well controlled ink and water for the cat. Way to go!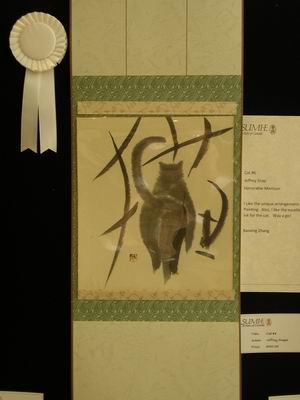 These paintings and many others kept visitors looking at the wide range of subjects and styles on display.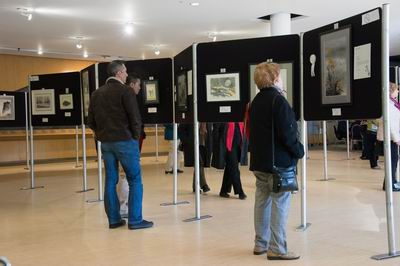 A retrospective of paintings by Peter Ito, a well-known sumi-e artist, was a significant attraction. Peter Ito painted scenes that captured the spirit of the Canadian north.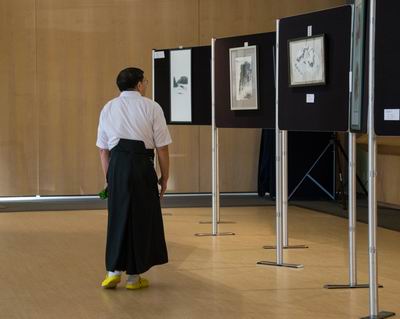 In fact, paintings of the northern landscape in Canada dotted the exhibition.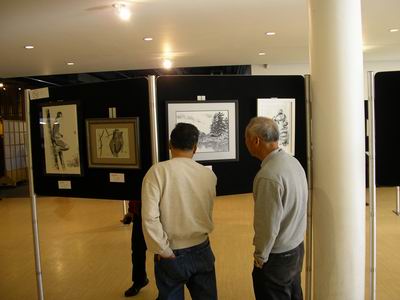 The works were also contemplative.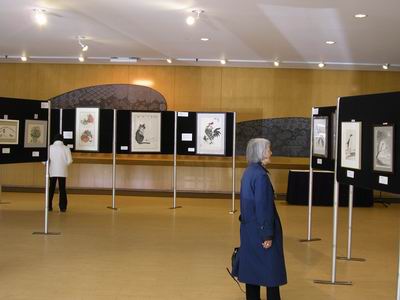 There were a few humorous paintings too.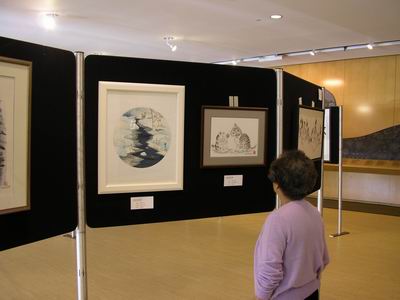 Large scrolls were found on one wall. Scrolls are the traditional way of mounting Japanese and Chinese paintings.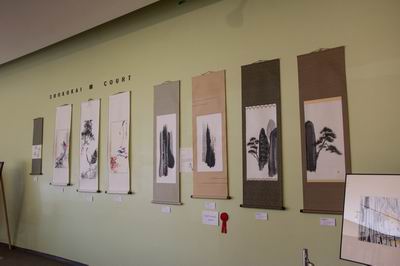 Many Sumi-e Artists of Canada members also study calligraphy. This work is a collection of Japanese and Chinese poems.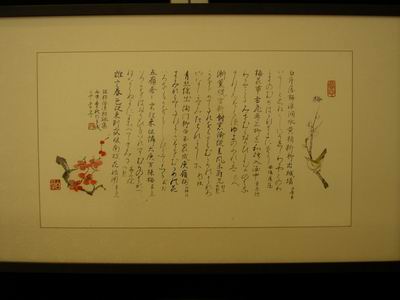 This painting combined the painting of an orchid with calligraphy about its fragrence.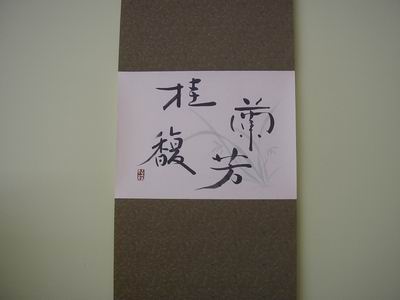 Volunteers, like these members helping customers buying cards, keep the sumi-e exhibition running. Volunteers set up the show on one day, run it for two days, and then take it down.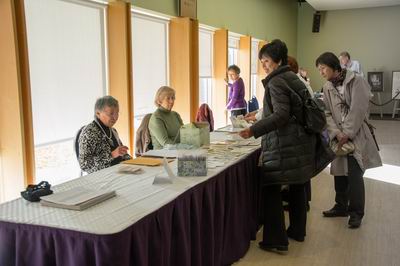 Demonstrators showed how this ancient art is still created today.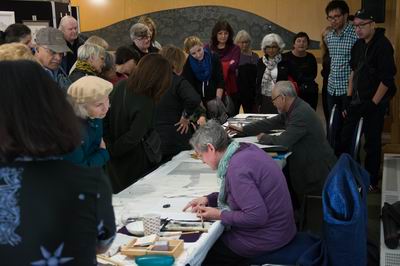 The tea room was another part of the show. Spending a day surrounded by oriental art leads to conversation with sushi.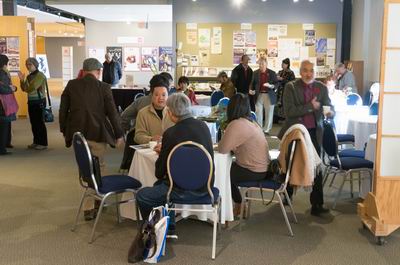 Over 300 visitors see this show each year. Many stay for over an hour to see all the paintings.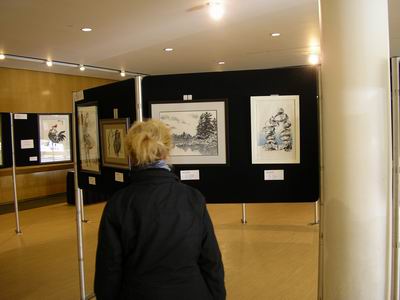 The works included cityscapes like this view of Victoria College at the University of Toronto.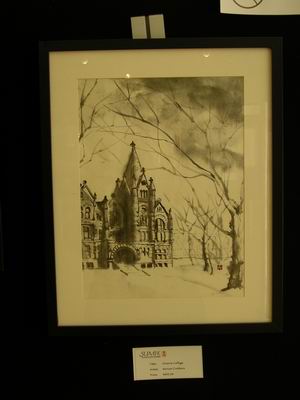 This elegant painting of blossoms inspired many comments by visitors.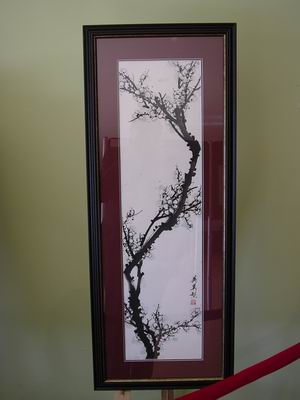 Sometimes it helped to study the titles when looking at a painting.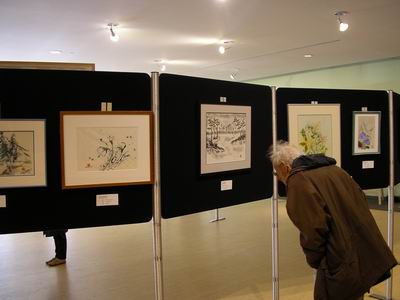 Other paintings were self-evident, like this vibrant flower.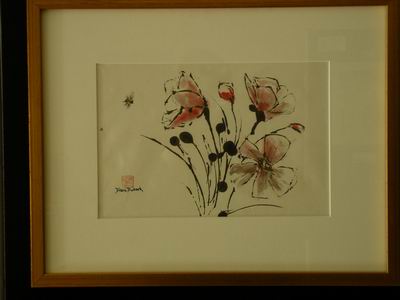 In this painting, the bird seems to be looking at you. One of many paintings that surprised viewers.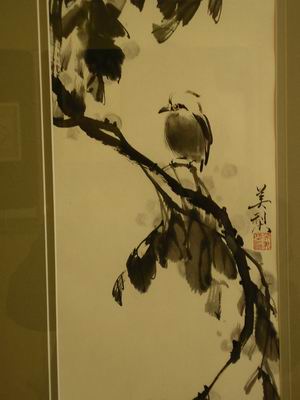 In summary, it was a fascinating show that captivated visitors as this ancient art has for centuries.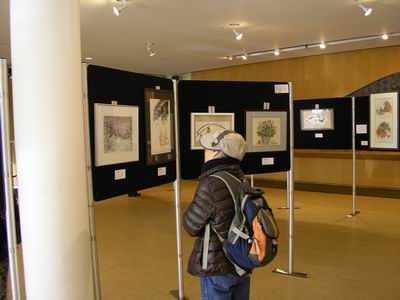 This entertaining exhibition reminded us that we can always learn something from an artist. It was time to return to our workshops and our painting.