Miyamoto Musashi with Hiroshi Yamamoto - October 8th, 2016
Miyamoto Musashi was a legendary Japanese swordsman. He was also a significant sumi-e artist. Hiroshi Yamamoto brought some of Miyamoto Musashi's sumi-e paintings as well as other sumi-e paintings from samurai swordsmen to his workshop.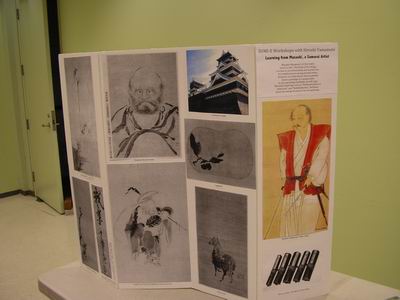 Figures, birds, and blossoms are found in Musashi's paintings.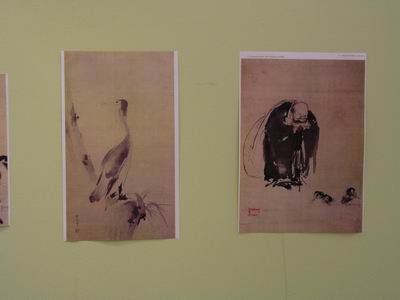 In the book Samurai Painters, Hiroshi Yamamoto showed several figures.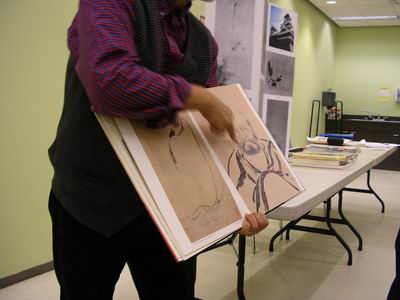 Hiroshi Yamamoto demonstrated painting a figure based on one by Musashi. He began with an outline of the face.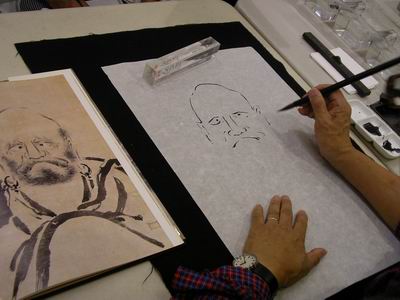 The beard was added by using a dry brush which creates the effect of a beard.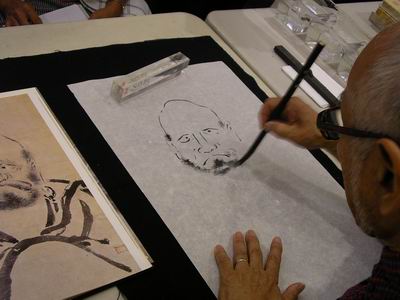 Then the neck was started.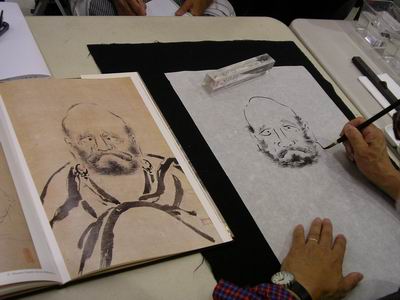 The outline of the body and its clothes is done with a large brush in a few brush strokes.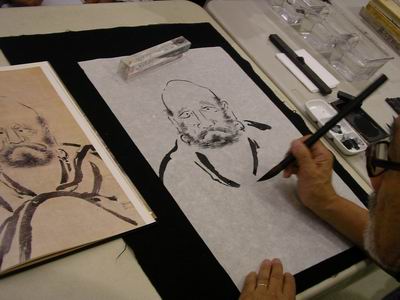 The completed work brought out the essence of the character, similar to Musashi's original sumi-e painting.
Then it was our turn to paint figures based on Musashi's paintings with Hiroshi Yamamoto's help.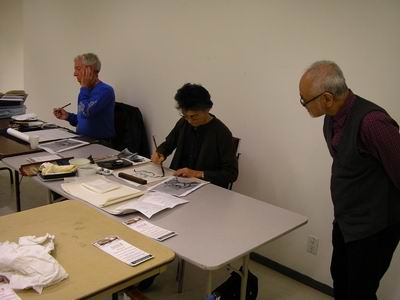 We began sharing our paintings on the wall.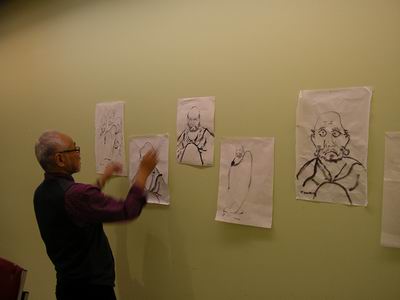 Hiroshi Yamamoto also suggested we try painting models. This painting is done in the sumi-e style with a quick impression of the person you are observing.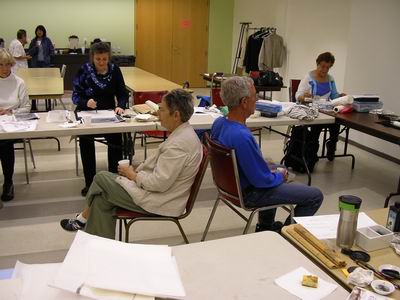 Learning from Musashi's paintings, helped us paint our modern figures.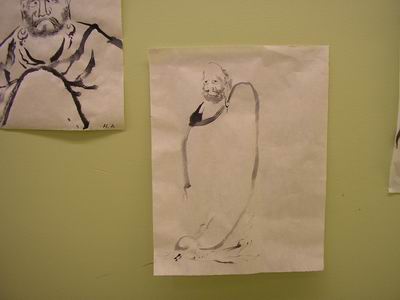 Mostly we focused on faces, which are usually the most revealing part of the figure.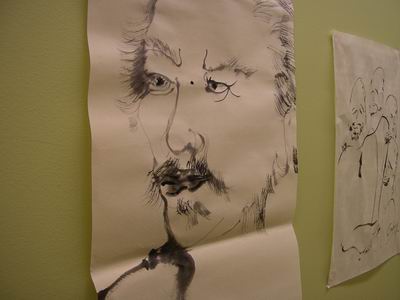 Painting quickly is what Hiroshi Yamamoto advised when working on figures. A fast impression often captures the essential characteristics of a person.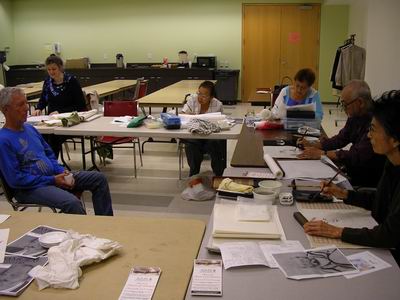 We tried painting other models too. Each person is a different challenge to paint.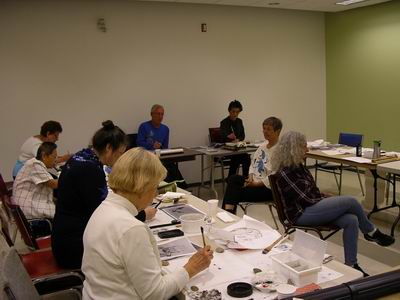 Then we put our workshop collection on the wall.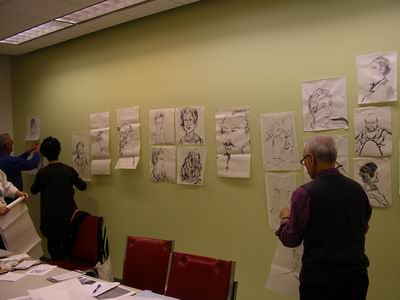 This bird was similar to a Musashi painting. Some of his paintings such as this solitary bird indicate the lonliness of life.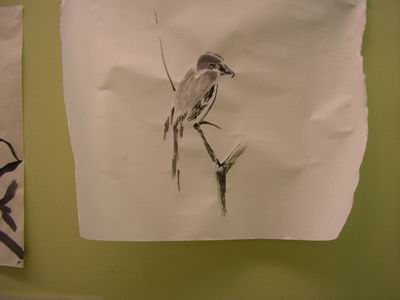 Another bird on a branch seemed almost a pensive figure.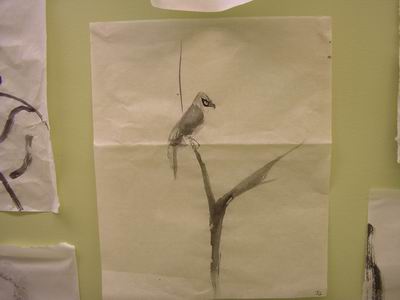 Blossoms also are found in Musashi's paintings, perhaps indicating the beauty and frailty of life.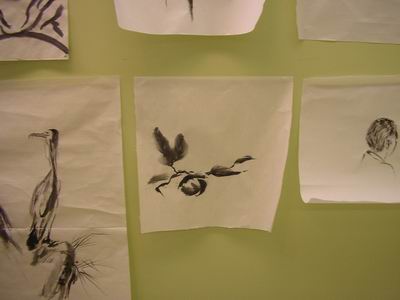 Our models also appeared on the wall.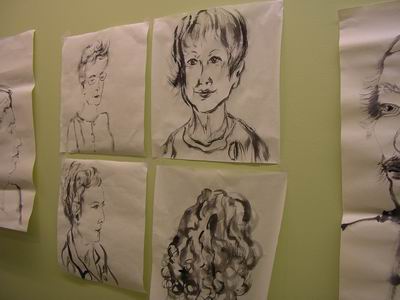 The wall became a mix of Musashi-influenced art.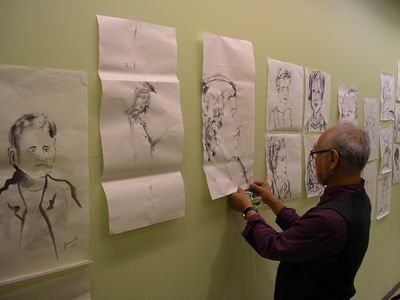 The workshop participants had lots to say about the variety of paintings.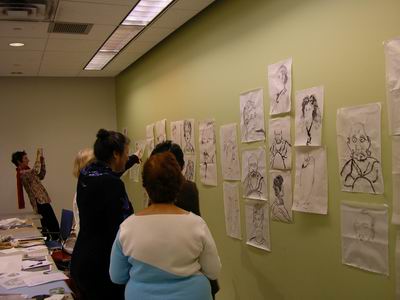 Hiroshi Yamamoto added his comments about each painting.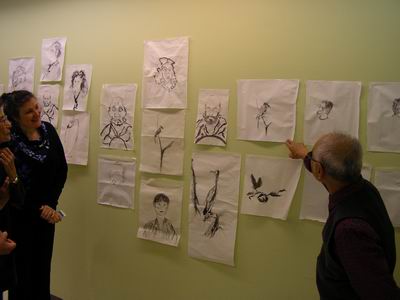 Workshop participants also analyzed their own contributions.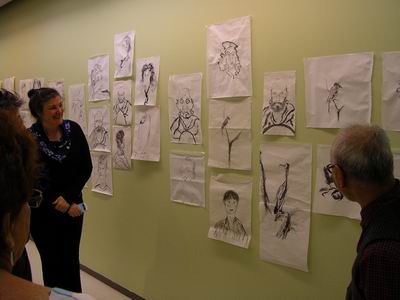 The result was a day of exploring the character and expressiveness of one of Japan's greatest artists.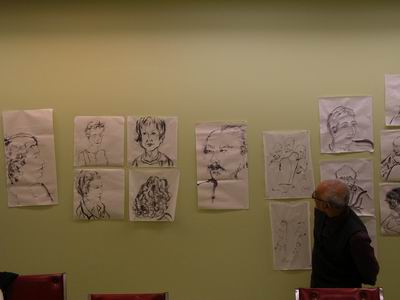 You can learn more about Hiroshi Yamamoto in the links section.