Wabi Sabi and Etegami with Diana Bullock - December 5th, 2015
Etegami is a kind of spontaneous art, often done with cards. Etegami has this motto: It's fine to be clumsy. Wabi sabi is translated as wisdom in natural simplicity. Sometimes, flawed beauty. When you paint with a feather, for example, you see this type of unpredictable quality that leads to an unintended work of art. Diana Bullock brought some examples for her workshop.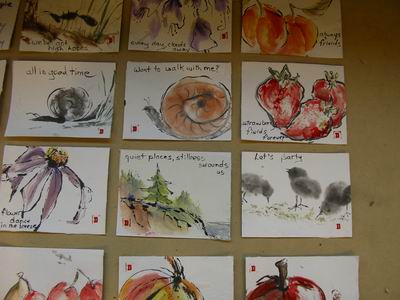 These two cups have hand painted images on them. Yet together or separately these cups have a unique, artistic beauty.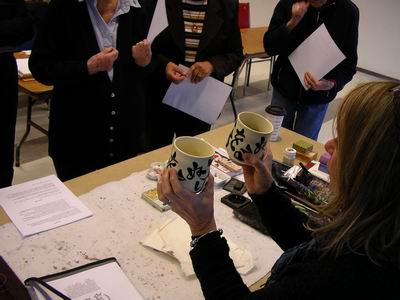 Painting with a feather is one way to start you on the road to the wabi sabi effect.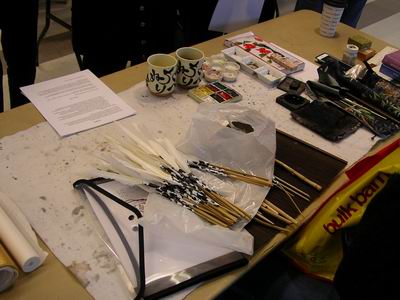 Diana Bullock also brought some other types of painting instruments such as reeds that create some randomness when used.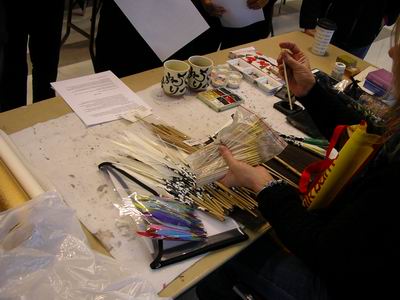 Feathers come in various sizes and with different qualities, just like sumi-e painting brushes.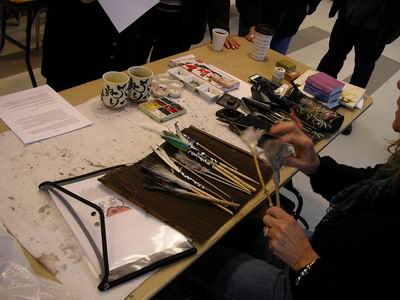 There are books about wabi sabi and etegami.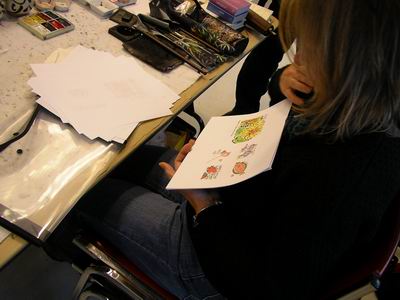 Like sumi-e painting, you can add a seal though a smaller one since most etegami ends up on cards. Diana Bullock brought a common type of etegami seal for the workshop artists to try: an initial of your name.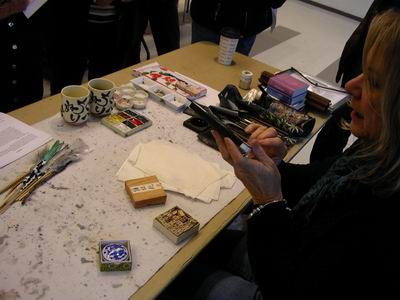 Though there are no fixed rules to etegami, artists usually create a glimpse of some art with part of the painting running off the card.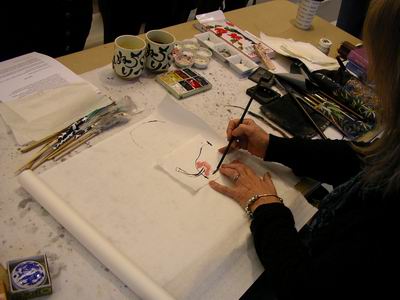 In this demonstration, Diana Bullock created an apple running off the page. Colour is often used in etegami.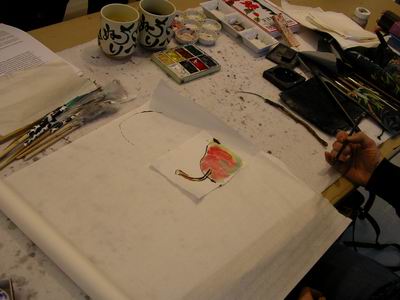 Playing around with the work, a worm was added to the composition.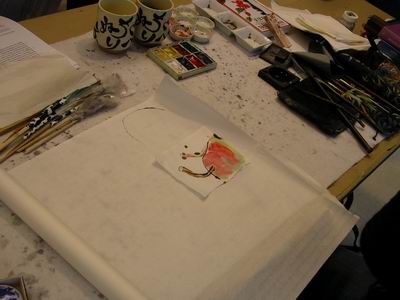 Words are added to the work. In this case, Lunch! Sometimes the words are added first, leading to the painting; and sometimes the words are added later.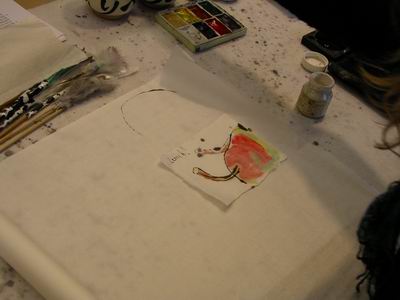 A large feather created this effect similar to a large sumi-e painting brush, but what you end up with is less controlled.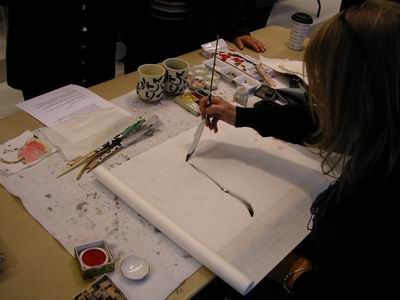 Another large brush stroke was added. One never quite knows where you are going with a wabi sabi style, which is part of the art.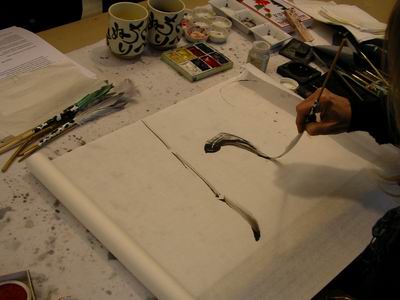 A bird emerged with some more exploration with the feather.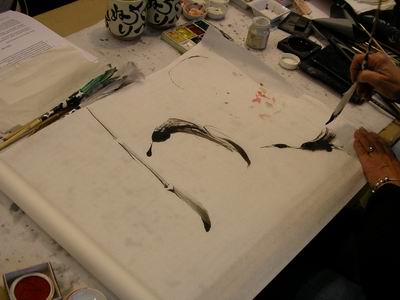 Petals also appeared. In wabi sabi, abstractions are typically the start of the art, which leads sometimes to something more familiar to the eye, or a variation on what you might have expected.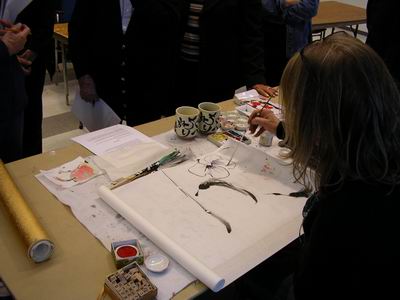 Diana Bullock also demonstrated mounting an image on a card. It's simple: use glue stick on the back, starting from the center and working outwards.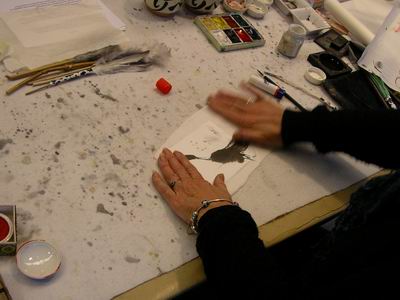 The painting of the bird runs off the card. This is a choice you make: what part should extend beyond the card.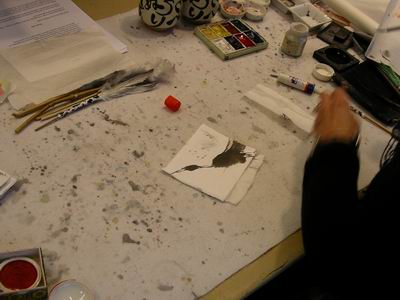 Diana Bullock showed the artists at the workshop lots of her examples, which gave us ideas as we headed to our tables to give wabi sabi and etegami a try.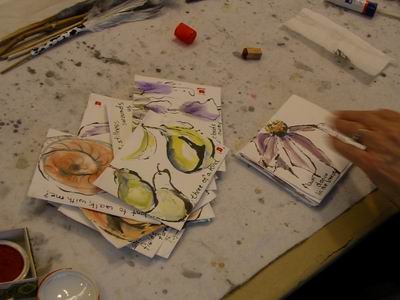 Painting with a feather takes some adjustment.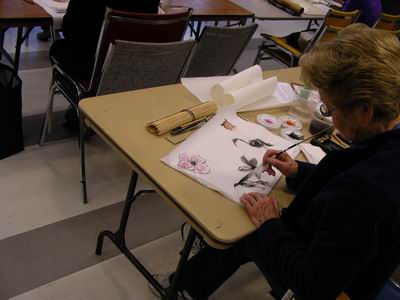 Holding the feather similar to a sumi-e brush provides a balance between some control and some unplanned expressiveness.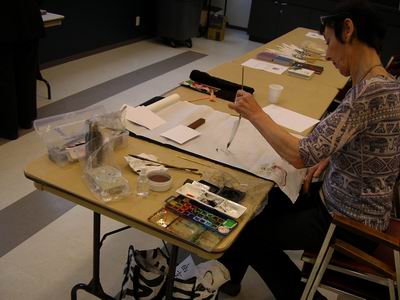 Quick strokes produce thin lines. Pressing and turning the feather gives effects similar to a sumi-e brush but with less control.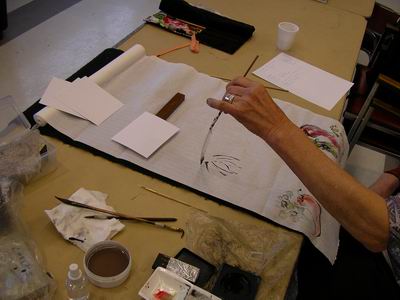 We assembled our collective etegami efforts in an etegami mosaic on the wall.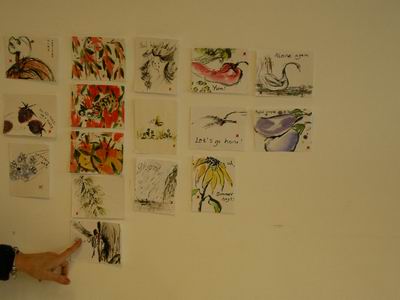 Each person had gone his or her own way with their creative cards.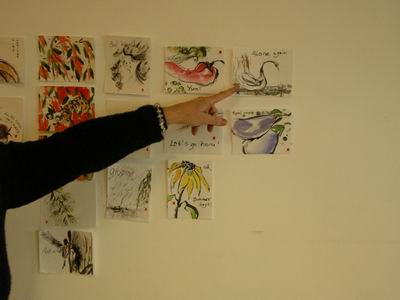 Colour, humour, and zest appeared in this collage of wabi sabi statements!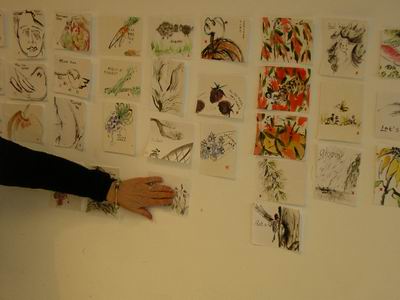 We had come close to the original etegami pieces that inspired us from Diana Bullock.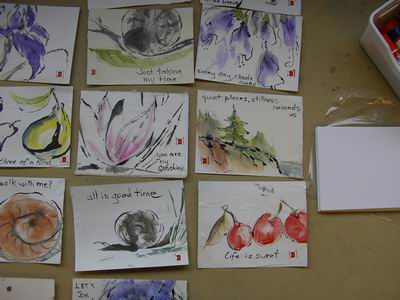 You can learn more about Diana Bullock in the links section.