Sumi-e Artists of Canada 2014 Show - November 15th and 16th, 2014
From the bustle of city life to rural landscapes, the annual sumi-e painting exhibition contained paintings with a range of subjects for the many people who come to our exhibit each year. The sumi-e artists often painted images of special interest to them.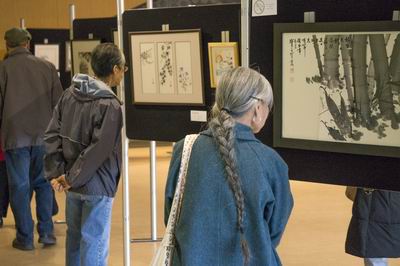 The 90 paintings exhibited had both classic and modern themes.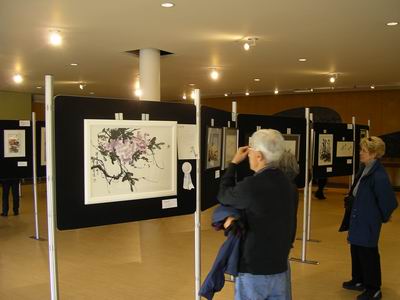 This diversity of paintings kept visitors interested in continuing their journey of discovery as they wandered and chatted amongst the paintings.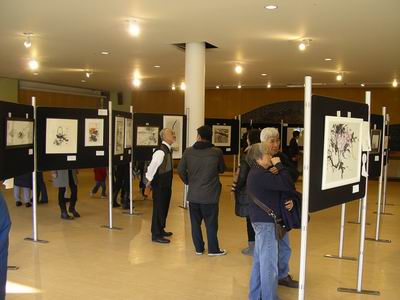 Sumi-e paintings of bamboo and the natural world fascinated some viewers.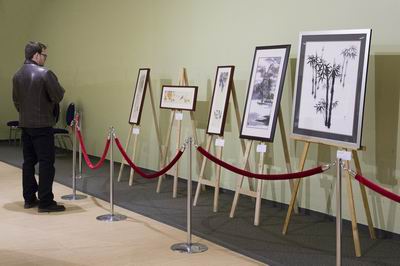 The Ruth Yamada award for excellence in sumi-e painting was given to Haruko Fujimoto for her painting, Tranquility. This award is based on originality, spontaneity, and technical skill shown in a significant sumi-e painting. This year's exhibition judge, Moira Mudie, wrote these comments about this painting.
Wonderful mood. I can feel the cool mist and smell the damp earth. The painting is quiet and pure with its good harmony of ink tones.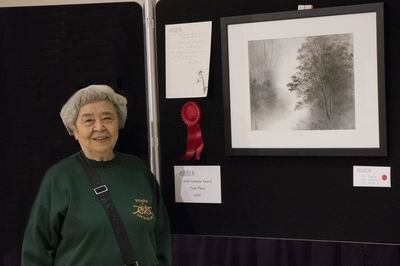 Purple Fairy by Po Man Chan received an honourable mention. Moira Mudie had these comments about this painting.
The yin and yang of fragrance and delicacy of the wisteria contrasting with the strength of the leaves is impressive. I can feel the wind. Congratulations!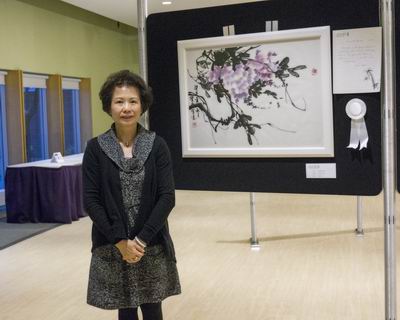 An honourable mention also went to Roslyn Levin for her painting, Invitation. Moira Mudie added the following comments.
Peace, grace, and strength are well conveyed in this elegant painting. The variance in brush strokes and ink tones are especially good. Well done!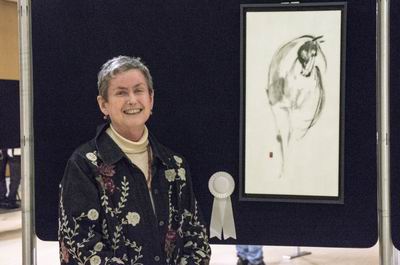 Saeko Nagaishi's painting, Cedar Road, showed light streaming into a forest. This painting received an honourable mention with these comments.
The shafts of sunlight filtering through the trees are very effective. The contrast of the ink tones draws one into the painting. Well done!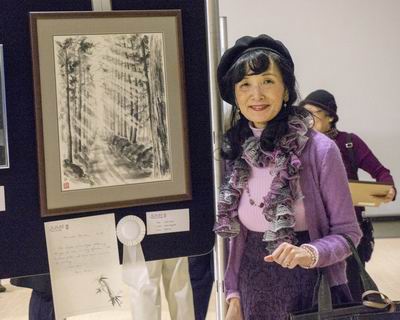 Under the Cool Moon by Baoxing Zhang also received an honourable mention. This painting had these comments from Moira Mudie.
I feel man is so small in the wonder of the universe. The mood is beautifully conveyed with the application of ink and good brush work.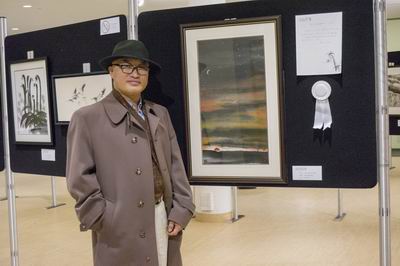 Walking my Dog, another painting by Baoxing Zhang, received an honourable mention too. These comments about this painting were added by Moira Mudie.
I feel the chill in this quiet walk in the snow. The harmony and balance of contrasting ink tones are very pleasing. The touch of colour is good contrast also.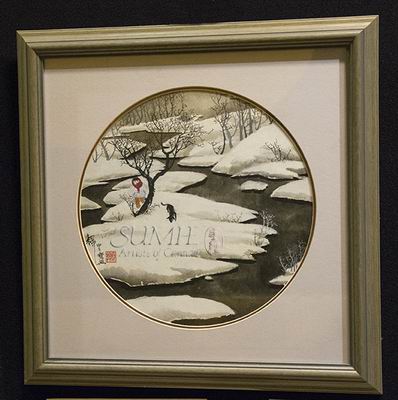 A teapot caught the eye of many of those attending this year's show.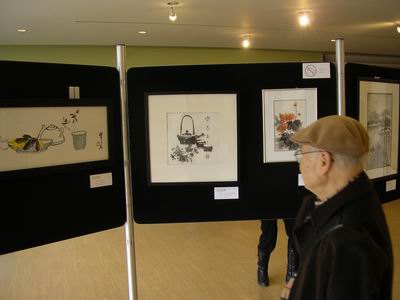 The bright flower in this painting jumped out to attendees at the exhibition.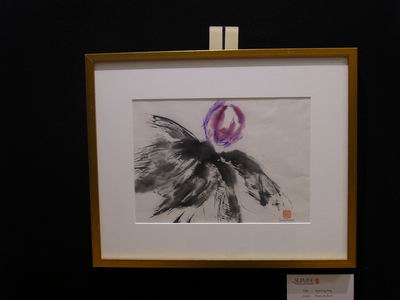 The urban landscape can be as interesting as a natural one.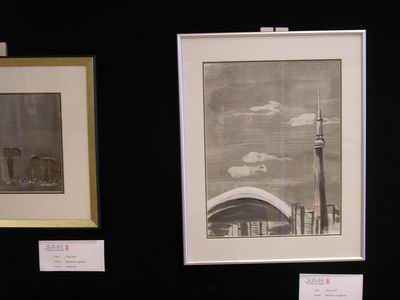 Canadian subject's, such as this arctic wolf, captivated an audience.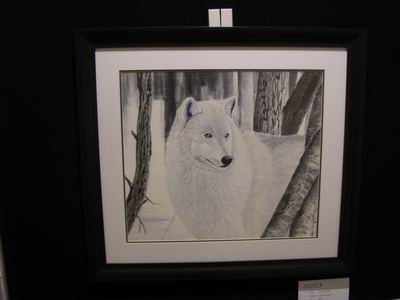 This girl attracted many to speculate what she was thinking.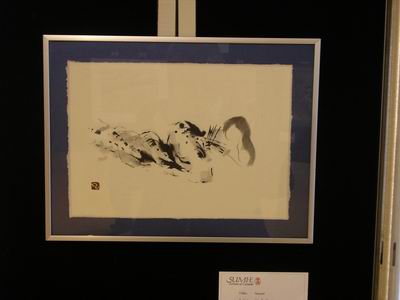 This painting with spiritual images from the Middle East showed how sumi-e painting techniques can be used to illustrate the man-made and natural wonders throughout the world.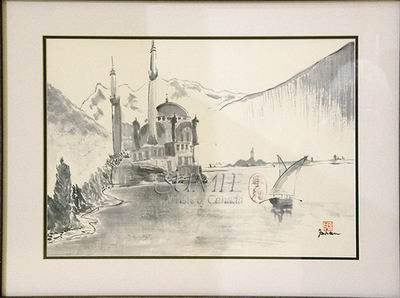 Hiroshi Yamamoto demonstrated how these paintings come about through ink and rice paper.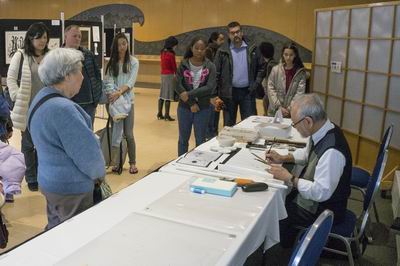 Roslyn Levin also experimented with her brushes and paper.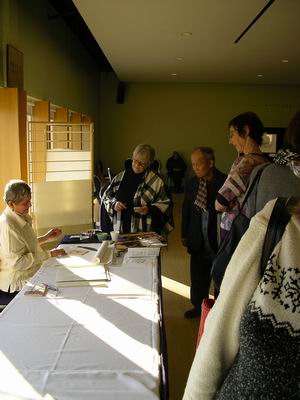 A cat was one creation inspired dynamically.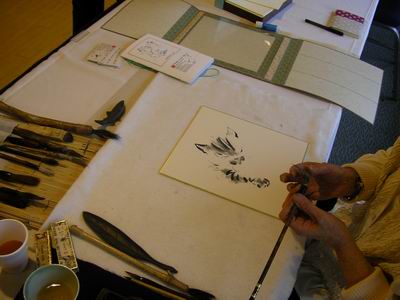 This feathered brush of Diana Bullock's resulted in the unexpected, which was the intent.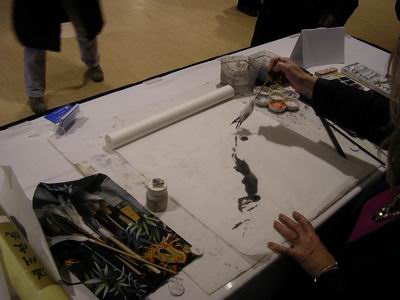 Beside the art, the tea room was the place to meet. Thank you for organizing this exhibit of its own, Linda Nakatsu and others.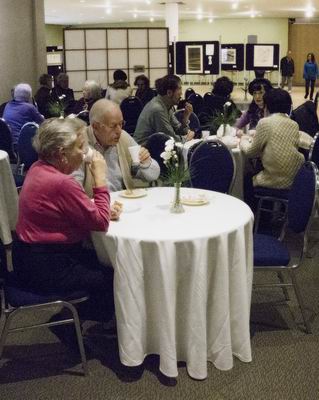 Show chairpersons, Gary and Connie Bist, found this exhibition entertaining, profound, and fulfilling.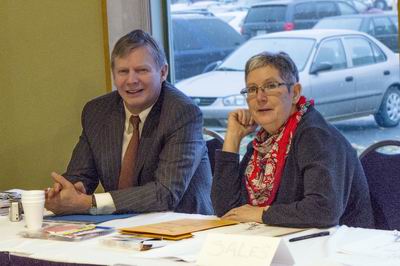 For two days, vigorous discussions continued about these paintings.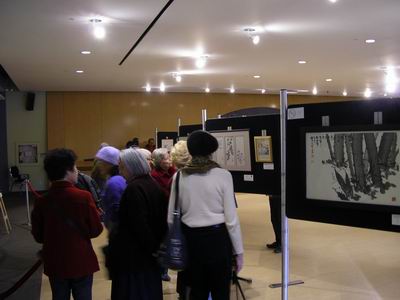 Some people were more contemplative in their reaction to the art.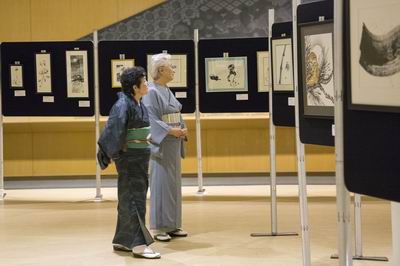 Different ages were attracted to the show.
Some people studied each painting seriously.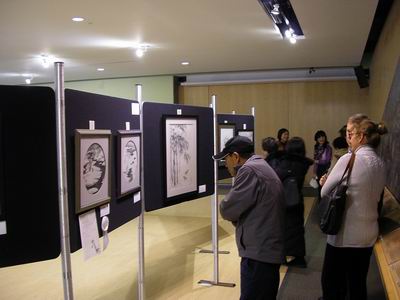 For other people, these paintings sparked a joy in what the art stated about our world and ourselves.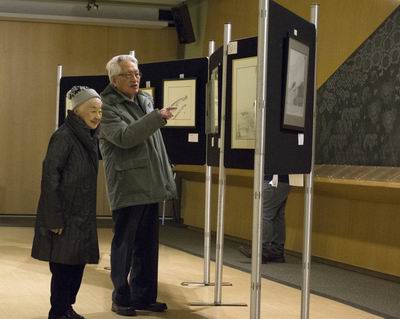 This exhibition would keep people thinking and entertaining themselves for months and years into the future.