Dry-in-Wet Technique with Charles Leung - April 12th, 2014
New styles and techniques continually change brush painting. Charles Leung, an instructor, artist and world traveler, brought several new concepts to his workshop. Charles Leung began with the dry-in-wet technique for brush painting.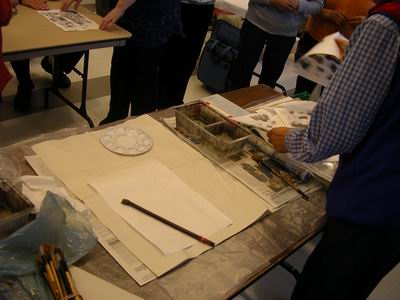 When you work with the dry-in-wet technique, as Charles Leung, explained, you paint with clear water. This painting would be a waterfall.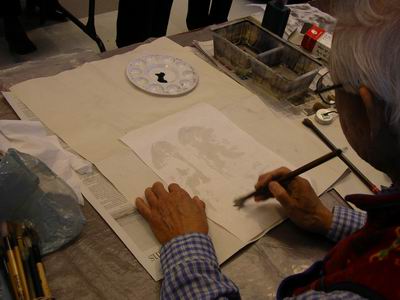 Then you use a special brush to paint. The brush should be an old, used brush and the end should not be pointed. Charles Leung suggested cutting off the tip of the old brush you use. Bottled ink is better than the ground, sumi-e ink for this technique.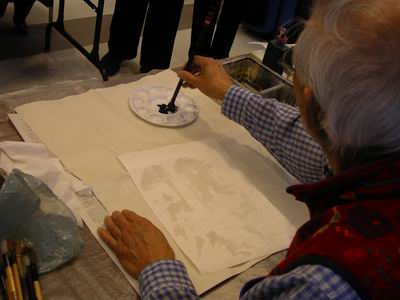 Make the brush very dry.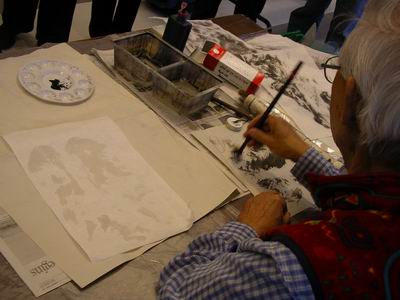 Then paint on the wet paper with this brush.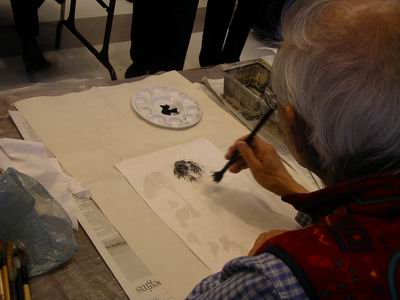 Painting is quite different as you are pressing the brush into the wet paper.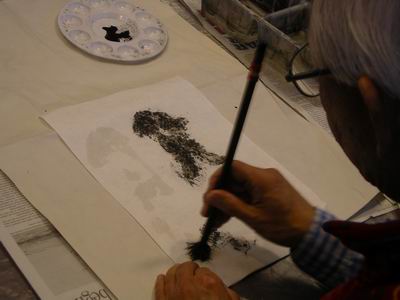 This technique produces a roughness and randomness that is effective in landscape paintings with rocky terrain.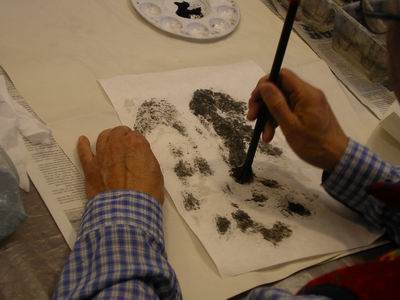 The waterfall painting took shape as Charles Leung worked with the wet paper.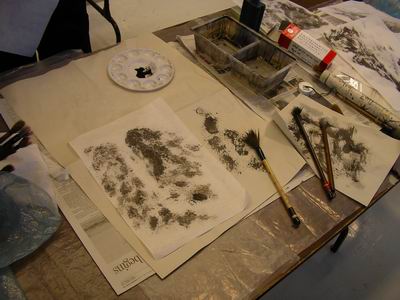 Then we tried the dry-in-wet technique.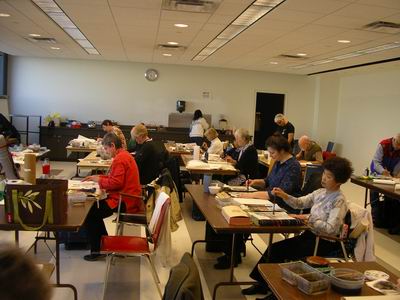 Dongba pictorial writing is an ancient type of writing that existed in southern China. Dongba calligraphy is based on pictures and still studied today.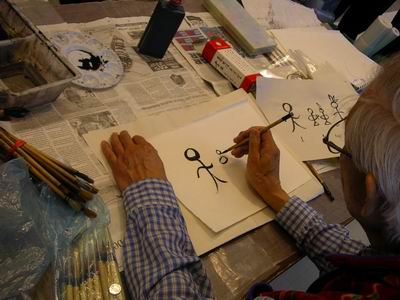 Charles Leung began his demonstration of dongba by painting the symbol of a man on the left followed by two smaller figures that represented a man an woman in a relationship. The man represented the word I. The two smaller figures represented the word love.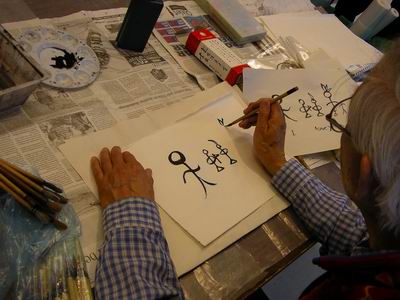 The last figure on the right was a woman. Women have a hat on their head.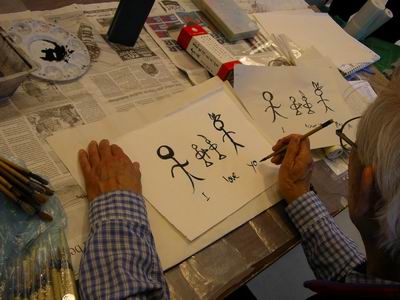 The pictures said: I love you.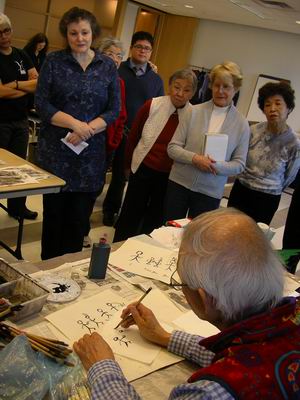 Using some of these images again, Charles created the sentence: Let's go for a drink.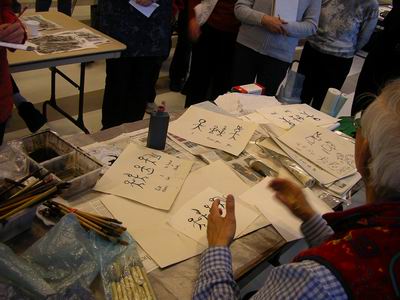 The word wish is like a fairy figure.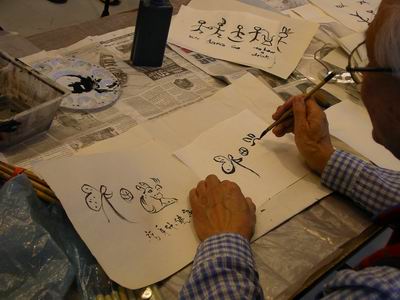 Charles Leung created the sentence: I wish you good health.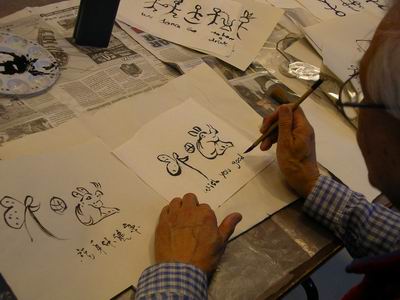 The dongba pictorial language covers many words. Meet is a word composed of two sets of eyes, with one set looking at the other in a kind of appraisal.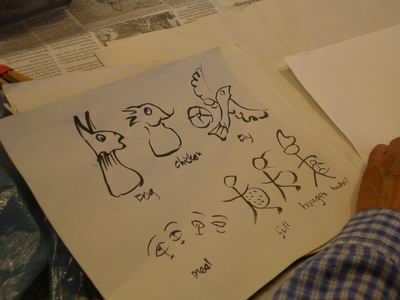 Charles also showed how to mount paintings quickly using wallpaper.
The supplies are similar to the traditional mounting of a painting.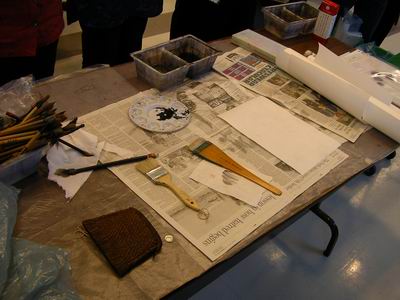 You wet a painting always starting from the center and working out to the sides.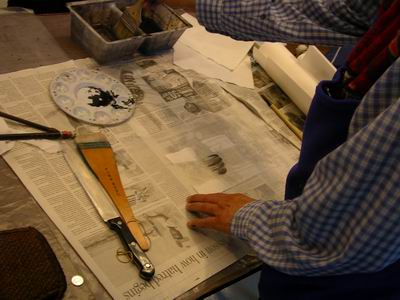 Then you place the painting on the glue side of the wallpaper.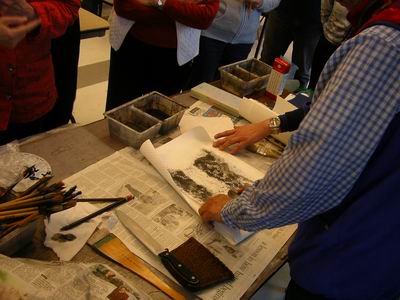 Charles Leung used his painting created earlier as an example. This technique only took 10 minutes.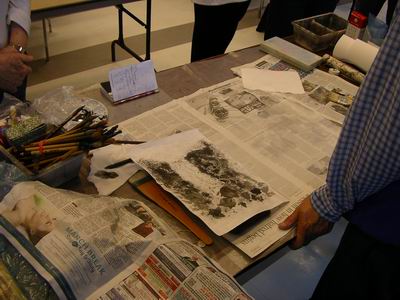 Charles also brought some of his other work. His painting of these fish demonstrated his range of subjects.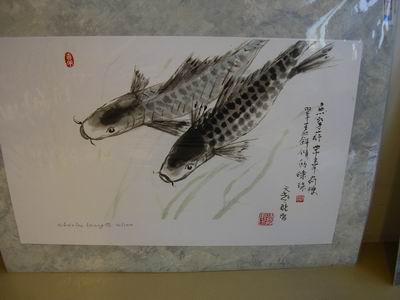 Another painting showed bamboo, in a mix of old and young shoots. This painting reminded us of Charle's concept that bamboo is like a family with young and old members.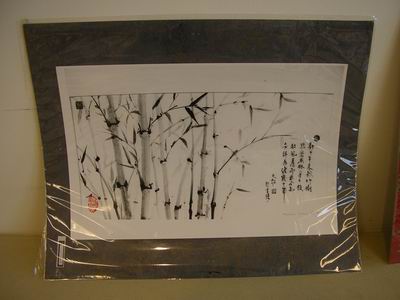 We gathered for a photo of this memorable workshop.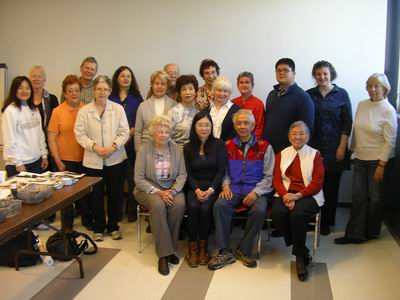 Workshop participants left this multiple learning session to paint a dry-in-wet painting, mount the painting with the quick mounting technique, and write calligraphy in the dongba pictorial style.