Sumi-e Artists of Canada 2013 Show - November 16th and 17th, 2013
With a title like Brushes with Inspiration, many art lovers came to see what was inspiring to sumi-e artists at this exhibition. They saw a large show of 88 paintings that represented many subjects and styles. Each one was inspiring!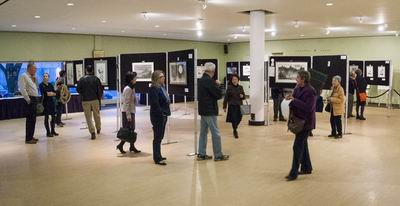 Baoxing Zhang's Morning Fishing intrigued people with its distant fisherman surrounded by nature. This painting received the Ruth Yamada award for sumi-e painting excellence. Our judge this year, Hiroshi Yamamoto, wrote these comments about Baoxing Zhang's painting.
You feel a refreshing breeze. This is especially fine brush work. The artist knows how to use a brush.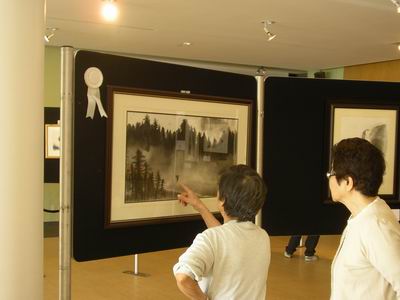 At the Flower Show by Morven Crothers arranged the elements of a flower show in an interesting composition. This painting received an honourable mention. Hiroshi Yamamoto added these comments.
Morven Crothers described the essence of this social event with a contrast between light and shade.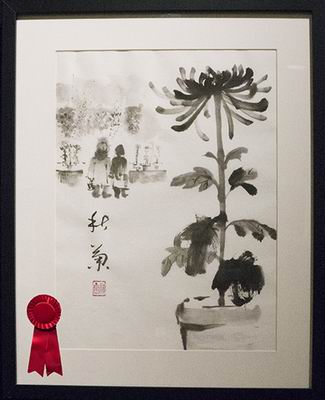 Po Man Chan's painting, Canada Geese, provided a familiar subject to Canadians. The painting blended the geese with the descending branches and leaves of a tree. It also received an honourable mention. Hiroshi Yamamoto added these comments for this painting.
This is especially powerful brush work. The artist knows how to use a brush.

The painting, Many Secrets, by Roslyn Levin led the viewer into the interior mind of a cat. This painting too received an honourable mention. Hiroshi Yamamoto added these comments.
This painting is painted in a fluid style that is all the painter's own. She attracts the viewer with her exquisite skill in painting.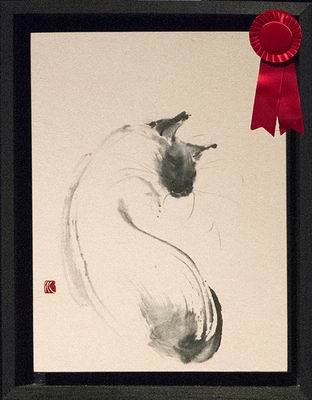 Icy River by Toshiko Ochiai captured the austerity of winter. Hiroshi Yamamoto added these comments.
Toshiko Ochiai painted the beauty of Canadian nature with a fine effect of light and shade.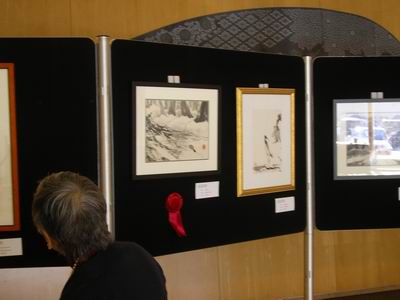 Nicole Tamir's Hat left us wanting to know more about the person hidden by the hat. Hiroshi Yamamoto wrote these comments.
This painting is successful in producing fine effects of light and shade.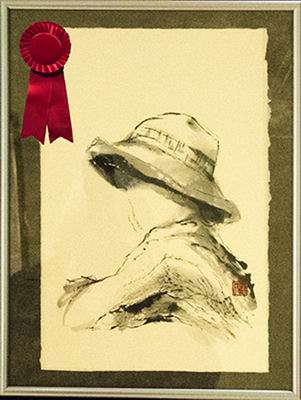 The exhibition had a variety of paintings with something to interest everyone.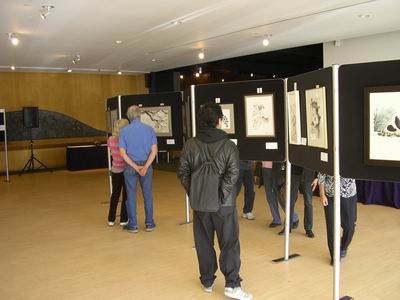 Traditional and contemporary subjects could be found side by side.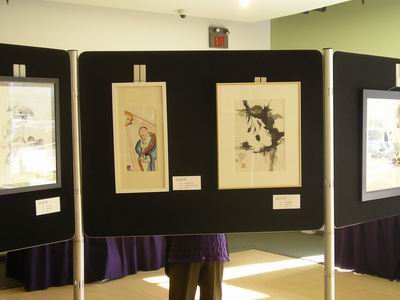 There were also many paintings to see. They filled the exhibition room.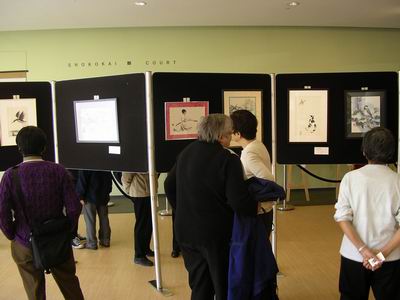 These Japanese maple leaves captured a visitor's fancy.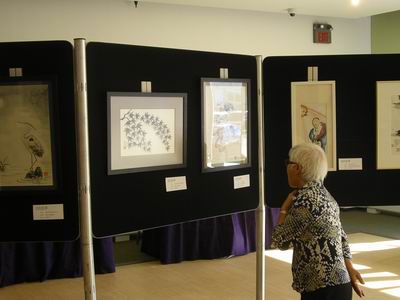 And of course there was sushi.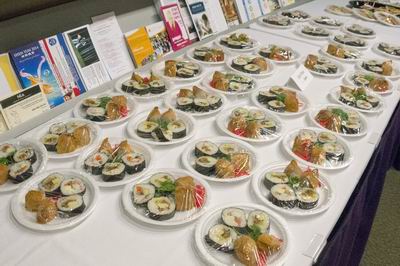 The tea room was a good place to discuss all the art that was on display.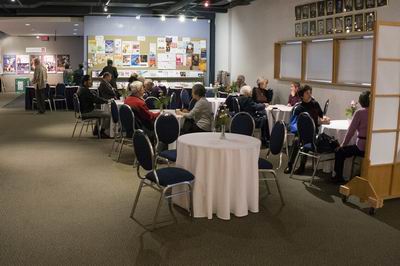 Several expressive scrolls fascinated the visitors to the exhibition.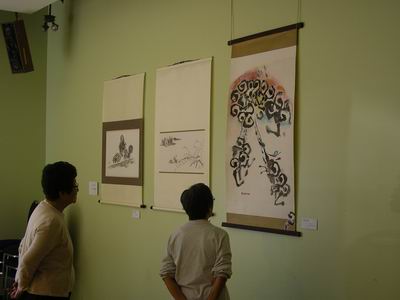 Looking closely at the paintings led to some interesting discoveries, like these industrious bees.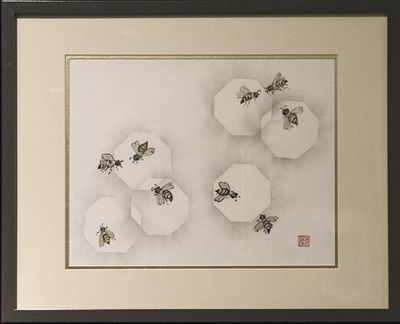 Some large paintings were placed on easels.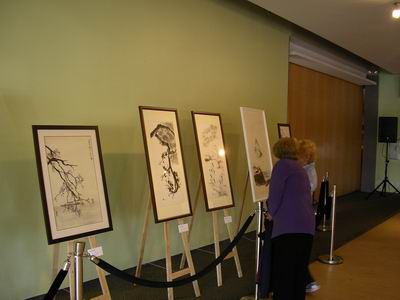 No matter where the art was hung, there were people to discuss the meaning of each contribution.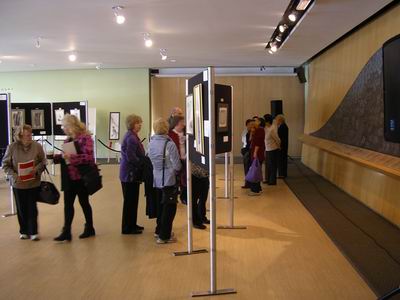 This mouse amused many.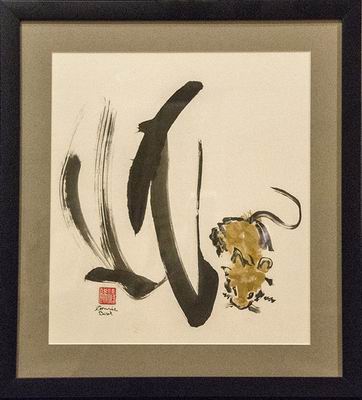 Bok choy also was a still life favourite.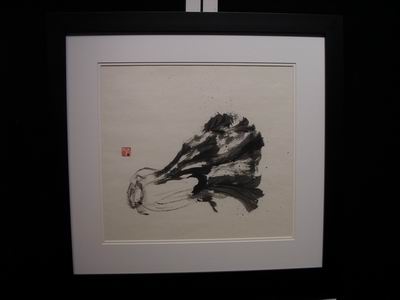 Demonstrators showed how challenging it is to create images on rice paper.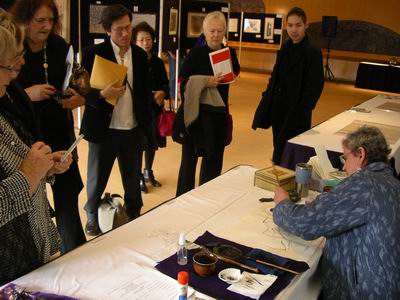 Dynamic works created an excited response.
Other works caused a more pensive reaction.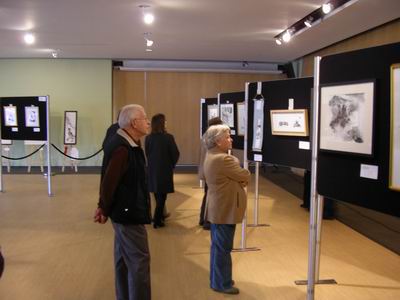 The inspirational works sparked intense discussions.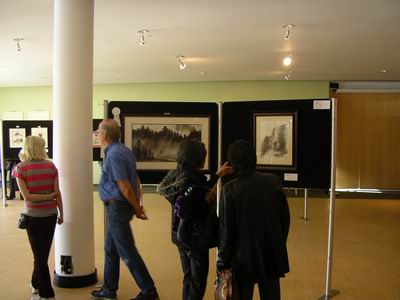 This frog stared right back at those trying to figure him out.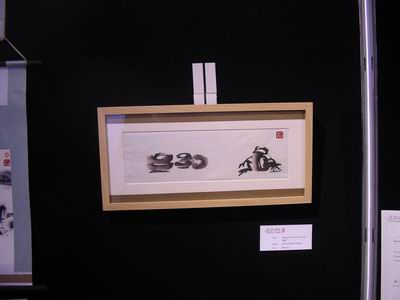 A classic painting of bamboo in the moonlight had a calming effect.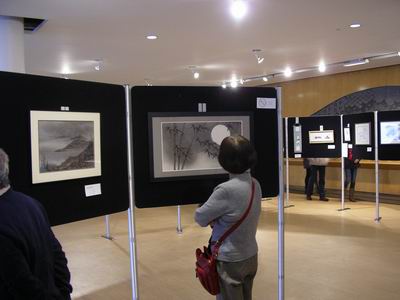 Visitors left looking forward to next year's sumi-e painting exhibition.