Cats with Tien Chang - September 8th, 2012
Cats seem to attract sumi-e artists. Whether watching us pensively or getting ready to pounce, each cat has a distinct character that says "Paint me!" Tien Chang began his workshop on cats by showing us that a good place to start painting a cat is its ears.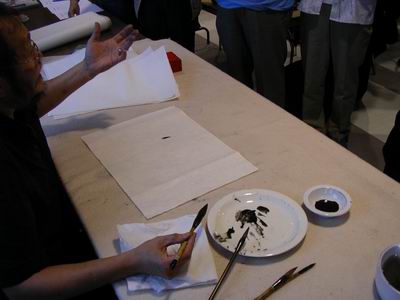 With a large brush those ears were turned into the top of the head of a cat.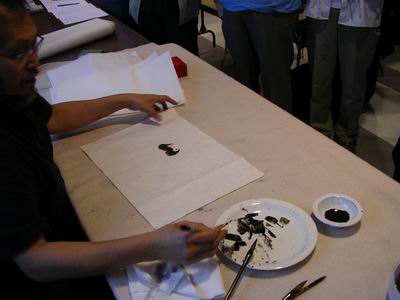 Before proceeding further, Tien Chang showed workshop participants in a sketch that you seldom see all the legs of a cat.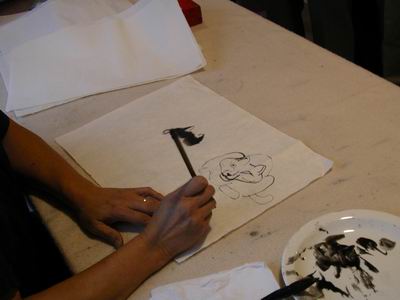 Returning to his cat head and using the large brush, Tien Chang then added the body in a few strokes.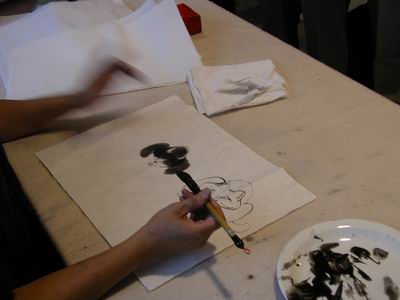 He next turned to a sleeping cat. As before, he started with the ears.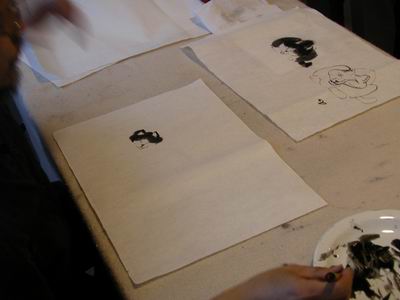 Then Tien Chang painted the body with his large brush. He left parts of the body unpainted to indicate white fur.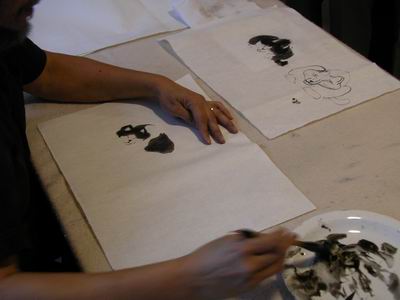 He completed the body quickly using the large brush. Tien Chang used two brushes throughout the workshop. A fine, small brush was used for details like the eyes, nose and mouth. A large brush was used for the body.
The tail, Tien Chang explained, should be done in one stroke. A few darker lines of ink can be used to create the stripes you see on a tabby cat.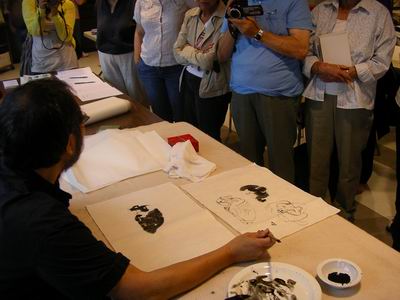 Tien Chang returned to another set of ears and another cat head.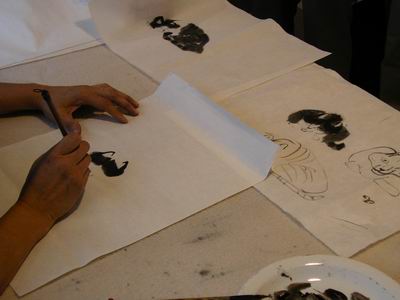 This cat turned into a walking cat that you would see from above.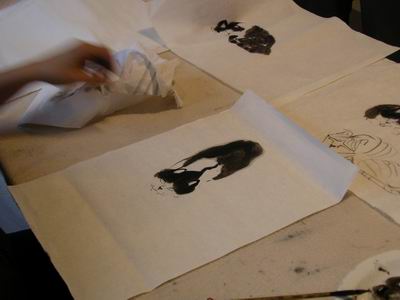 A familiar pose of a cat is a side view of a squatting cat.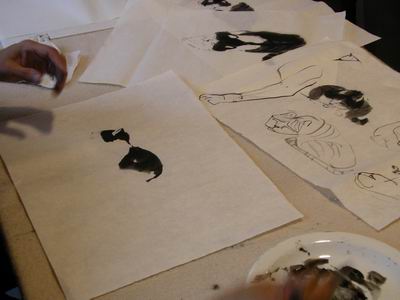 Tien Chang began with the ears and head, followed by the body.
The tail was added last.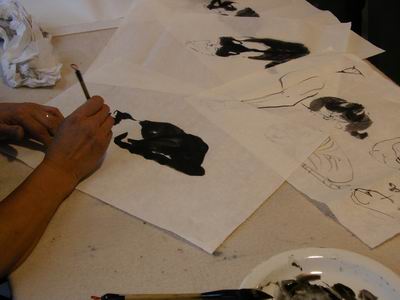 Fine lines were added with the small brush when Tien Chang needed to outline the neck and paws.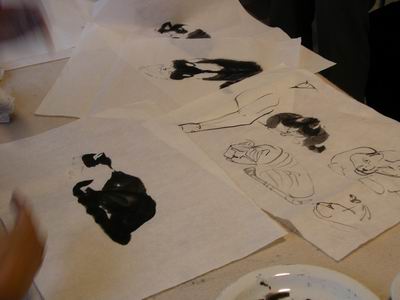 A sitting cat was another version that Tien Chang demonstrated. This cat too began with the ears and head and then the body was outlined in a single stroke.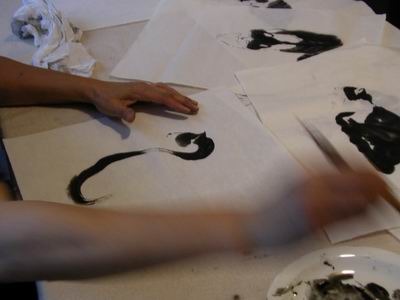 Another broad stroke filled in more of the body.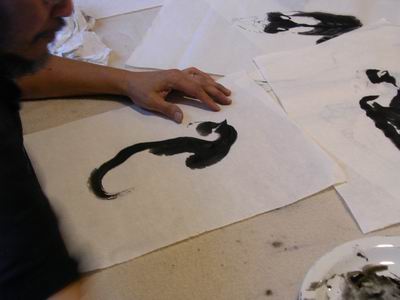 A tail was added to the base of the cat.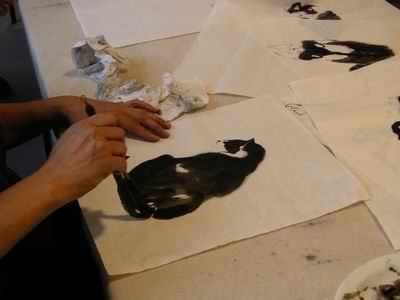 Tien Chang used paper to periodically absorb excess ink.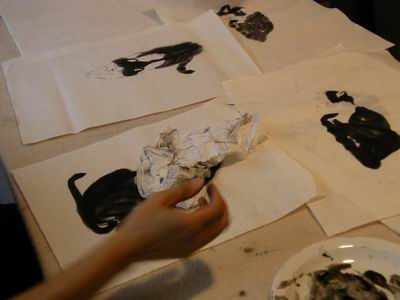 He showed the workshop participants some calligraphy too. In writing the word wood, Tien Chang drew the attention of the workshop participants to the hooked line in particular as containing the essence of brush strokes used in painting the cat.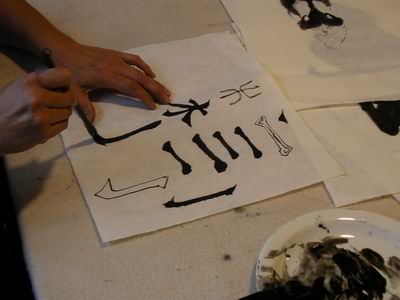 At times painting fast and slow lines, Tien Chang demonstrated the close relationship between calligraphy and sumi-e painting.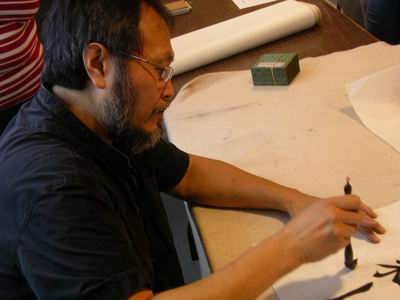 With a collection of cats and calligraphy, workshop participants were ready to get started on their part of the workshop: painting cats themselves.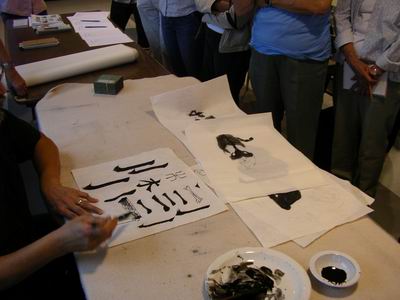 Tien Chang brought several types of paper with him for the workshop participants to use.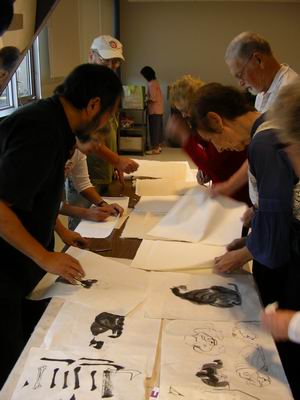 Feeling the paper that was just right for them was part of the experience of this workshop.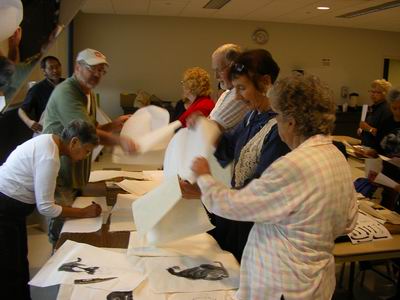 With paper in hand, it was our turn to try to paint just one of the several cats that Tien Chang had created. Also to have some tea and cakes courtesy of Linda Nakatsu.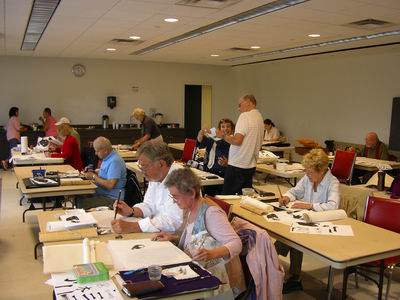 As is often the case at workshops, painting what you just watched is more of a challenge than you might think. However, Tien Chang did come around to help us one-on-one.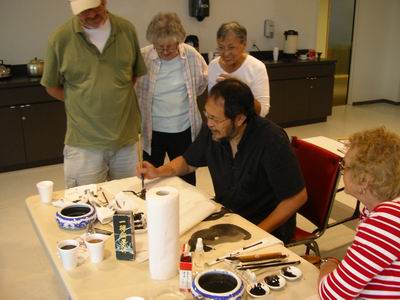 Cats will remain on our list of subjects for a long time after this fascinating workshop.