Geese with Baoxing Zhang - May 12th, 2012
Though we frequently see geese, they pose their own peculiar challenges when you try to capture them with a brush. Baoxing Zhang has painted many geese. He began his workshop by reminding us how the brush strokes in calligraphy are similar to those used in painting.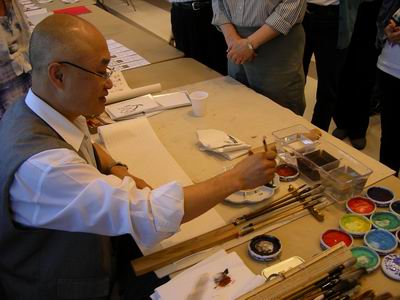 The word eternity, for example, contains the brush strokes that are used in painting the Canadian goose.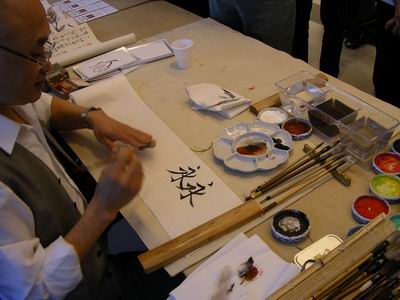 Baoxing Zhang demonstrated the brush strokes needed for painting geese or scenery. The first brush stroke was with an upright brush and the tip of the brush in the center. It is used in branches or the legs and feet of birds. The second brush stroke used the side of the brush. It is used for feathers.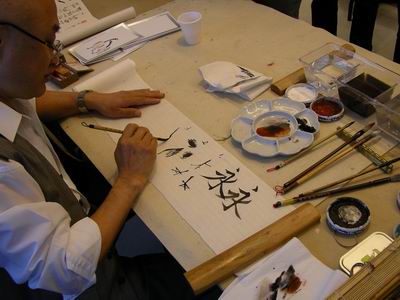 Dragging the brush is another stroke and it is used for willow branches or flexible blades of grass. Pushing the brush adds randomness to paintings such as the rough texture of rocks. Finally, curving the brush is used for a flowing effect such as hair in the wind.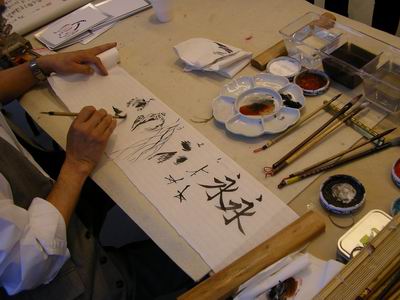 Baoxing Zhang's first goose used most of the brush strokes he had just demonstrated.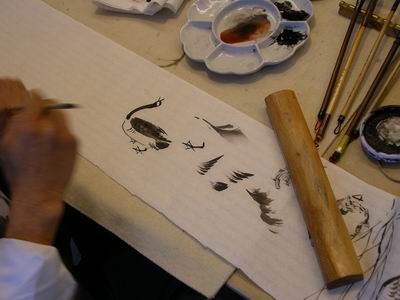 He then added a second goose in a different position.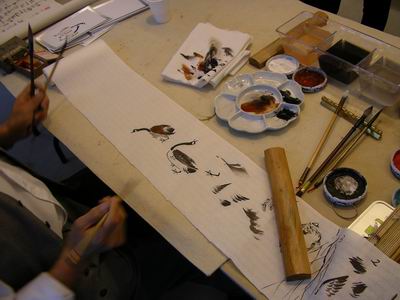 He placed the side of the brush on the paper with the tip having a darker ink.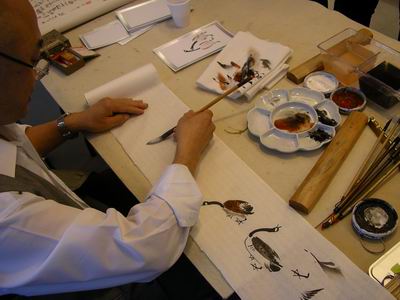 By turning the brush, Baoxing Zhang created the grey breast of a goose.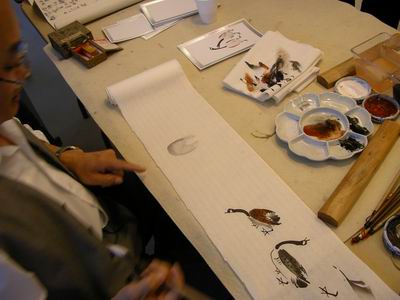 He then added some colour for the wings and the webbed feet.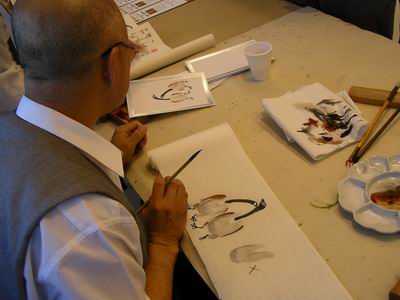 A flying Canadian goose was next.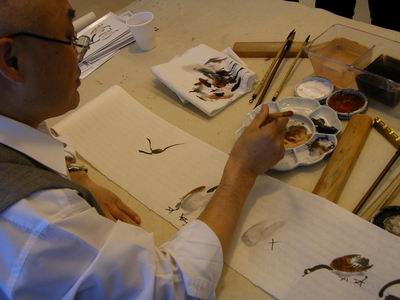 Using the side of the brush, Baoxing Zhang was able to add the feathers for the wings.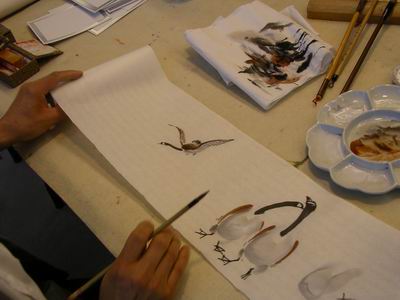 The goslings were created from blobs with legs and beeks.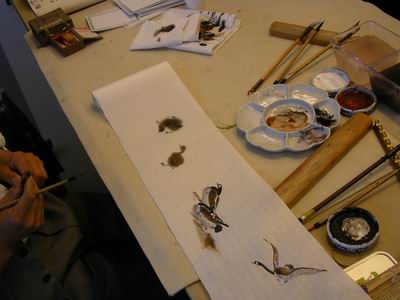 Then it was our turn to work with these birds.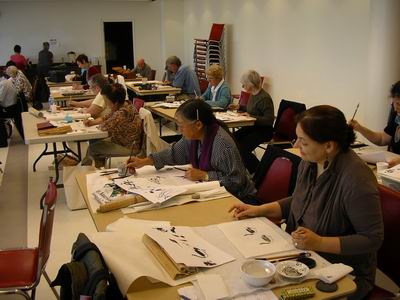 But Baoxing Zhang did provide some helpful suggestions to the workshop participants.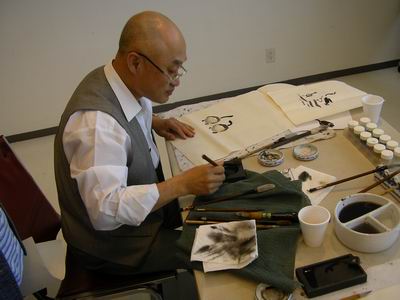 Painting geese completely captivated the workshop participants.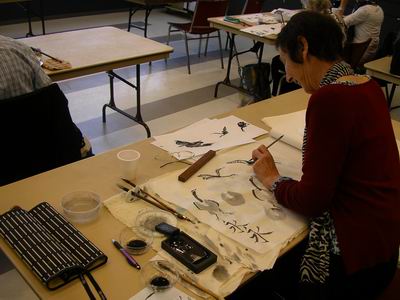 The flying geese in particular challenged many workshop participants.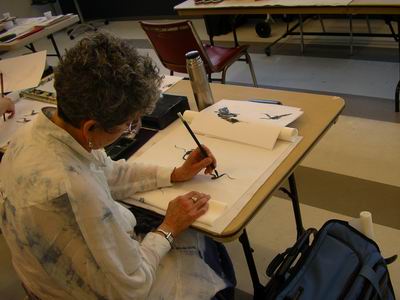 Even with some helpful handouts, these geese required a studious approach.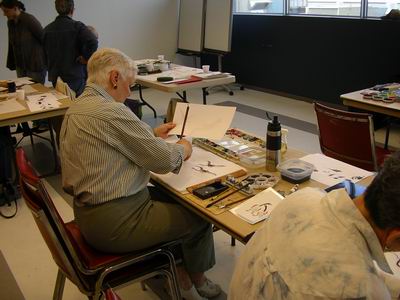 Using the side of the brush, workshop participants were able to create the body of the goose as Baoxing Zhang had suggested.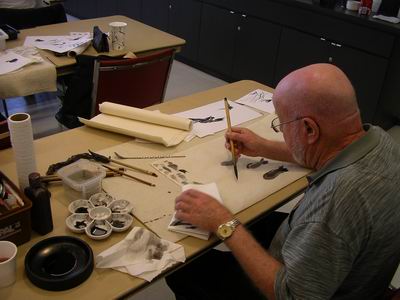 Baoxing Zhang returned to show us one more time how to use those key brush strokes, beginning with the straight brush with a pointed tip.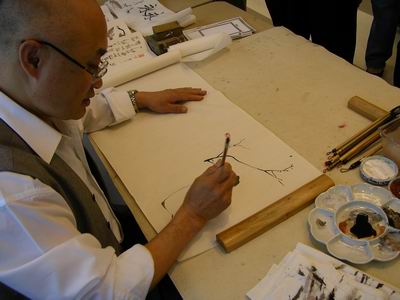 That brush stroke can be used effectively when drawing the branches for a cherry blossom tree.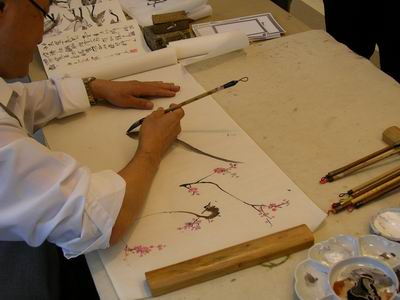 The side of the brush can be used for fish.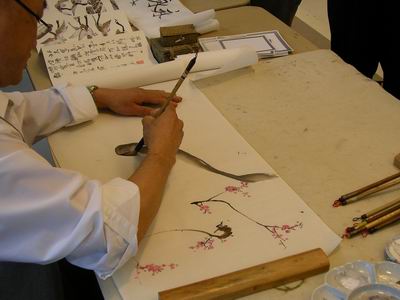 A catfish, for example.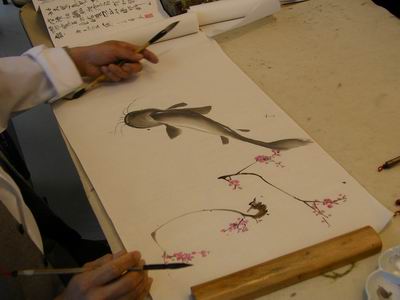 Dragging the brush can be used for flexible branches like a weeping willow.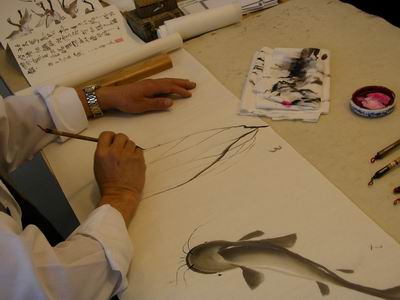 Pushing the brush creates rough rock faces.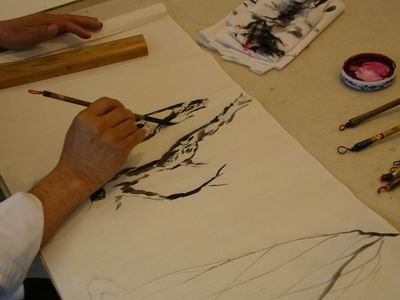 The curved brush stroke works with flowing subjects such as hair waving in the wind.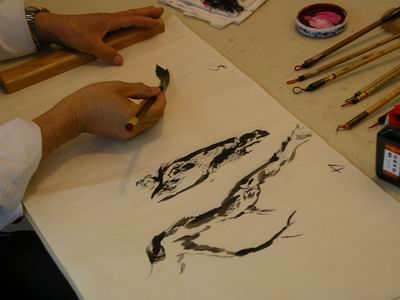 A horse's mane, for example, uses this technique.
In addition to painting and teaching, Baoxing Zhang has written books demonstrating his techniques. You can find more information about Baoxing Zhang in the links section.