Dry Ink Technique with Guan Sui-Sheng - February 11th, 2012
The dry ink technique demonstrated by Guan Sui-Sheng consisted of working only with black ink; that is, no water. However, the workshop was more than this technique. The workshop showed how to start in an abstract fashion and then turn the abstraction into a landscape. Guan Sui-Sheng began by asking participants to randomly add brush strokes to his painting.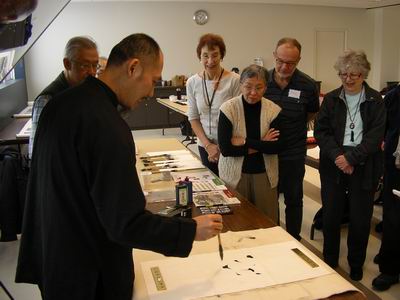 Guan Sui-Sheng then added more random brush strokes emphasizing twists and stops that had no particular order. Charles Leung, who translated for Guan Sui-Sheng at the workshop, pointed out that the brush strokes did not go the very edge of the paper.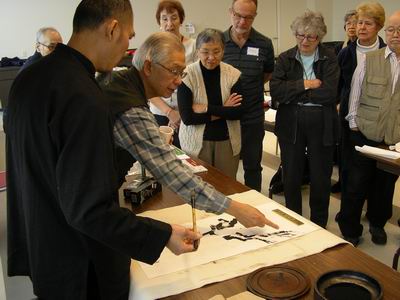 The result was the start of what appeared to be an abstraction. Guan Sui-Sheng then told the workshop participants to begin their paintings in the same random way. And only to use black ink with no water. For this technique bottled ink is used.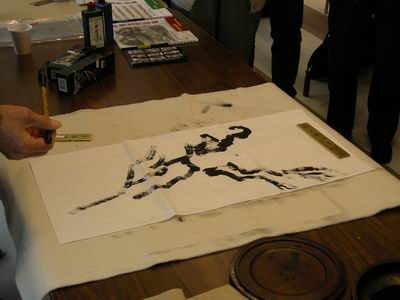 It's hard being random the workshop participants found.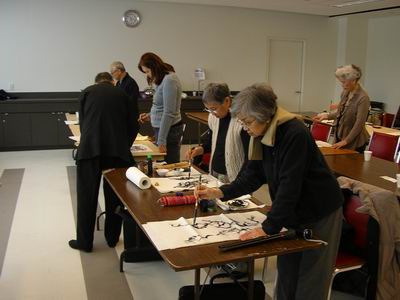 Guan Sui-Sheng helped us individually with our initial abstractions.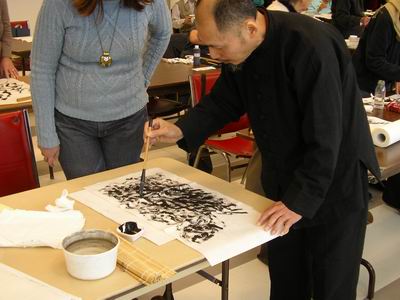 He turned to the next step which would begin the progression to a landscape. As throughout the workshop, only black ink was used.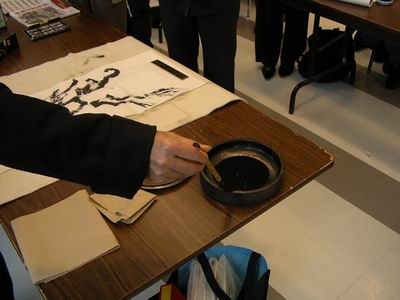 The structure of the painting began to emerge.
Two mountains appeared.
A house was added to the top of one mountain peak.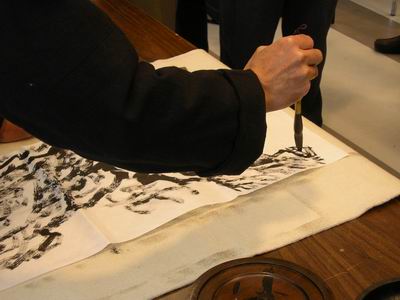 Pine trees were added to the opposite mountain top.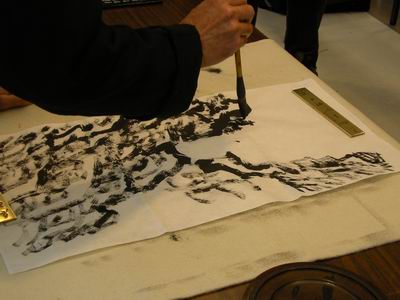 An older, more weathered tree was added to a mountain side.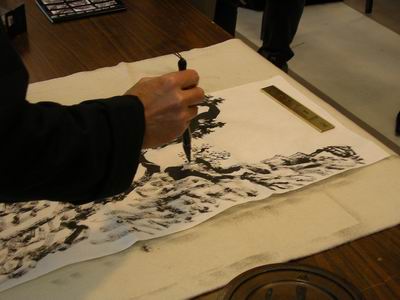 Darker ink added perspective.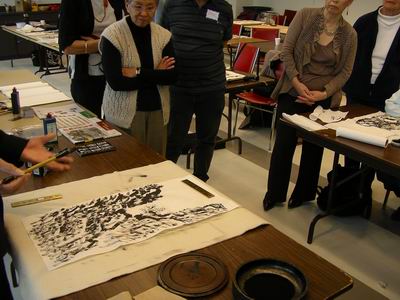 Then working with a dryer brush, Guan Sui-Sheng created some distant mountain peaks.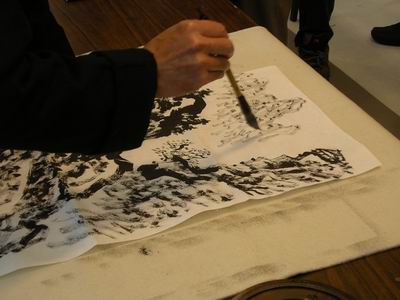 This second stage was posted on the wall and Guan Sui-Sheng commented on the development of his theme. He noted the importance of some white spaces found in various parts of the painting to give it a natural and not too uniform presentation.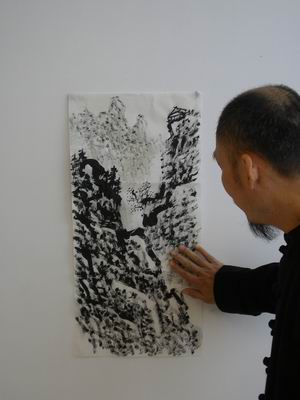 The workshop participants returned to develop their paintings from their earlier abstractions.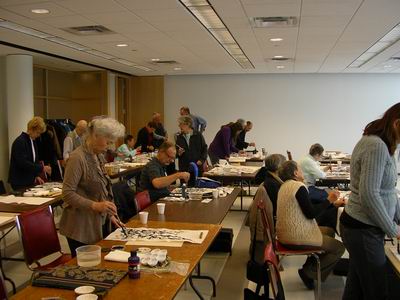 Guan Sui-Sheng helped find images from within the abstractions.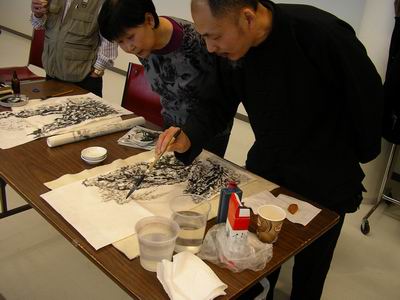 In the final session, Guan Sui-Sheng emphasized refinement and perspective.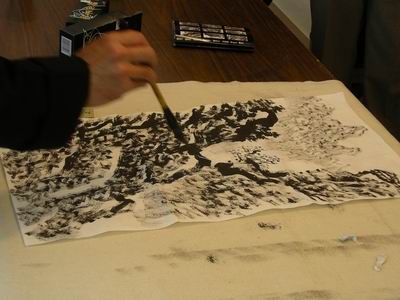 Using dark, black ink in a large brush, he defined the edge of the nearest mountains.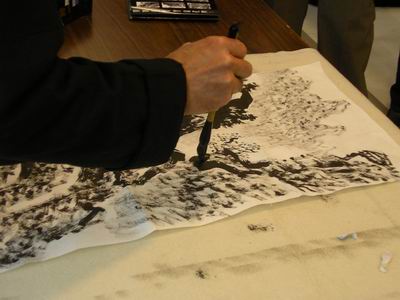 Guan Sui-Sheng and the workshop participants saw a life-like landscape in what started out as erratic lines.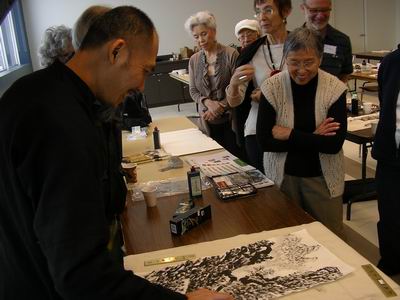 The final work was balanced, proportional and had perspective though only undiluted black ink had been used.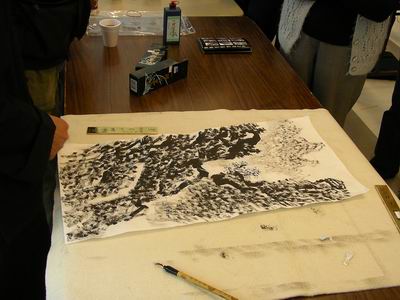 Guan Sui-Sheng wrote his name and the date at the top of the painting. He showed us where one might include the seal imprint.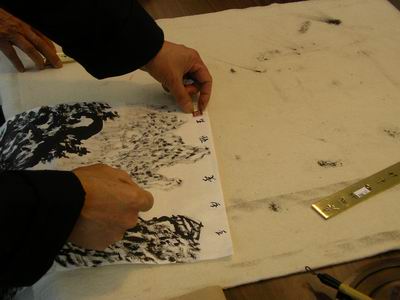 The painting was hung on the wall for us to see how to finish our own work.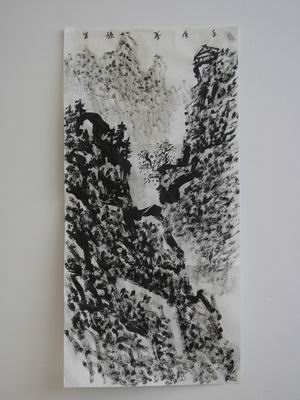 Guan Sui-Sheng offered to help us with details.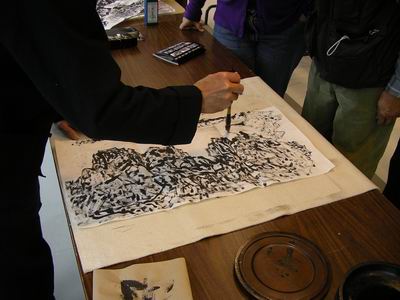 The space in this painting, he turned into a waterfall.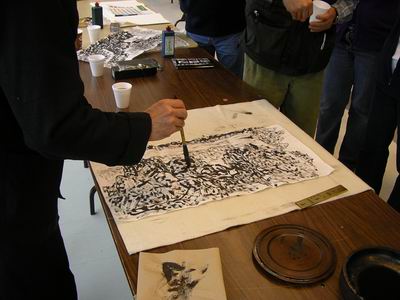 Some enthusiastic painters came to join Guan Sui-Sheng for a photo.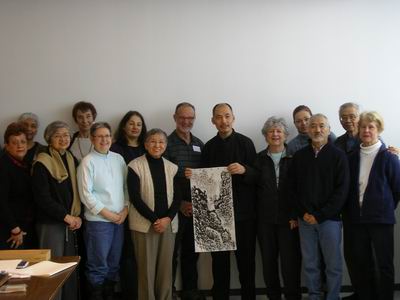 Then all the rest in the class joined in a photo too.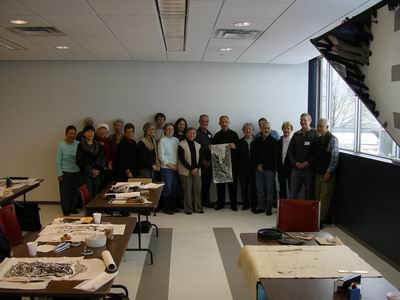 You can find more information about Guan Sui-Sheng in the links section.