Painting Seasonal Cards with Diana Bullock - December 3rd, 2011
Cards for Christmas or any occasion are another area for sumi-e artists to explore for personal or commercial use. Diana Bullock began her workshop on painting seasonal cards by showing many cards that Diana has created over the years.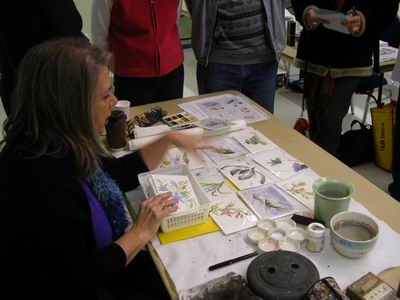 All these cards can turn into card chaos, so Diana keeps samples of her cards in a card box.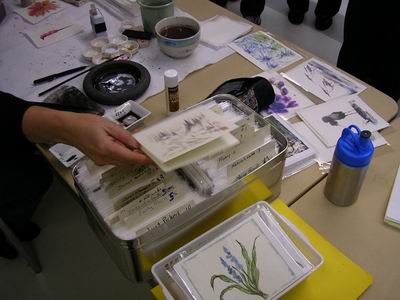 It's easy to find just the card you want by browsing through the index titles. The index titles point to periods when Diana was working on cards with penguins, moose, snow men and snow women, and so on.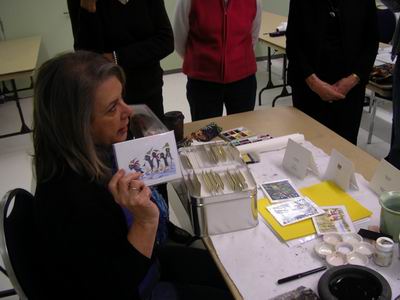 In addition to hand-crafted cards, you can create large paintings and then scan the paintings into images for cards.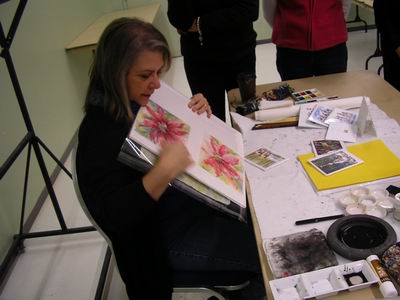 Diana Bullock provided workshop participants with instructions on how to make cards with a computer.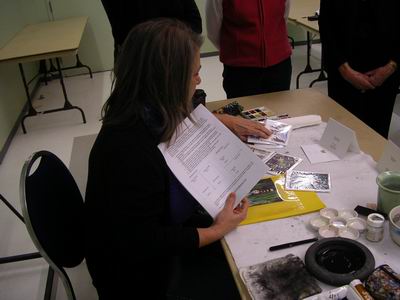 Other items that Diana reminded us about included getting plastic covers for the cards you create and a glue stick, which is used to fasten rice paper to a card.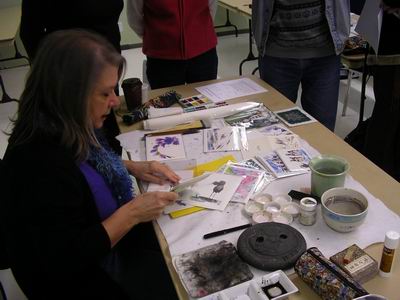 Working on a card is similar to a sumi-e painting but smaller and simpler. Once an idea seems that it would work on a card, tear around the painting you created, put it aside, and try another idea. For Christmas, cardinals, squirrels, landscapes, Santa Claus, elves and images associated with winter work.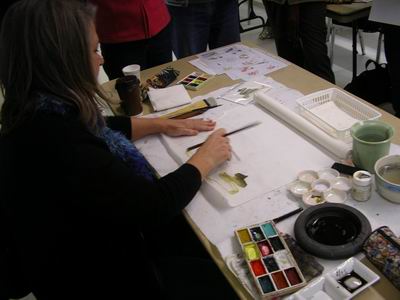 Christmas plants like poinsettias and Christmas cactus are good subjects.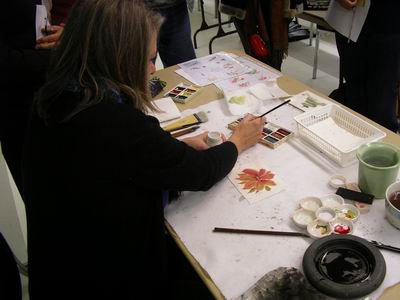 Use glue stick to spread glue on the back of the small paintings you create and then paste your work to a card.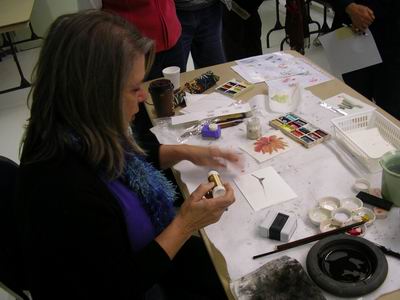 You may wish to add a seal imprint like you do with a regular painting. Use a small seal for cards.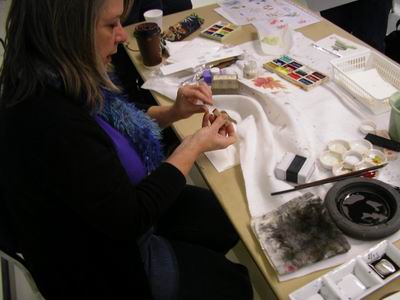 Diana showed the finished card with the small seal.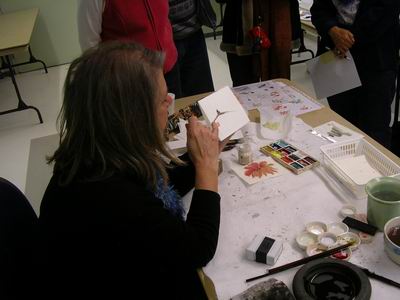 This card and others Diana worked on or displayed gave the workshop participants some ideas to get started on as we headed to our tables to try our hand at making cards.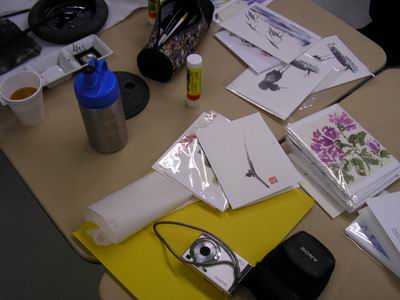 Playing around with ideas was the best way we found to create a scene for a Christmas card.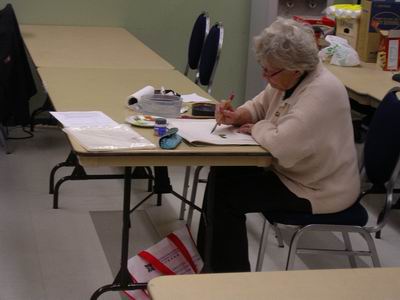 Our cards were spread across a table for a show-and-tell discussion.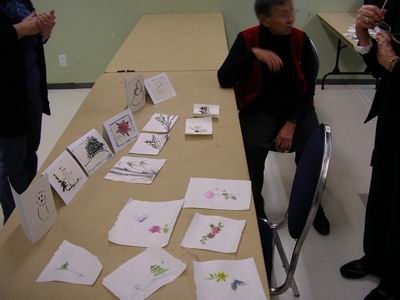 Lots of surprising ideas for cards emerged, which led to more discussion on subjects to put on cards. Linda Nakatsu and Dianne Kitazaki provided us with cakes and tea too, which can prove a spark for creativity.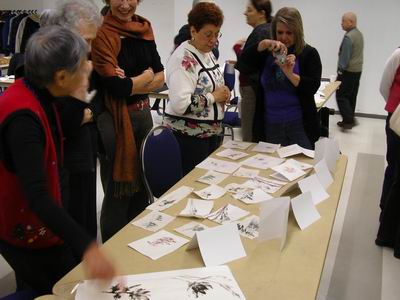 Diana Bullock returned to show us the other way to create cards: do a regular painting and scan the painting into a computer image. As before, Diana suggested we play with ideas that come to mind.
this painting turned into a winter scene.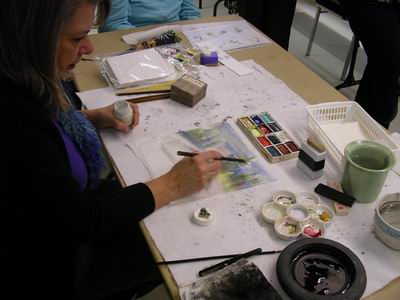 Another painting featured a bright, floral design.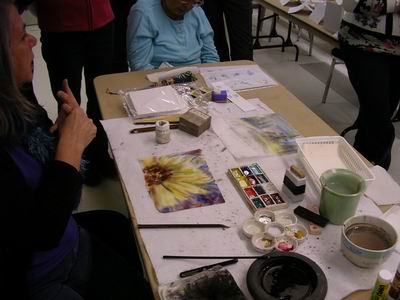 Here is something not to forget, a stamp for your card. It can be used for the back of your cards with a name and possibly an email address. Diana advised that the email address should be one for art work only and not your personal email address.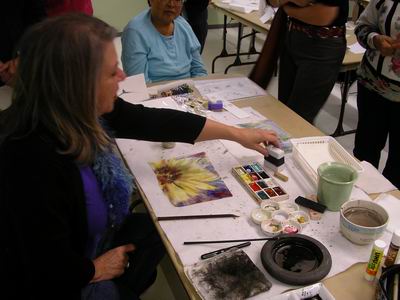 Touch up brush pens were another tip passed to the workshop participants. A slight correction or highlight to a card can be done with these brush pens.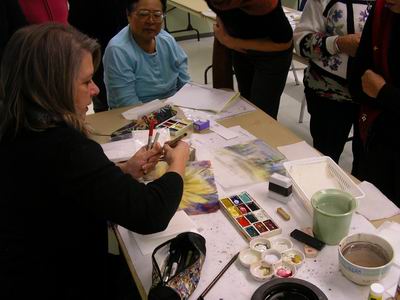 As the workshop ended, many examples of cards left us with thoughts of more cards we might create ourselves over the next few weeks.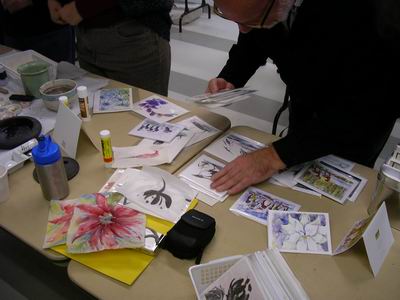 We also had our own cards to take home.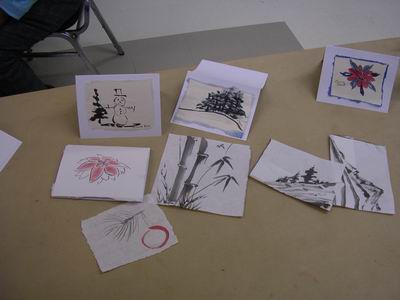 These curious snowmen would amuse friends and family.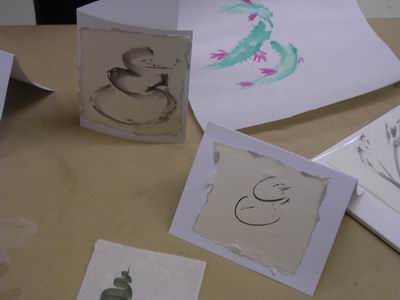 This Christmas tree would bring a smile to us all.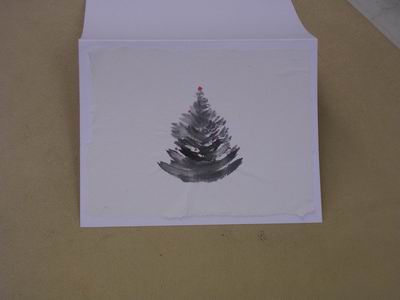 You can find more information about Diana Bullock in the links section.