Winter Landscapes with Baoxing Zhang - February 12th, 2011
Winter, despite its weather warnings, can provide sumi-e painters with the ingredients for magical landscapes with glistening snow and striking contrasts. Baoxing Zhang showed us how to paint snow-filled landscapes in a number of ways.
Baoxing Zhang began by writing the characters for winter and snow.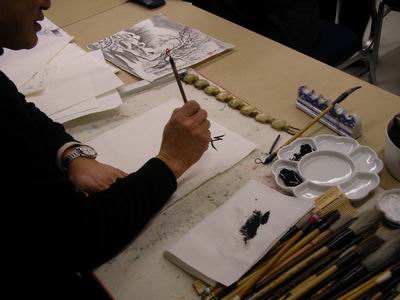 The character for snow is the combination of rain and the freezing temperature that causes it to turn into snow, so it is like frozen rain.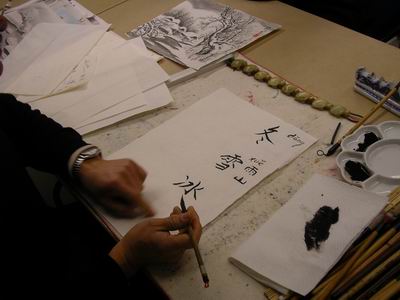 Baoxing explained that he would demonstrate four techniques for painting winter landscapes beginning with the classic method of not painting any snow; that is, leaving the painting untouched that represents the snow. He worked from a sketch in charcoal.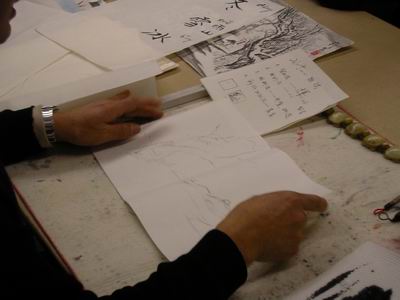 Use a dry brush, Baoxing Zhang told the workshop participants, to paint the parts of the tree that you can see. It's easier in a way, Baoxing told us, because you do not have to paint much of the actual tree!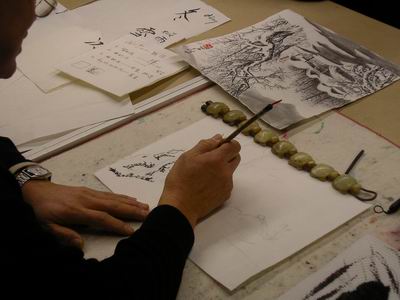 Afterwards, using a wetter brush, he softened the effect of the snow on the tree.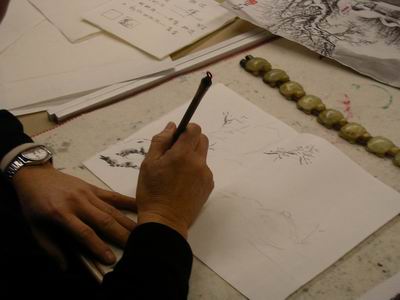 The result was a painting of a tree covered in snow. In the workshop, Baoxing did not complete the painting but gave us enough of a painting to demonstrate this classic approach.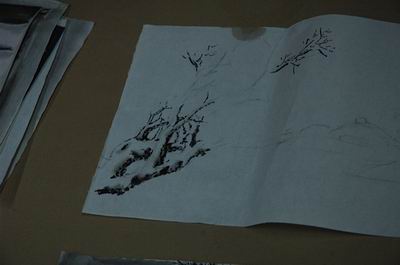 Baoxing Zhang next turned to painting a winter landscape using white paint. He suggested we try this technique: load the brush in white paint and then add gray paint to the base of the brush with a second brush.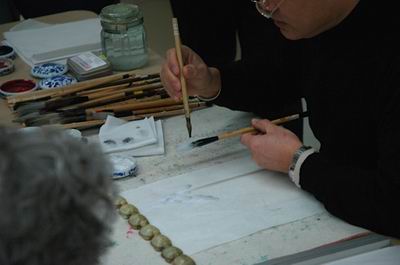 Using brush strokes drawn towards himself, the white paint ended in a gray tone that created the image of a pine tree covered in snow.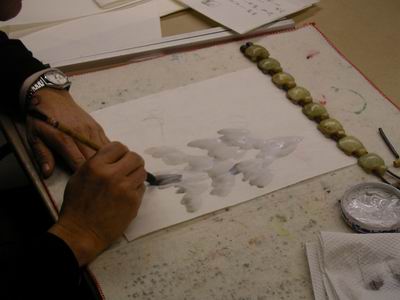 Bare branches were created by a small, stiffer brush.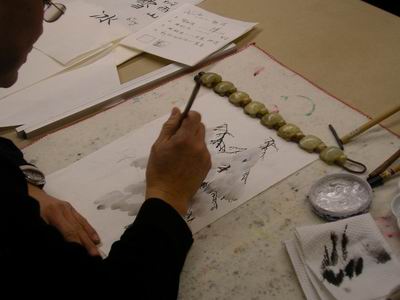 Layers of snow were added to the bottom of the painting . A dark base that formed the edge of the snow was added by black ink.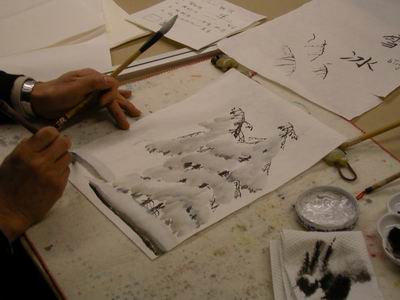 Background trees were created by using a large brush and a brush stroke that went away from Baoxing Zhang.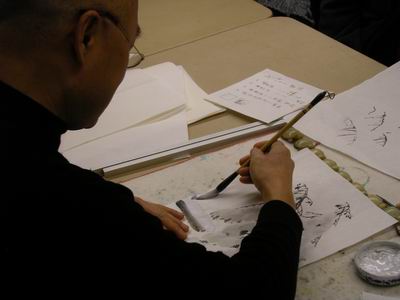 He then painted simple tree trunks and branches over the earlier large strokes.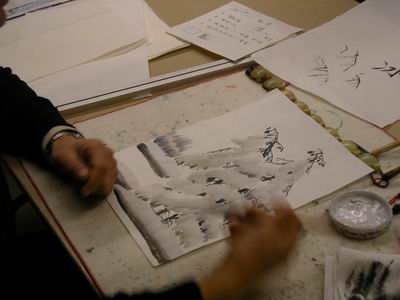 Turning the painting over, Baoxing added a wash for the background sky.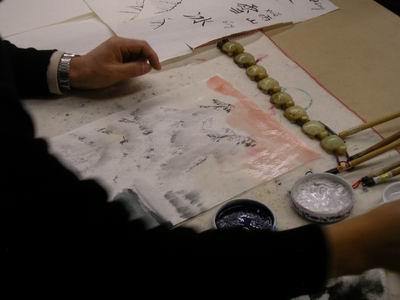 He completed the painting by adding more colour to the front of the painting including indigo colour for water.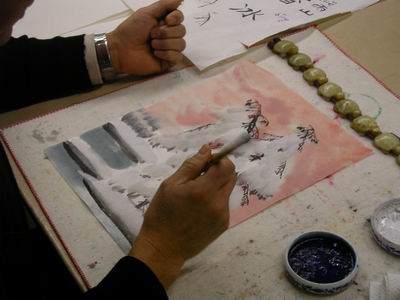 Alum was used for the following winter landscape technique. Baoxing Zhang explained that to prepare the alum, he mixed it with warm water until it was saturated.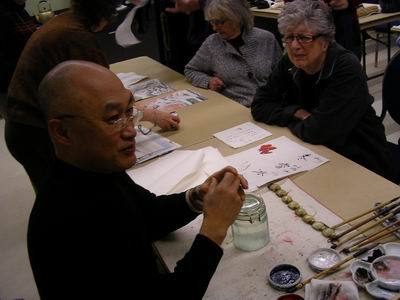 Alum is effective in painting ice. You need to work fast because it fades into the rice paper.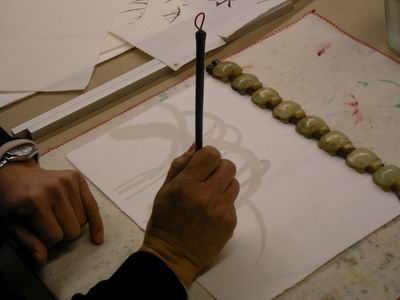 Once he had painted the ice on a tree, Baoxing painted the large branches underneath them.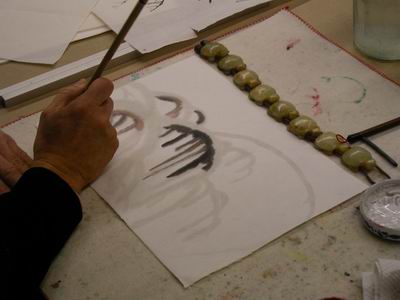 The smaller branches were added using a small brush with stiff hair.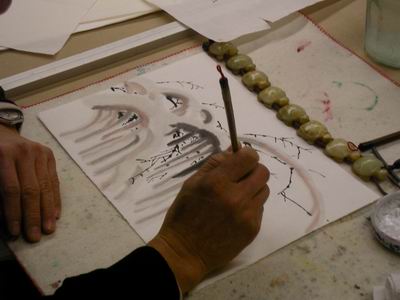 The addition of berries brightened the painting in a subtle way.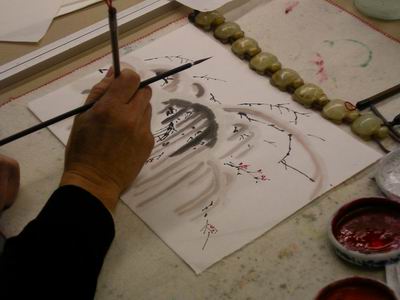 The finished work had heavy, ice-laden boughs mixed with thin bare branches.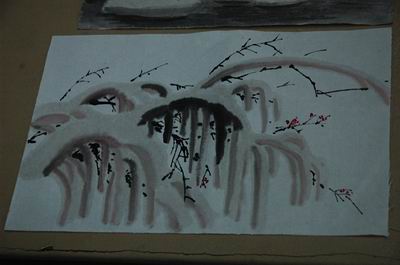 Imagine painting a winter scene at night. Using blue rice paper with white ink is the key to a night scene. Baoxing began with several large brush strokes.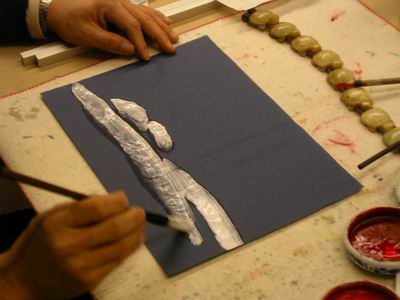 He continued the composition with some tree trunks, which were also in white.
More trees created a winter night scene in a forest.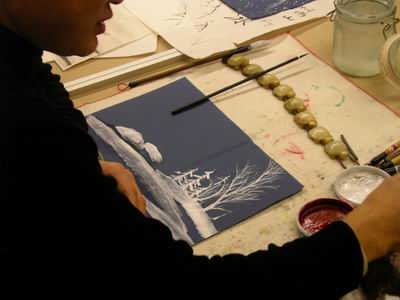 Cabins were created and smoke from a chimney was added by using a wet brush with a little white.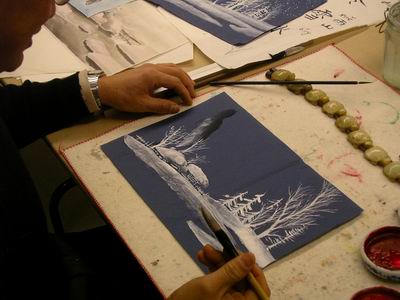 Tapping a brush with white ink gave the effect of falling snow.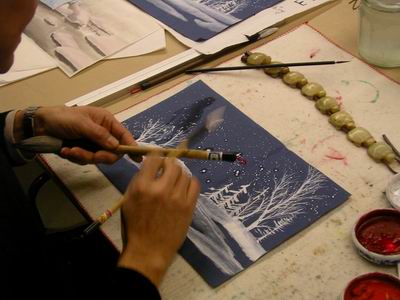 The final painting was a winter hideaway many of us would dream to escape to.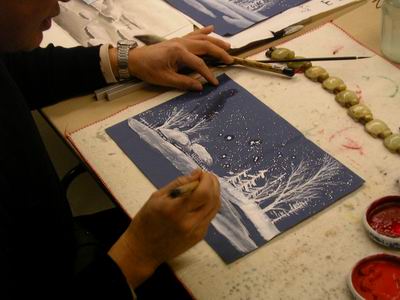 It was our turn to try out these techniques with some tea and cakes from Linda Nakatsu and Dianne Kitazaki.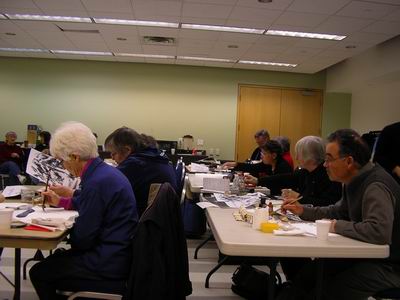 Baoxing Zhang did come around to help us with our efforts to capture winter scenes.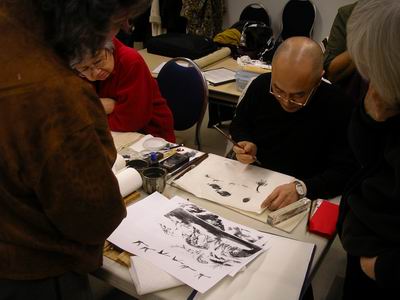 Baoxing Zhang has written many books demonstrating his techniques in addition to his own painting and teaching activities. You can find more information about Baoxing Zhang in the links section.