Christmas Social - December 12th, 2009
The Christmas Social revolves around friendship, recollections of the year, food and gifts. Mostly it's about socializing first and discussing art second. Two of our stalwart members and big volunteers at workshops and shows, Dianne Kitazaki and Hideko Adachi, exchanged a few quiet words at the beginning of this annual event.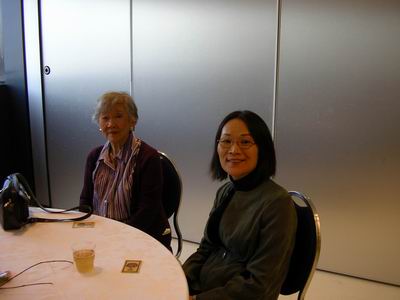 And then the food arrived. Paul Peddle, who recorded our Sumi-e for Today show workshops and events, discussed the dishes with our chef. While the setup continued, we saw a DVD sampling of the show and workshops that Paul had created. We made Paul an honourary member for all his work.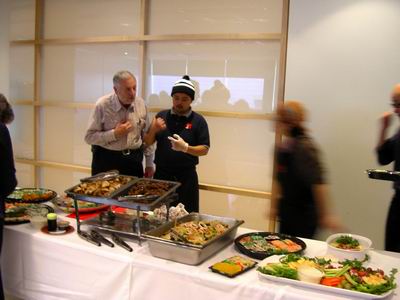 Kathy Matsushita helped us with our gift giving ceremony, which follows some unconventional rules. Keith Caskey was one recipient.
Everyone wants a surprise for Christmas. Ask Donalda McGeachy.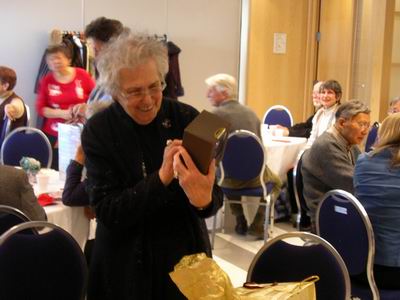 Presents at the Christmas Social can come in surprising packages. Our Treasurer for many years, George Nakamura, picked up what might have been the room's garbage.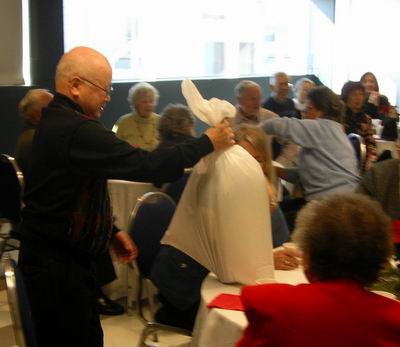 There was a lot of red worn at this year's Christmas Social. It may have brought the spirit of Christmas out in Elma LaForce.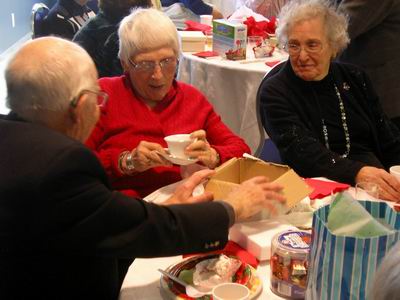 We had a lot to be thankful for this year. A wonderful set of workshops, an international sumi-e exhibition that exceeded expectations, and 11 graduates who joined our membership.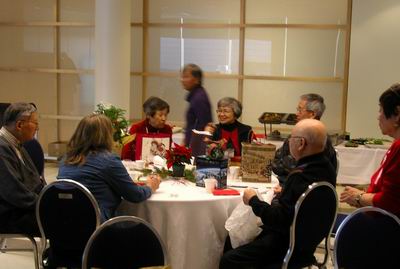 We left looking forward to 2010. A new decade in the 21st century already!