Peonies with Esther Yun - May 9th, 2009
Spring is the perfect time for a workshop on peonies. Esther Yun, our instructor, showed us how to bring peonies to life in a painting. Esther began by planning the composition of the painting. The main flower would be in the upper left of the painting.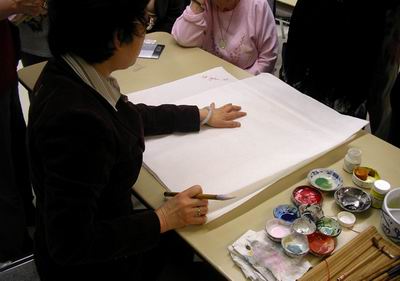 Beginning with the inner petals, Esther Yun created the petals with a large brush containing mostly white ink with some red.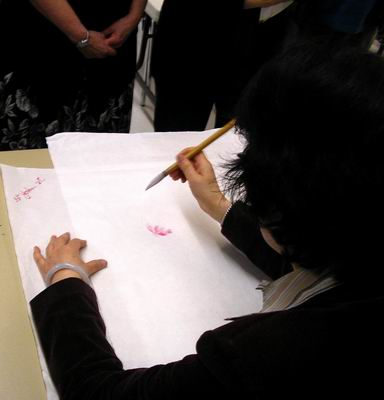 The stamens were added with black ink.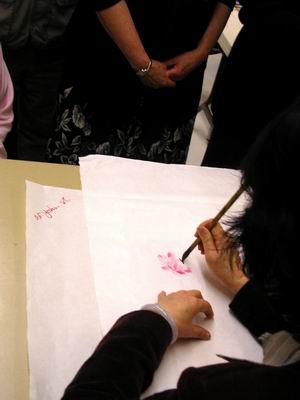 More petals followed to fill out the inner flower.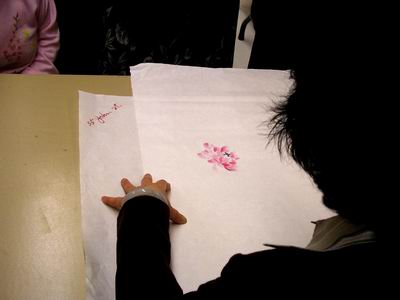 The outer petals of the flower were made in a darker red.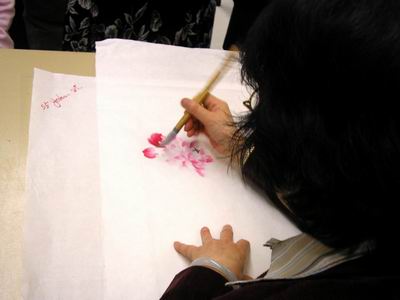 Once the main flower was completed, Esther returned to planning the layout of the leaves and branches that would follow.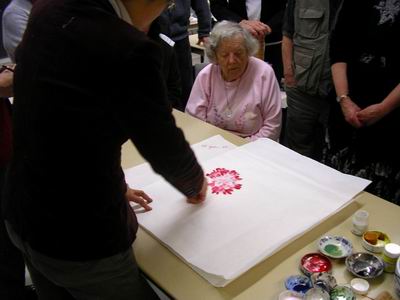 Esther demonstrated how to create the leaves. There are typically nine in a section; that is three leafs that have three sections each.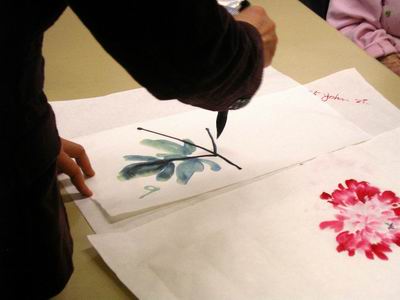 The leaves were created in large loose strokes and the veins of the leaves added later.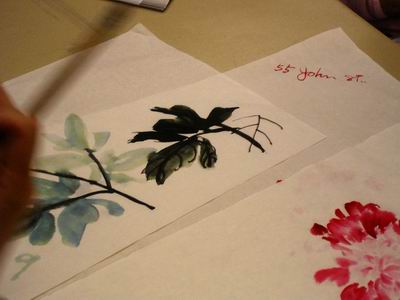 Esther Yun returned to the painting and contemplated where the leaves would fall beneath the flower.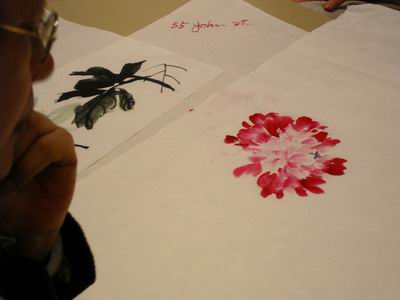 The leaves were added in quick strokes with a carefully prepared brush filled with ink.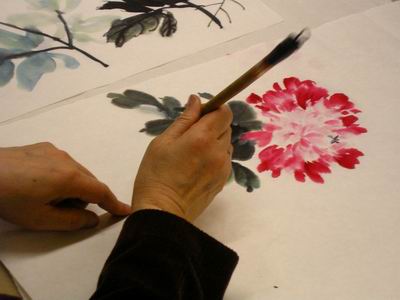 A branch was added afterwards.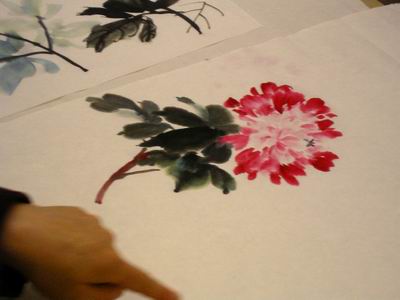 Next came another branch setting up another young, budding flower.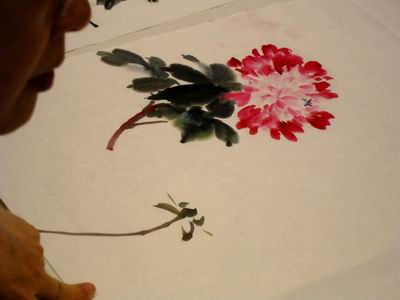 The flower was added to this branch with darker, red petals.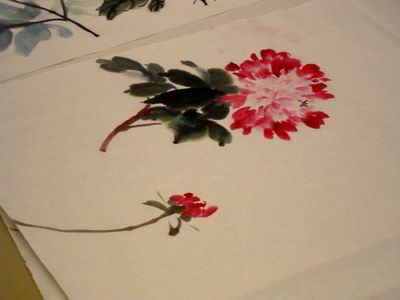 A third branch was added with straight, quick strokes using mostly black ink.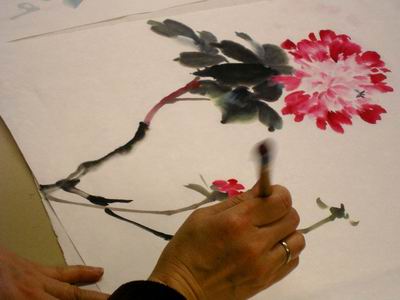 Another flower was added to it completing the essential composition.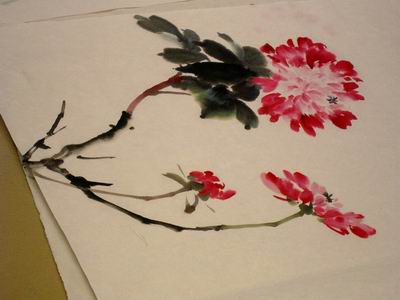 Esther Yun added smaller, younger leaves to these branches.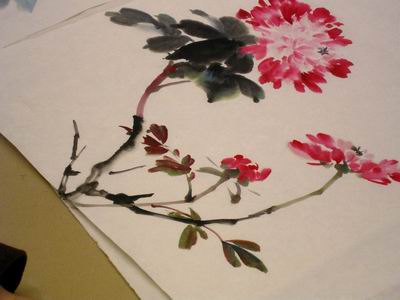 Esther constantly mixed colours in a nearby set of bowls to get the desired effect.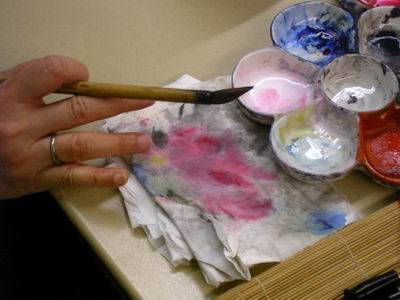 More background leaves were added in a fainter green.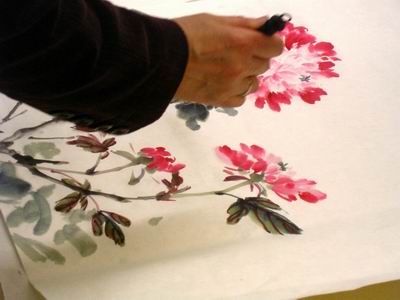 Then Esther returned to the large leaves of the first flower for some refinements.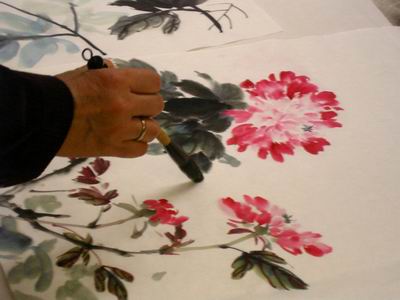 The painting was almost complete at this point.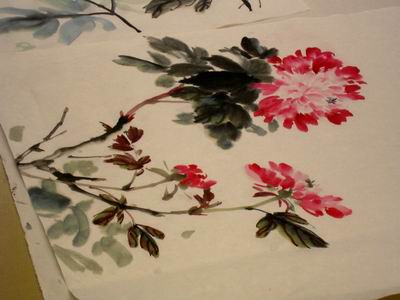 However, cadmium yellow was needed for the pollen on the stamens.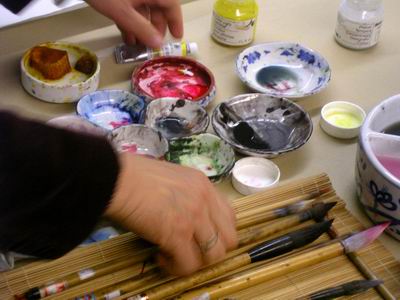 Esther Yun added the yellow about the stamens.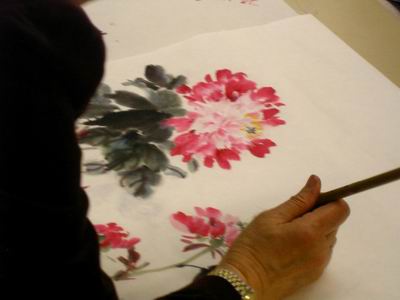 Calligraphy was added to the complete the painting stating when the painting was finished, where it was painted and the painter.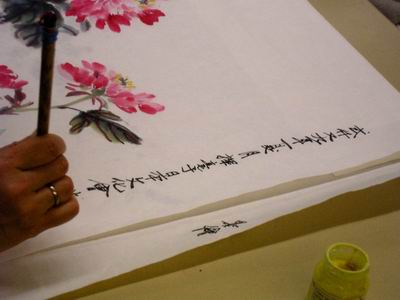 All participants gathered for a group photo in this one-of-a-kind workshop.

It was a time to return to our desks and work on our own peonies with some coaching from Esther.
Esther Yun is a participant in art 09, this year's international art fair in Toronto.