Pears and Mounting Paintings with Roslyn Levin - April 12th, 2008
Painting a pear can help you in many areas of painting. For example, understanding how to paint fruits generally and also how to paint circular forms, including pear-like people! Roslyn Levin, who has instructed us in painting cranes and cats, showed us at this workshop how to paint a pear in her expressive, direct style.
Roslyn opened the workshop with a presentation on how to mount paintings in a technique Roslyn has pioneered that adds rice paper over canvas. Roslyn began with a painting she had already created on rice paper.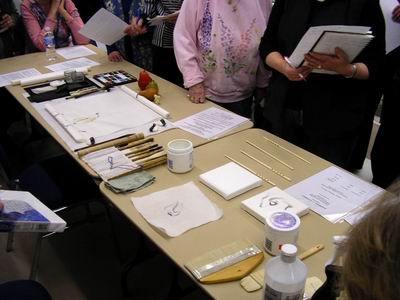 You begin by spraying your painting with a Varathane spray. This spray ensures your painting will survive the process. Although this procedure was not shown at the workshop, Roslyn cautioned workshop participants to carefully read the instructions. You will need to wear a protective mask.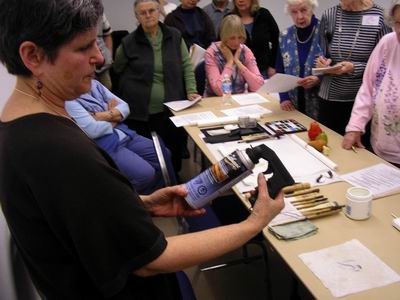 Roslyn Levin provided details of her mounting technique in a handout.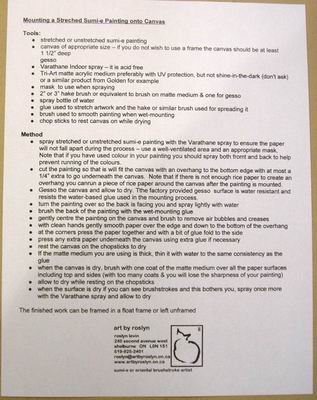 Roslyn began the demonstration by spraying the painting with water.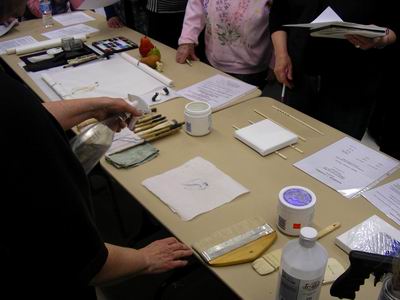 Then it was time to apply the wet-mounting glue, referred to by Roslyn as the "goopy stuff".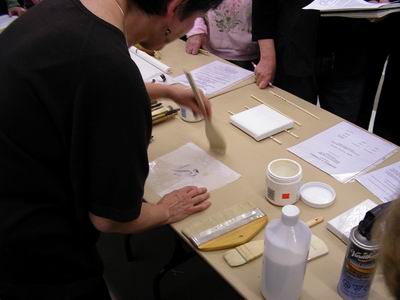 Next Roslyn mounted the painting on the canvas, which at the workshop had already been created. Note that you must wrap your painting over the sides of the canvas.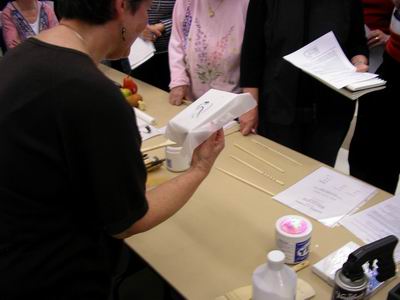 The completed procedure made the painting look similar to a wet mounted painting on rice paper.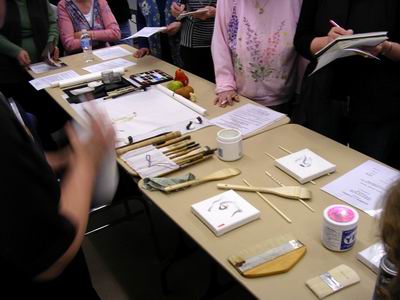 Roslyn added a bit more goopy stuff to further smooth the painting.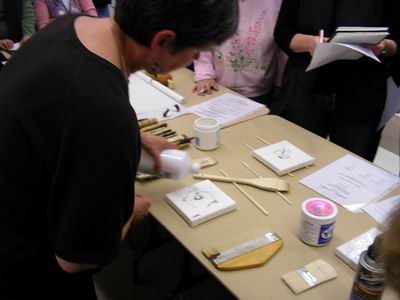 The edges were checked again by Roslyn.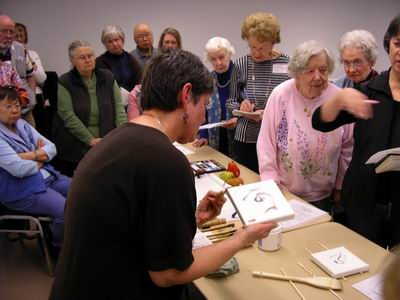 And then the procedure was finished. Roslyn let the mounted paintings dry on chopsticks. Although not shown at the workshop, the dry painting also receives a further coat of Tri-Art matte medium, which was explained in the handout.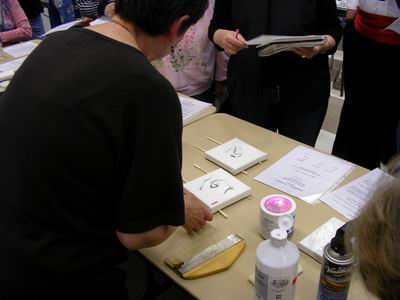 Roslyn began her pear demonstration with the stem. Roslyn usually works standing up and holding the brush in the classic sumi-e painting style. As guidance, Roslyn put some pears above the rice paper. Roslyn had asked that all of us bring a pear. Seeing the real thing helps a great deal when painting any subject.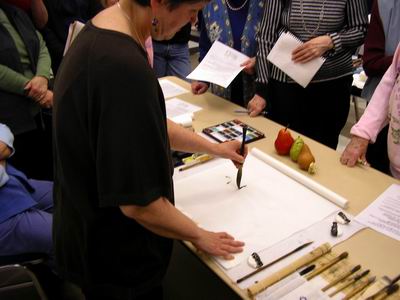 After some stems were drawn, Roslyn paused to reflect on them. Roslyn often steps back and reflects on her work after working through a series of brush strokes.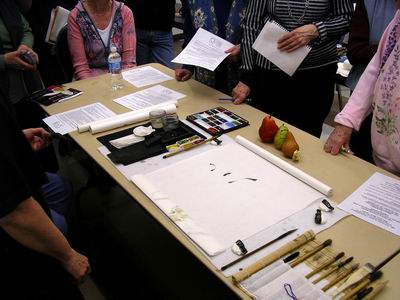 Roslyn tried her first pear using one continuous line.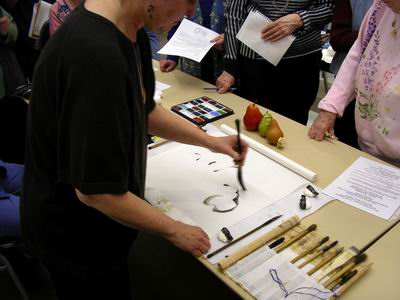 When Roslyn drew, she reminded the workshop participants to press where emphasis is needed then continue on.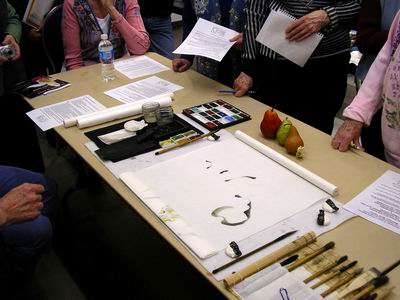 Roslyn added a few more pears, always using just sumi-e ink.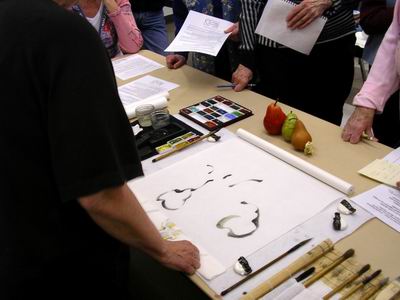 Then Roslyn began again.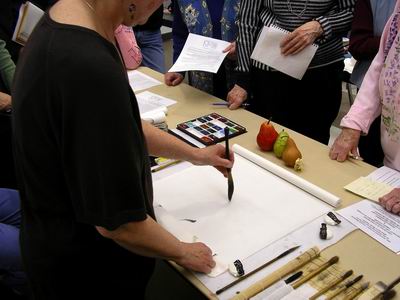 This time the emphasis was different.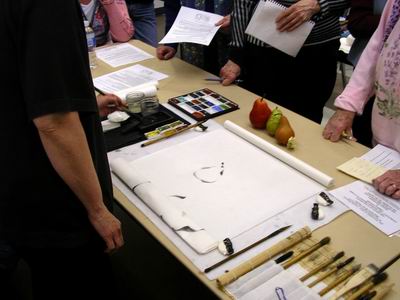 Roslyn used some test paper to get the right amount of ink on the brush. Roslyn uses primarily one brush, which is large and can contain considerable ink.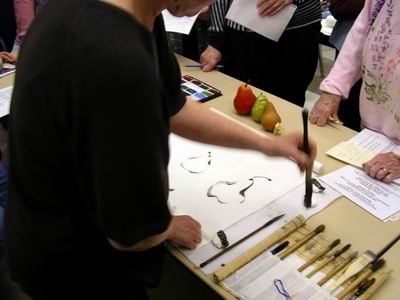 Then, having fun, Roslyn added some legs to the pear. Note that this pear with legs has similarities to the structure of a bird.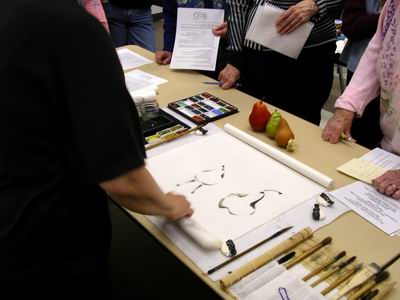 Roslyn continued with several more pears, all created with a continuous line using pressing and varying speed to create the effect.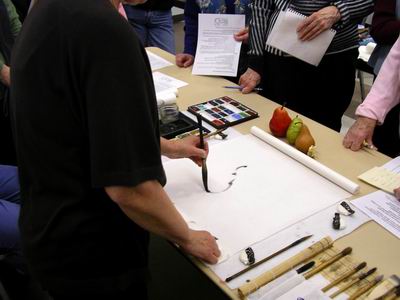 Then Roslyn Levin switched to colour. Using the tray of colours she had brought, Roslyn mixed the colour she wanted with the black sumi-e ink to create a dramatic colour composition.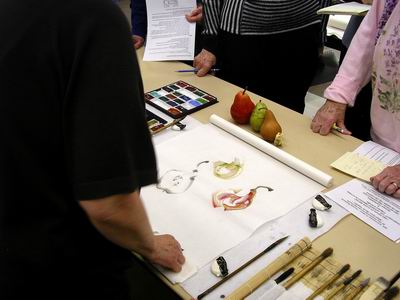 The stems continued to be in black ink.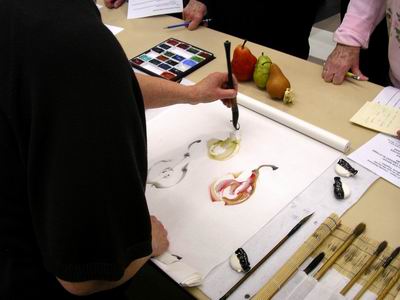 However, the skin of the pear contained the colour to bring the pear to life. Note that Roslyn left some of the skin white and darkened other areas to create the effect of roundness.
Roslyn Levin ventured into some variations on a pear. For example, a pear that was cut open. This variation began with the stem.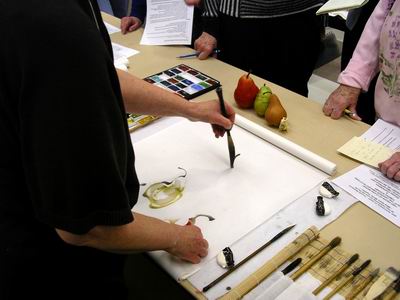 The edges of the pear were similar.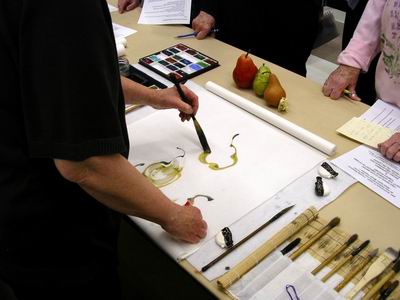 The inside of the pear contained the seeds, which were surrounded by white.
Roslyn showed how the lines created for a pear could be used in other contexts. For example, one of her favourite subjects, the crane.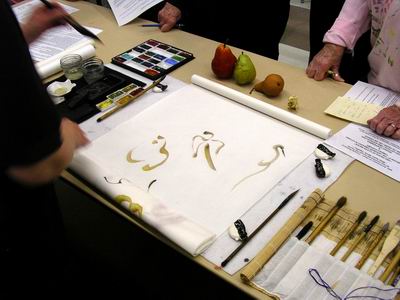 Another variation of the pear was the pear on its side. Roslyn turned a real pear on its side to work with a real subject. Working with real subjects is important to Roslyn, who studied cranes and cats at length before drawing them in sumi-e paintings.
Some lines were emphasized.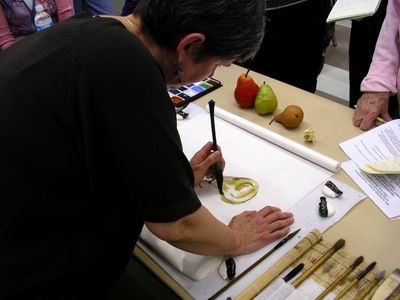 Roslyn stepped back, analyzed the pear on its side and answered some questions. Roslyn Levin brings an interactive approach to her workshops, which encourages questions and experimentation, both for herself and workshop participants.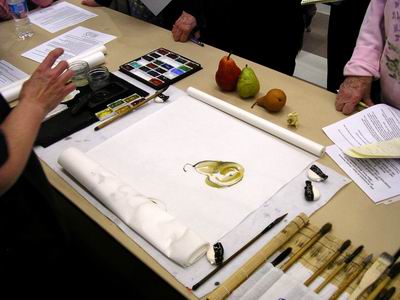 As the demonstration on pears concluded, Roslyn returned to the conventional standing pear again, this time with colour and some different highlighting.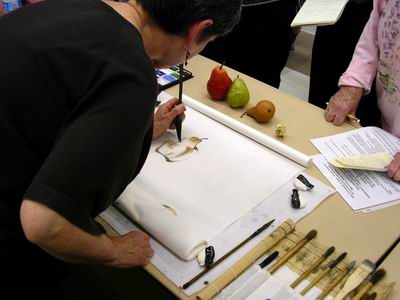 The basic strokes were emphasized again by Roslyn.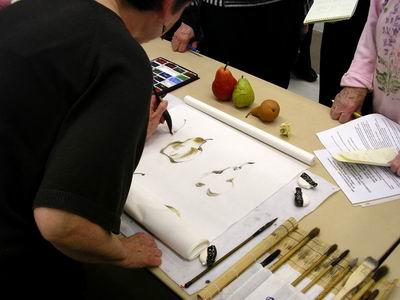 It was our turn to try our hand at pears using the one before us, as Roslyn had asked that workshop participants bring a pear to the workshop. Roslyn provided some one-on-one pear painting coaching.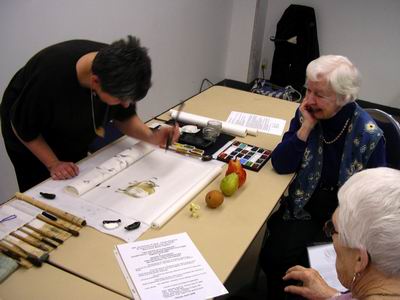 Pears can challenge you more than you think. Yet mastering the brush strokes for a pear as demonstrated in Roslyn Levin's workshop can help you in many other subject areas. When you're finished, you can mount your work with Roslyn's mounting technique.
You can find more information on Roslyn Levin at Roslyn's web site. Roslyn is also listed in our links section along with other instructors.