Sumi-e Artists of Canada 2007 Show - November 10th and 11th
A stylish sumi-e painting exhibition greeted this year's visitors. In Harmony with Nature, the theme of the exhibition, featured landscapes, flowers, and a wide variety of subjects from nature as conjured by the members of the Sumi-e Artists of Canada. Ikebana (Japanese flower arrangements) enhanced the subject of nature in the paintings.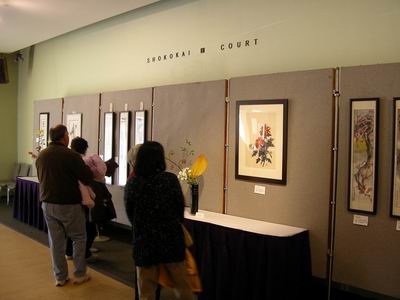 The power, mystery and fragility of nature was expressed in over 80 paintings.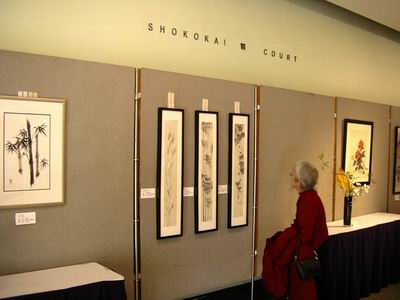 These bright flowers appealed to onlookers.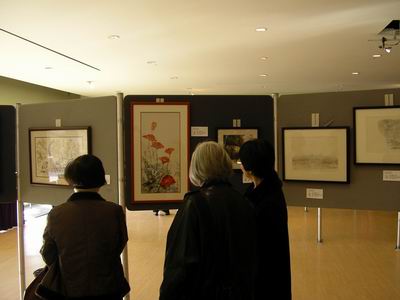 In addition to paintings, art lovers could visit our tea room, buy books, cards, paperweights and, of course, art, and watch demonstrators of sumi-e painting like Moira Mudie.
The In Harmony with Nature exhibition opened with speeches about sumi-e painting and its association in Toronto with the Japanese Canadian Cultural Centre. An award was given to Morven Crothers. Left-to-right: Consul-General of Japan, Koichi Kawakama, President of the Sumi-e Artists of Canada, Gary Bist, Ruth Yamada Award winner, Morven Crothers, President of the Japanese Canadian Cultural Centre, Martin Kobayashi.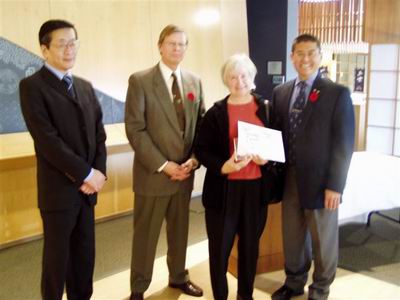 A Cat for All Seasons by Morven Crothers received the Ruth Yamada Award for Excellence in Sumi-e, as selected by our judge, Ivy Leung. This is the highest award, which is given to only one painting. Ivy wrote a note about any painting that she gave an award to. The note was placed beside the painting. Of this painting, Ivy Leung wrote: "A very successful experiment of Yin-Yang dualism in brush and ink."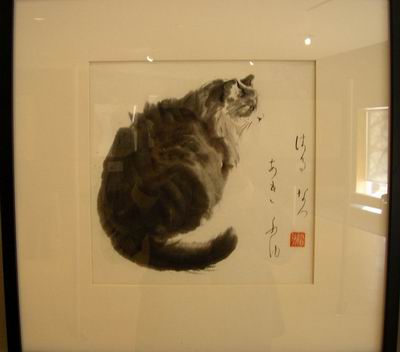 Autumn Contemplation by Moira Mudie was paired with one of our ikebana arrangements. Ivy Leung wrote of this work, which received an honourable mention: "A wonderful composition. The rhythm of the various brush strokes that define the serene and immobile form is most effective in creating a sense of placidity."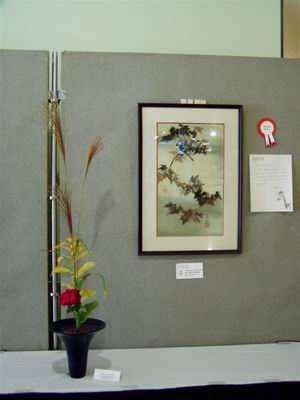 A Patient Angler by Kathy Matsushita was also given an honourable mention. Ivy Leung wrote: "Roughly drawn and light-coloured brush strokes of the foliation in the background successfully heighten the impression of an interesting, lonely setting."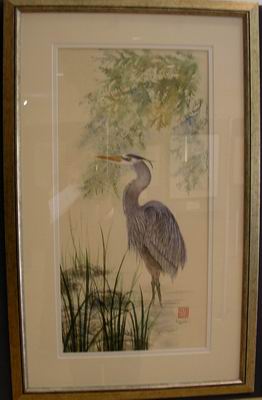 Two Swans by Charles Leung received an honourable mention. Ivy Leung wrote: "The wonderful bush work shares the aesthetically pleasing movement."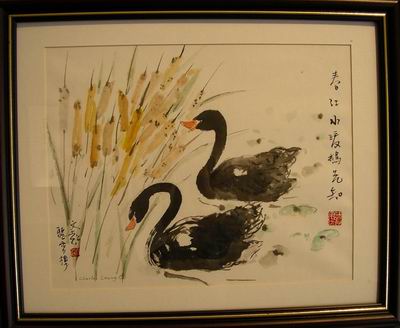 The Way of Nature by Roslyn Levin received an honourable mention. Ivy Leung wrote: "A dramatic drawing of supreme simplification and suggestion to be expressed itself in free-flowing lines of movement, emphasize not the bird's bodily organization, but some essence of the idea - the way of nature."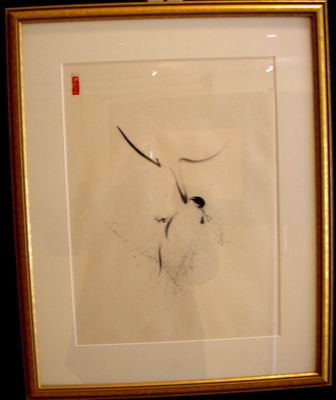 Becoming Autumn by Peter Ito received an honourable mention. Ivy Leung write: "Wonderful brush work and ink quality!"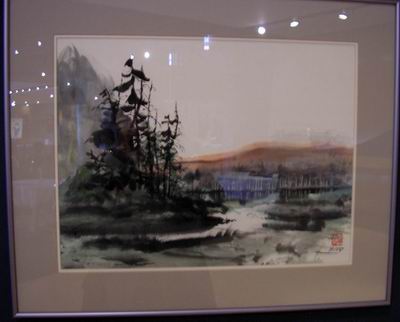 The ikebana created by Shizue Kadoguchi and Betty Lou Arai was paired with appropriate paintings, sometimes complementing and sometimes contrasting the paintings.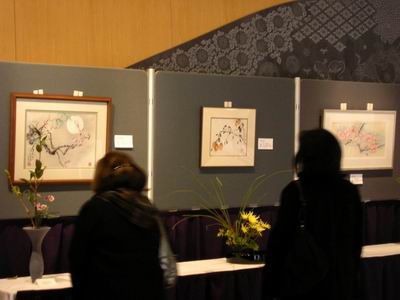 There were subjects to interest all visitors.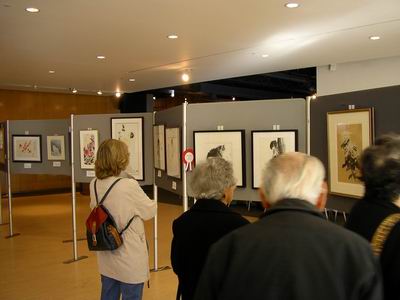 Some paintings led to lively discussions.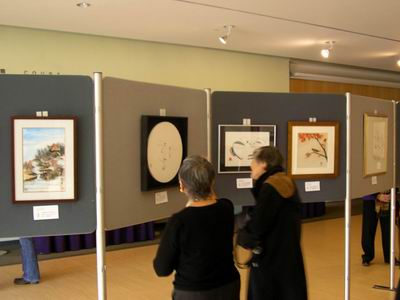 Everyone had an opinion on art.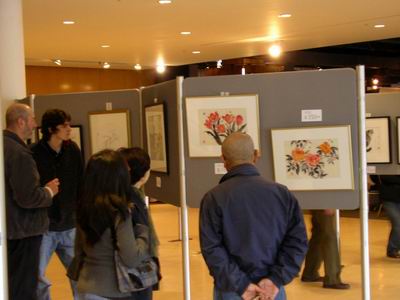 Some works evoked a pensive reaction in viewers.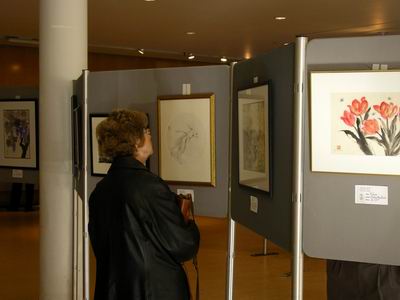 A retrospective of works by well-known artist, Terry Adachi, was added for this exhibition. Terry Adachi was known for his paintings of nature and of birds in particular.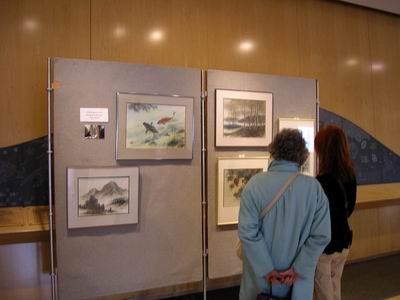 Bamboo interested these visitors.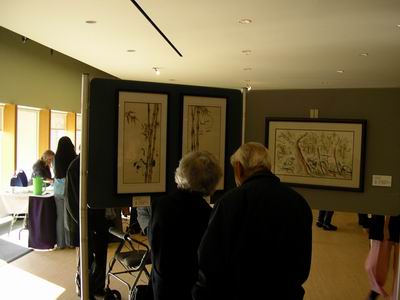 Colourful flowers and flower arrangements attracted these sumi-e painting aficionados.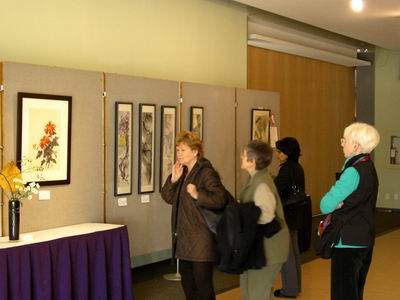 The room was filled with art, wherever you looked.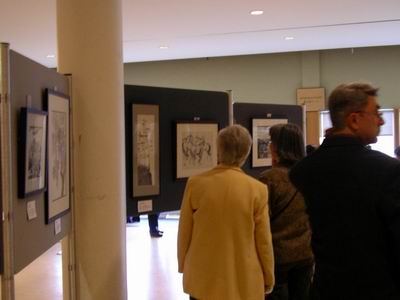 Swans attracted these attendees.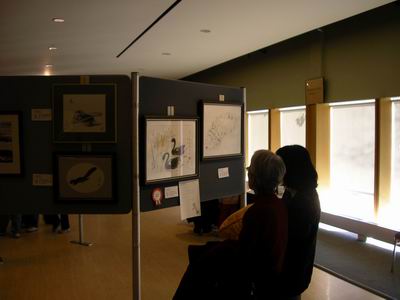 This painting of wisteria caught the attention of this observer.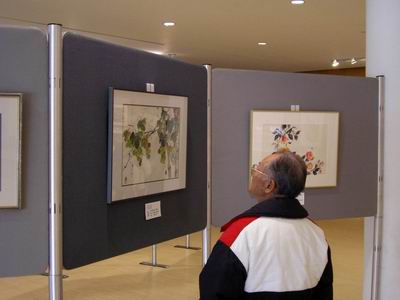 Our sales desk attracted visitors interested in buying paintings, cards, books and paperweights. Another busy area was our tea room.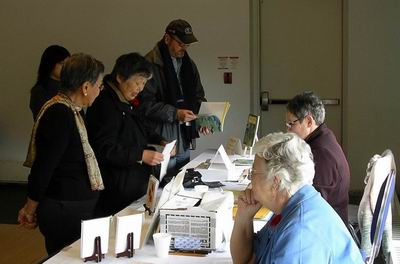 Our demonstrators were kept busy all day. Marie Ikeda demonstrated sumi-e painting.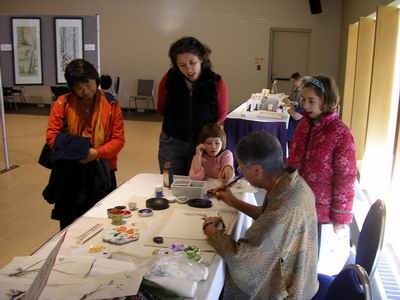 Hiroshi Yamamoto demonstrated sumi-e brush strokes.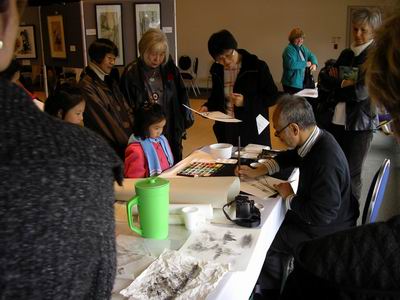 Roslyn Levin demonstrated her special sumi-e techniques.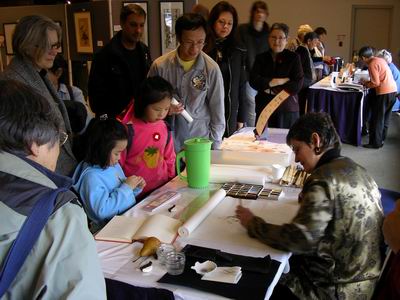 Diana Bullock demonstrated her well-known style with rice paper and brush.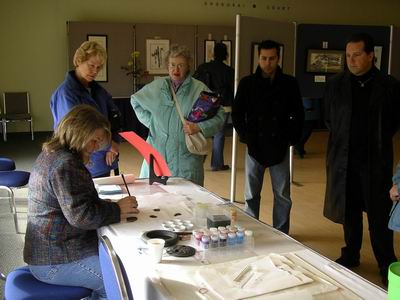 Kathy Matsushita demonstrated for art exhibition onlookers and media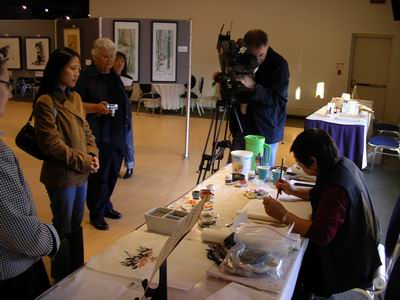 For over 300 people who dropped by over the weekend, In Harmony with Nature, was another wonderful art show in the history of many art exhibitions by the Sumi-e Artists of Canada.